Easy Kombucha Recipe & Complete Kombucha Tea Recipe Guide

Learn How To Make Kombucha From A Pro
————————————–
FREE Kombucha Recipe Guide & Brewing Logs
Kombucha Tea Recipe, Pictures, Tracking Logs & Safety Tips
Download & Print by entering your e-mail
You will also receive the kombucha recipe newsletter and free e-book. Unsubscribe at any time.
This Kombucha Recipe

and DIY Guide

includes an easy to follow Kombucha Tea Recipe explaining how to make kombucha tea and kombucha brewing tricks. If you want to know how to brew kombucha, these kombucha recipes will have you making kombucha tea (homemade kombucha tastes best) in no time.
————————————–
Kombucha Recipe – 1-Gallon
Scale up or down depending on the size of your vessel
Supplies
1 cup sugar
4-6 bags tea – for loose leaf, 1 bag of tea = 1 tsp
1 cup starter liquid (included FREE with every KKamp SCOBY)
purified/bottled water
tea kettle
brewing vessel
cloth cover
rubber band
—————————
Steps
Boil 4 cups of water.
Add hot water & tea bags to pot or brewing vessel.
Steep 5-15 minutes, then remove tea bags.
Add sugar and stir to dissolve.
Fill vessel most of the way with purified water, leaving just 1-2 inches from the top for breathing room with purified cold water.
Add SCOBY and starter liquid.
Cover with cloth cover and secure with the rubber band.
Say a prayer, send good vibes, commune with your culture (optional but recommended).
Set in a warm location out of direct sunlight (unless vessel is opaque).
Do not disturb for 7 days.
After 7 days, or when you are ready to taste your KT, gently insert a straw beneath the SCOBY and take a sip. If too tart, then reduce your brewing cycle next time. If too sweet, allow to brew for a few more days. Continue to taste every day or so until you reach your optimum flavor preference. Your own Kombucha Tea Recipe may vary.
Decant & flavor (optional).
Drink as desired! Start off with 4-8oz on an empty stomach in the morning, then with meals to help with digestion or as your body tells you it would like some more! Drink plenty of water as it is a natural detoxifyer and you want to flush the newly released toxins out.
Kombucha SCOBYs:
The Golden Rules
Never
…use a refrigerator stored SCOBY to make Kombucha.
…use a dehydrated SCOBY to make Kombucha.
…attempt to grow a SCOBY from a commercial bottle of Kombucha that:
was pasteurized
is flavored
has been filtered or reformulated
says anything less than "100% Kombucha" on the label
Always
…use a fresh, full-size Kombucha SCOBY to begin brewing.
…store your SCOBYs in a SCOBY Hotel in a dry and dark place.
…pass along healthy, fresh SCOBYs with at least 1-2 cups of mature Kombucha Tea and complete, clear instructions to ensure success. If you cannot, recommend a reputable source instead.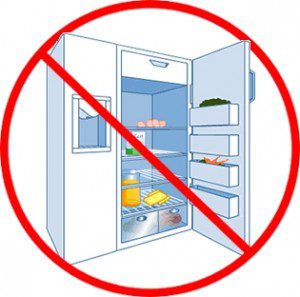 —————————
Kombucha Brewing Tips
Never store Kombucha SCOBYs in the Refrigerator!
Sanitize with hot water or vinegar – NO SOAP. It kills the kombucha culture.
Airflow is key – find an open area for your Kombucha Tea.
If you see mold, throw everything away. Kombucha Mushrooms are not salvagable when mold strikes.
Keep a SCOBY Hotel for backups and extras.
Kombucha is a LIVING organism. Many believe the energy in the room will directly influence your culture.
—————————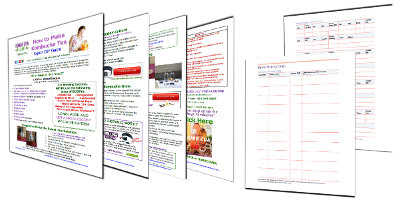 —————————
More Kombucha Recipes
How To Make Kombucha Tea with a few different twists. It's possible to make Kombucha many ways. Homemade Kombucha is the freshest and making kombucha for yourself is a blessing. I will show you how to make KT safely with my kombucha recipe, great Kombucha brewing techniques and more.
Ginger Lime Kombucha Recipe
Ginger is perhaps Kombucha's best friend, producing delicious fizz and flavor. Citrus pairs well with Kombucha, though in small amounts. These instructions call for flavoring after the brew.
5-6 teaspoons green tea/reusable tea bag
1.25 cups evaporated cane juice
for later:
fresh squeezed lime juice
fresh ginger slices
Do a shorter steep with these green tea bags, 3-5 minutes. Brew only 6-7 days, decant into bottles already flavored with ginger (to taste) and lime juice (no more than 1/2 ounce per 16 ounce bottle) and allow to second ferment for 3-5 days, burping each day to prevent explosions. Once desired fizz is achieved, move to fridge.
My other secret tip? Once you've tried secondary flavoring, try boiling the whole ginger root right in the water you will brew with to infuse the flavor in a totally different way.
Kombucha Recipe made with Agave
Agave nectar, while less popular than it has been, can be substituted for the sugar. Agave turns Kombucha a bit more sour and can benefit from a small boost of Karo (corn) syrup to kickstart the yeast and protect the brew.
4-5 teaspoons black tea/reusable tea bag
1 cup agave nectar (or 80/20 with corn syrup)
2 cups mature kombucha (the brew needs a little extra protection)
Prepare as normal, but check your brew a few days earlier to prevent it going sour too quickly. Monitor, bottle and refrigerate at the right flavor. Extendd secondary fermentation is not recommended with agave.
Cholesterol Busting Kombucha Recipe
I've talked about good old Ernie from CajunErnie.com on my Kombucha benefits page. He talks of many things Kombucha has done for his health, and one of them is a drop in his cholesterol.
Take it away Ernie: "In late 2001 my cholesterol level was 273. I stayed away from the popular drugs and thru better diet dropped it to 230. I then started drinking Kombucha because of my arthritis. By May, 2005 my cholesterol level had dropped to 165 and my blood pressure was at 122/54. Not bad for a 65 year old that works 60 hours a week."
Ernie's Cholesterol Busting Recipe:
6 bags of green tea
1 3/4 cups white sugar
Brew as normal for 6 to 9 days.
Power Kombucha Recipe
Looking for an extra energy blast from your homemade Kombucha Tea. Try this Kombucha recipe for Power Kombucha.
**note** Always consult your physician before undertaking any dietary change. This recipe is for informational purposes only.
4-6 teaspoons green/black tea blend
1.25 cups evaporated cane juice
for later:
1 tablespoon maca powder
2 tablespoons raw cacao powder
1 teaspoon of bee pollen – lightly crushed
Brew as normal for 7 to 10 days, until slightly effervescent
Then:
Add flavorings to finished Kombucha and close tightly for 4 days to infuse.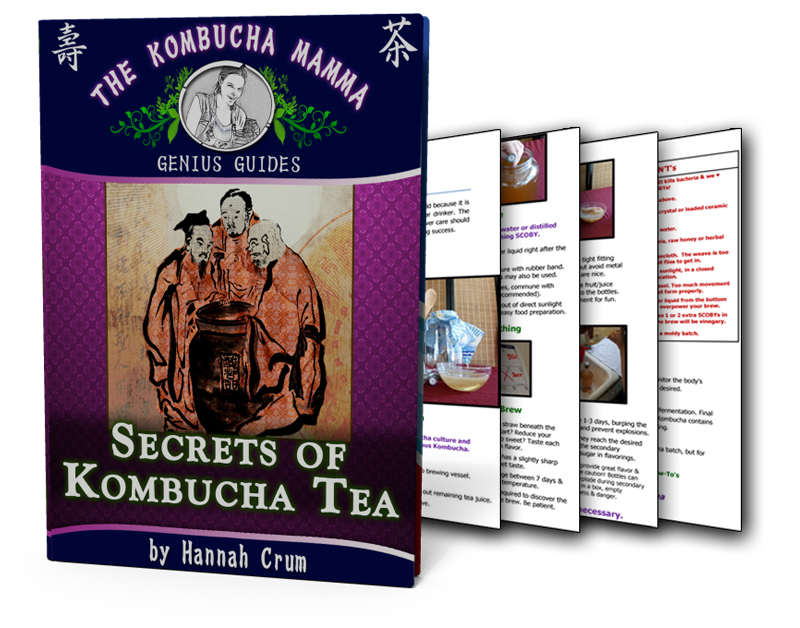 Hannah Crum is The Kombucha Mamma
, founder of Kombucha Kamp, Industry Journalist & Master Brewer, educating others about Kombucha since 2004. Connect with her on
Google +