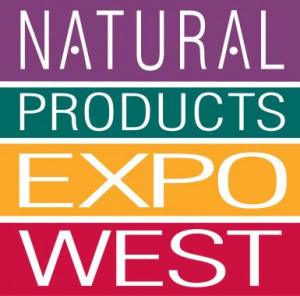 As the demand for healthy foods, supplements and natural products continues to explode, the carnival known as the Natural Products Expo West by New Hope Media has grown into one of the largest industry showcases in the country with over 50,000 attendees and nearly 2,000 exhibitors.  And much like a carnival, day 1 of this showcase left me thrilled, scared, excited, tired, hopeful, sick & altogether overstimulated. That is to say, I had a GREAT time.
At the press breakfast, I ran into Waylon from Elephant Journal – true confession, I love his indie news site so I walked up and blurted out something stupid. He was really nice and didn't make fun of me or anything! After snagging my first samples of the day (Boiron's Oscillococcinum – already a customer of theirs), I headed down for my first look at the convention floor. Who should appear but my buddy David Karr from Guayaki. He quickly and generously filled my previously empty hand with a "cool kids" Guayaki mug full of hot yerba mate, giving me a little natural boost for the next several hours. Just like hubby and I do at home. Score!
When I want a cup of flavored hot tea, I usually grab my bag of loose leaf Zhena's Gypsy Rose Tea, so it was a delight to meet Zhena herself. I admire her for growing a tiny tea start-up into one of the most sustainable, organic, high-quality companies around.  I made sure to visit the Chico Bag booth so I could finally meet Jenna Otwell and Andy Keller. I own 5 or 6 of their incredibly useful bags, one of which I was already using at the expo to collect my goodies. I also had a very nice catch-up chat with old friend, Siel Ju, on site to report for Mother Nature Network and her own blog – Green LA Girl.
There are samples of just about anything you can imagine, but I tried to be choosy: raw cheese, organic coconut oil, Palestinian olive oil, and tender BBQ were all highlights. While there aren't as many Kombucha companies there as I had hoped, it was wonderful to connect with those who are attending: Kathy Taylor from Vibranz, Ardi Farshchi from Kombucha 2000, Adam Goodman from Kombucha Botanica and the Wonder Drink folks. I also talked with Kefiplant, a bio tech company that makes a Keir-kombucha extract. Look for more about all these conversations soon.
It was a real pleasure to get together at the end of the day with Eco-Vegan Gal, Whitney Lauritsen, Rachel Avalon and Vanessa Meier to commiserate over the show, relax and try to unwind before hitting the highway back to LA. We agreed that trying to cover the entire show in one day is impossible. Looks like I'll be heading back on Sunday. Should be fun!