Kombucha Mamma Speaking Engagements, Live Events, Podcasts & Workshops
Check out the events page on Facebook


Want to include a Kombucha workshop, lecture or book signing at your event? Contact the Kombucha Mamma today!

UPCOMING SPEAKING ENGAGEMENTS & LIVE EVENTS
Available for workshops, demos, lectures, podcasts and more. Hannah Crum teaches workshops on Kombucha history, health benefits, how tos as well as the health benefits of fermented foods.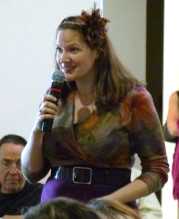 UP NEXT
Events

Date: 04/02/2018 –
Location: Comfort of your own home!
Website Url: https://theglowingskinseries.com/Hannah
Kombucha can help keep skin glowing and bright from both the inside as well as through external application. Join me on this summit to learn how to nourish your body and enhance your largest organ — your skin!
Sign up to get tips and information from over 20 skincare and health experts along with their free gifts! Here are some of the speakers:
Melissa Schollaert: dental hygienist and holistic health coach turned blogger

Free Gift: The Real Nutritious Living Welcome Kit including a 'Quick Start Health Guide & Cookbook' and printable Health Snack List

Sally Malanga: founder of the Ecco Bella skincare and cosmetics line; a natural, organic, sustainable, cruelty-free cosmetics and skincare line

Free Gift: Coupon code for a free lipstick with $50 purchase

Carly Fraser: founder of Live Love Fruit, a premier resource for raw veganism

Free Gift: 'My Smoothies and Juice' eBook

Sarica Cernohous: predigestion specialist and Traditional Chinese Medicine (TCM) practitioner and Japanese-style acupuncturist

Free Gift: 'The 5 Elements' Chinese system guide

Steven Horne: founder of the School of Modern Herbal Medicine and Tree of Light, primary resources for education of herbal medicine and health

Free Gift: Coupon code for 50% off Fundamentals of Natural Healing, Module one: Healing Pain and Injuries

Pamela Springer: founder of the Global Skin Solutions line; a premier skincare line focusing on corrective ethnic skincare

Free Gift: 'A Guide to Treatments for Aging, Sun Damaged, Brown Spots, and Uneven Complexions'

Abby Michelle: leading nutritionist and founder of Whole Body Beauty

Free Gift: The Perfect Day Nutritional Plan

Dr. Joseph Pizzorno: pioneer in natural medicine and best-selling author

Free Gift: 'Dr. Joseph's Guidance to Everyday Toxic Exposure' eBook

Dr. William Cole: functional medicine doctor consulting around the world

Free Gift: 'Heal your Gut Guide: A Functional Medicine Approach to a Healthy Microbiome' eBook

Jeanne Provost: transformational life coach and hypnotherapist

Free Gift: 'Beauty Inside and Out' meditation

Jennifer Baskin and Jessica Rose: founders of The Nature of Beauty and The Nature of Beauty Spa

Free Gift: 20% off any online purchase with coupon code
---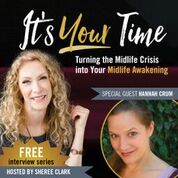 Date: 04/15/2018 – 04/30/2018
Location: Comfort of your own home!
Website Url: http://www.midlife-newlife.com/Crum
Have you reached your midlife years and are wondering: Is THIS all there is? Do you feel like you've lost touch with your joy and long to put yourself first during this second act? Searching for answers about how to feel healthy, energetic and strong again? If you're nodding yes, then I have an online event that's perfect for you.
30+ healthy living experts are ready to come alongside you — for free!
My friend and colleague, Sheree Clark, is interviewing the most in-demand experts on transforming midlife, and I am honored to be one of those she hand-picked to feature!
This life-changing online event is called This is YOUR Time: Transforming the Midlife Crisis into Your Midlife Awakening.
Sheree promises every 30-minute interview will have at least one "aha!" moment that could change everything for you. How awesome is that?
You'll find out how to:
Leverage insider tips to turn around your midlife health challenges…even after decades of less-than-perfect diet and lifestyle choices.
Incorporate top experts' proven strategies for increasing energy, protecting brain health, boosting libido, ensuring restful sleep and reducing joint pain.
Heal from depression, stress and grief from loss.
Identify and overcome personal blocks and fears, reduce stagnation in your career and relationships and gain clarity to take the next steps toward a vibrant and fulfilling second act.
And much, much more…
---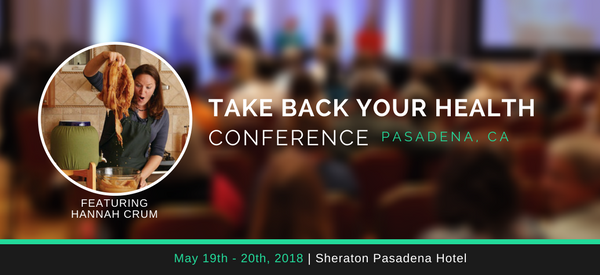 Date: 05/19/2018 – 05/20/2018
Location: THE SHERATON PASADENA 303 Cordova Street Pasadena, CA 91101
Website Url: https://tinyurl.com/TakeBackYrHealthConf
The mission of Take Back Your Health™ is to empower you to live life as you always imagined you would, unhindered by the limitations of chronic disease. True to our name, our speaker lineup and lectures provide information that is life-changing, with the ability to prevent and reverse disease when implemented into our lifestyles with purpose. Regardless of where you are on your journey to health, Take Back Your Health™ is an experience that takes you closer to your ultimate health goals — with new information, new friends and new perspectives.
Looking forward to presenting with a fantastic lineup of speakers and a tremendous VIP Cocktail hour featuring fermented cocktails!
---
Date: 05/30/2018 – 05/30/2018
Location: Nature Friends Lodge, Sierra Madre, CA
Website Url: https://westonapricepasadena.wordpress.com/meetings/current-meeting-schedule/
Sodas are a fad and they are fading fast. So what's a 21st century bacteriosapien going to sip on? Why, fermented drinks of course! Milk Kefir, Water Kefir, Kombucha & Jun are covered in this demo and conversation about why our bodies thrill to the unique flavors and benefits of these tasty drinks that have been around as long as we have. Samples provided & cultures will be available for sale.
---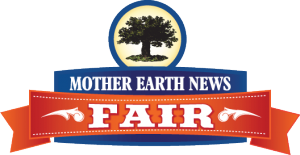 Date: 06/02/2018 – 06/03/2018
Location: Frederick Fairgrounds 797 East Patrick Street Frederick, MD 21705
Website Url: https://www.motherearthnewsfair.com/maryland/
KOMBUCHA WORKSHOP SCHEDULE COMING SOON!
---