For me, flavoring is one of the most fun, creative parts of making Kombucha and can be really rewarding.
So with my latest batches of Kombucha, I whipped up some new flavor combos. Here's how they turned out.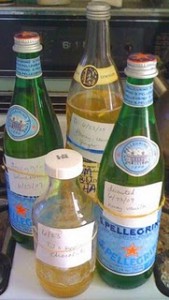 I have never brewed my primary brew with honey, but decided I'd like to add it to the 2ndary fermentation to see how it would taste. The results were fabulous! Especially for those out there who are a little put off by the tartness of Kombucha, adding a little honey to the decanted brew was excellent. It also added increased carbonation by giving the yeasties some more sugar to create a little more fizz. It really mellowed out that tart flavor but for my tastes, I'd let it ferment 5 days or longer to let some of the sweetness subside.
I created a few different Honey combos:
Honey, lemon, ginger: I LOVE lemon and ginger and the honey rounded out the flavors with a tad of sweetness to balance the natural tartness of the lemon and Kombucha
Honey, vanilla bean: Incredible! Sweet and tart with flavors like an old fashioned italian vanilla soda. Definitely use real vanilla bean to achieve this unique and smooth flavor
Honey, ginger, blueberry: Really nice flavor. There is a complex bouquet of flavors. The initial taste is the tartness of the Kombucha but right behind it is the spice of the ginger and the fruitiness of the blueberries. Like appreciating fine wine.
Also in the sweet vein, I added some "Trader Joe's Sipping Chocolate" to a small bottle of booch. WOW! It practically exploded with carbonation when I opened the bottle (GT's new caps also help keep the carbonation in). The chocolate flavor was very present and I found it to be a bit too sweet for my tastes. I think I'll try it with cocoa powder next time and see how it turns out. The first sip started out super chocolatey and the tartness of the Kombucha was nearly completely sublimated, but just a hint of it finished off the taste. Fun for dessert Kombucha.
What yummy flavors do you love?