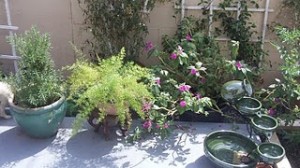 I LOVE playing around with Kombucha flavors. It is one of the most creative aspects of Kombucha and it provides for an infinite amount of variety!
Last time I mentioned using honey in the flavoring phase. This time I'm focusing on herbs from my garden!


Jasmine – I place a couple of star jasmine blossoms in my Kombucha and it infuses the KT with a beautiful perfumey bouquet.  It has a natural sweetness that tastes exactly how it smells – drives me wild!  "Jasmine is an astringent, anti bacterial, anti viral, cooling and bitter herb. It stimulates the uterus, calms nerves and is reportedly an aphrodisiac for women."

Lavender – A little bit goes a long way.  Just a couple of flower heads with some of the leaves still attached is all you need.  Delicious and relaxing.  Great for a night time brew.

Rosemary – I add a medium sized sprig and the flavor is quite nice!  I crush it a bit in my hands before adding to the KT to make sure I release the lovely oils.  Adds a nice depth to the KT.  Rosemary is high in iron, calcium, and Vitamin B6.
All of the health benefits present in the herbs and flowers will be passed on to you.  Use your imagination!  The flavor possibilities are endless.  What are some of your faves?  Post in the comments below!