Wow, what an adventure I had the pleasure of experiencing this week at BevNET Live – the Beverage Entrepreneur & Innovator Forum (Dec. 6-7), close to home here in Santa Monica at the Loews Hotel. For 2 straight days, I felt the full brunt of a crash course in the ultra-competitive Beverage Industry from the very leaders, entrepreneurs and innovators making the news today.

Jon Craven, Founder & President of BevNet gave a great speech to kick off the event Monday morning at 9am (dang corporate schedules messing with my beauty rest!). The event was jam packed with break out sessions covering a wide variety of topics: Balancing Flavor & Function; Beyond Innovation: How to Capitalize on Your Discovery; Word of Mouth Marketing; and many more.  Speakers & panelists included Seth Goldman of Honest Tea, David Karr of Guayaki Yerba Mate and Chris Cuvelier of Zola Acai just to name a few.

As you know, 2010 has been declared (unofficially, by me and my dog) The Year of Kombucha, what with the recall and the explosion of new brands spreading across the country, and BevNet put the exclamation point on that by naming GT's Kombucha as it's 2010 Product of the Year, for "fierce loyalty among its consumers" and offering " its staggering 27 varieties" and "probiotic content."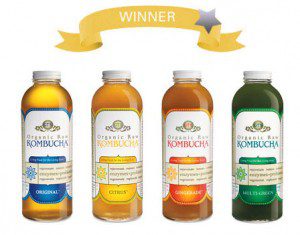 I am just ecstatic that any Kombucha brand would be recognized industry wide, and believe it means only greater opportunities for other newer and emerging brands to be recognized as well. And the more bottles of Kombucha out there, the stronger the community grows; I am heartened by these things.
In fact, everyone was talking Kombucha at BevNet and I had a chance to get a pulse on how Kombucha is being perceived by industry professionals. I was happy to speak with Vibranz Kombucha CEO, David Koretz, and we chatted about the origins of his and Kathy Taylor's company and how the recall affected them, which was a quite different story from most other brands.
Luckily for them, Vibranz had only been on the market for a couple of months when the recall from Whole Foods was issued.  David's background is as a vintner (winemaker) and he applied his experience working with fermented foods to his Kombucha brewing process.  In 2 weeks, they had reformulated and were back on the shelves.  Compared to the more established brands, such as GT's, High-Country, Honest Tea and others, which took on average much longer to get back on shelves, Vibranz gained an edge as consumers and stores with empty shelf space desperate for KT turned to brands that could offer compliant product.  He was optimistic that the brand will continue to receive wider distribution in 2011.
Also, I was inspired by the talk Seth Goldman, the CEO of Honest Tea & Honest Tea Kombucha, gave as the keynote speaker on Tuesday. He emphasized the need for growing companies to stretch their dollars (find office furniture in the dumpster? yes he did!), stay confident and, most importantly, that everyone in your organization has to be ready to do whatever job is needed. Finally he dropped his favorite Anceint Chinese Proverb on us: "Those who say it cannot be done should not interrupt the people doing it." Great stuff!
The very first question during his Q&A was about Honest Tea's decision not to continue their Kombucha product line. He is disappointed about the choice they had to make, but said the regulatory environment is just too "unstable" (read as – the FDA/TTB don't quite know how to regulate it) at this time. The biggest tragedy is that sales were robust and demonstrated Kombucha to be a viable product in the current market.
The obstacle for Seth is that the FDA/TTB are requiring the manufacturer to be responsible for any elevation in alcohol levels – even if the product is improperly handled after leaving the plant. For example, if the Kombucha is tested at the correct alcohol levels (no more than .5%) at the plant, then shipped to a store where it is left on a dock at room temp (rather than being immediately placed in cold storage as Honest Tea instructs), this may cause the alcohol levels to increase.  The TTB is claiming that the manufacturer is responsible for those elevated alcohol levels, even though there is nothing Honest Tea or any other brand can do once the product leaves their hands.
With a buy out by Coca-Cola looming as early as February (Coke already holds a 40% interest), Honest Tea was forced to decide against the risk of further losses from continuing the line. They took quite a hit during the recall: even though their product was in compliance, they had to remove it because Whole Foods asked every Kombucha company to voluntarily pull their brand, costing them a million dollars.
When I had a chance to chat with him briefly after the talk, he confided that he simply wouldn't agree to make a pasteurized product because, as he said, "What's the point?" Instead, they are letting the product sell out and won't be making any more – but he couldn't bring himself to throw away the labels! Perhaps we will see the product re-emerge one day, maybe after the regulations get figured out? I think I saw a twinkle in his eye when I asked, but maybe not.
Also on Tuesday, I was fortunate enough to have Hannah's Homebrew, my own local, organic, raw Kombucha, as a featured part of the Sample Bar. Asking only for honest feedback, I got, shall we say, a variety of reactions. Sour-puss faces, "I don't like Kombucha, but yours I could drink, you know, sometimes," to "Wow!  This is the real stuff!"  Well, I can understand how you feel when you don't get the flavor you are expecting. I tried a number of "energy drinks" and I can't say my reactions were much better. But the people! The people were very, very nice!!
Overall, it was quite an insightful look into the belly of the beverage beast.  Do not be fooled by its pretty packaging, it is as cut-throat and competitive a market as any industry.  Many try, many fail, but for those who succeed, they say it was worth all of the work and struggle. I look for more Kombucha brands to be making their mark in the coming year, and maybe I'll be lucky enough to see them at BevNet next time!