Summer vacation season is closer than ya think! The kids will be done with school, the humidity and heat will be unbearable and the itch to travel will be tickling your nomadic gene. But what about the booch?? If you've got to have your booch, here's how to take it on the road.

The Right Bottle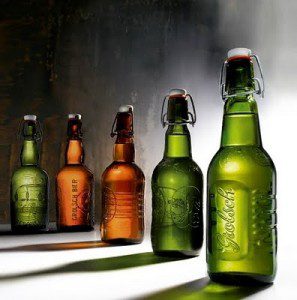 The best bottles for storing Kombucha are the
Grolsch-beer style swing-top
ones. They are designed to release pressure without sacrificing the fizz and thereby prevent explosions.
Pack It Smart
I recommend packing your Kombucha bottles in a cooler. No ice needed (though a cold sip of booch after a hike certainly hits the spot!) By storing them in the cooler, should an incident occur (i.e. explosion), it will be contained to one area and clean up will be a breeze. Store upright for best results.
Check on your bottles from time to time to make sure that none of them are leaking. To prevent the buildup of too much gas, burp your bottles; that is open the top to release the air pressure. Ah! That feels better 🙂
Hannah's 2 cents

:

I've never had a bottle of my own Kombucha explode, so while it isn't something to be constantly worried about, it is good to be aware and know that it is possible. Especially when you are traveling, your bottles will get more jostled than usual, so be sure to open carefully to avoid spraying it everywhere.
Leave It Behind
Sometimes we have to go on vacation and can't bring our booch with us.  That's when I'm most grateful for all the bottled brands you can get at Whole Foods – of course, then there has to be a Whole Foods wherever you're going.  I also find that Kombucha Concentrate is the perfect way to take it on the road.  I even brought it to Egypt and it helped me avoid King Tut's revenge 😉
So, now that the bags are packed and its time to go, what do you do with your Kombucha?  NOTHING!
Simple, huh.  Just leave it hanging out in enough liquid so that when you come home it isn't all dried out.  If you will be gone for a long time, then brew a fresh batch and leave it sit.  When you return, you will have sparkling KT ready to welcome you home.  Even if you are going to be gone for long periods of time, it is safe to let your KT brew long.  If the flavor isn't to your liking when you return, you can always turn it into hair tonic, facial toner, cleaning fluid or marinade.

NEVER PUT YOUR KOMBUCHA CULTURE IN THE FRIDGE! Yes, I put that in all caps so I'd be sure that you saw it.  I know, we are totally conditioned to put things in the fridge so that they don't go bad.  Let me tell you a little secret about Kombucha, it NEVER goes bad!
That's right!  Because of its naturally low pH, it has an antimicrobial barrier that protects it from being invaded by harmful pathogens.  There is only one stage where it can become contaminated and that is within the first few days of brewing a new batch before the pH drops to 3.0 or lower.