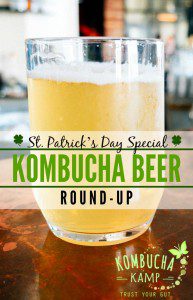 Growing up in Chicago, we were all Irish on St. Patrick's Day.
While in Ireland it began as a religious holiday, in the U.S. there's a whimsy to St. Patty's that is unmatched throughout the year and it was originally established as a guilt-free feasting (and drinking) binge day during Lent.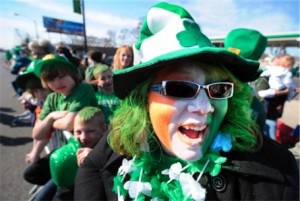 Of course, plenty of folks, Catholic or not, still take the opportunity to overindulge whether they are giving up anything for Lent or not!
In America, we like to celebrate St. Patrick's day by wearing green clothes and sparkly green leprechaun hats, eating corned beef and cabbage with soda bread, dyeing our rivers green, and going to the pub with friends to drink copious amounts of beer.
For me, the shamrocks indicate Spring's arrival, the parades are unpretentious and everyone is quicker to give a smile.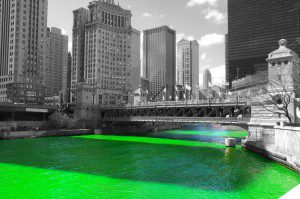 As we've discussed before, Kombucha and beer are similar ferments, especially Lambic beers, and can be combined into one powerhouse beverage.
Beer brewers have begun experimenting with Kombucha while Kombucha brewers are using a variety of methods for creating a higher alcohol Kombucha that is intended to offer a true buzz.
In honor of this cheerful beer-ful holiday, let's take a look at the artisanal Kombucha beer offerings available across the country.
****
Unity Vibration's
Triple Goddess Kombucha Beers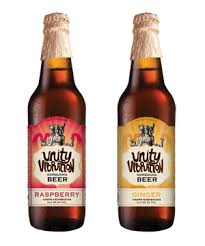 Another Kombucha brewer that also went the over-21 route is Unity Vibration, a mom and pop operation run by Rachel and Tarek Kanaan. They had to shut down for 5 months during the licensing process. In the end, the Kanaan's became one of the first licensed brewers in the nation to introduce a Kombucha-based beer. They offer two main flavors – Ginger and Raspberry – with occasional seasonal varieties.
Each hand-crafted batch of Triple-Goddess beer starts with Unity Vibration's 30-day brewed Kombucha. Next they add organic hops and either raw organic ginger or fresh organic local raspberries. The beer is aged in open oak barrels and then conditioned in the bottle. Both brews are organic, raw, gluten-free and a hefty 8% alcohol by volume, making it a great beverage to share.
The Ginger beer fills your glass with a light yellow brew positively humming with fizzy carbonation. The essence of slightly sour ginger wafts up from the glass promising a spicy treat. The ginger is nicely complemented with sweetness and finishes with a dry note. Unity Vibration's Ginger beer pairs well with salads and vegetable dishes, or spicy Indian, Thai or BBQ. The pleasingly pale pink-colored beer of Unity's Raspberry beer is reminiscent of a framboise lambic. The fruity raspberries are balanced with sour kombucha flavor providing a crisp and clean finish. Enjoy this sweet, tart elixir with snacks such as fine cheeses and crackers, or dark chocolate deserts.
I had the distinct pleasure of trying Unity Vibration Triple Goddess Kombucha Beer. It has recently been made available on the West Coast in the San Francisco Bay area and is also available in Michigan where it is brewed.
****
Lambrucha

If you are looking for a very drinkable beer to enjoy round after round, try Vanberg & DeWulf's Lambrucha. Crafted by Don Feinberg and Wendy Littlefield, this refreshing Belgian beer combines a one-year aged De Troch lambic with an organic green tea Kombucha.
Don says he got the idea for Lambrucha after sipping his wife's Kombucha; the flavor reminded him of the "horseblanket" flavor often prominent in lambics. Lambics, similar to kombucha, use wild yeast to ferment and the Brettanomyces yeast, which adds that particular muskiness, are often harvested from both brews.
When poured, Lambrucha, fills the glass with a sparkly orange-caramel colored liquid and a foamy head that quickly dissipates. A light lemony scent follows the drink to the end without overwhelming.
The first sip reveals a crisp sour brew that is mildly malty and yeasty with the taste of overripe fruit. Lambrucha finishes on a lemony citrus note with just a hint of apples or cucumber that cleanses the palate.
With only a 3.5% alcohol content, Lambrucha is a very drinkable sour beer that won't knock you flat after the first glass and has been described as a great session beer. Try it with a bit of cheese or as a nice complement to fish and chips.
In a world of many choices, some products don't always continue to make the cut and are retired from the repertoire.  One such beverage was a pioneer in its heyday, Fleur, the hibiscus tea Kombucha beer brewed by Goose Island Brewery in Chicago. Enjoy this look back at Tom, John and the pink SCOBYs of Fleur. Fleur has been revived and vintage bottles may still be found at select outlets.
****
Beyond Kombucha's
Mava Roka Kombucha Ale

The labeling discrepancy that forced many Kombucha manufacturers to reformulate in 2011 has yielded some creative new offerings. Preferring not to tinker with a carefully perfected Kombucha recipe, Beyond Kombucha founder & ecopreneur Spiro Theofilatos became the first above .5% ABV licensed kombucha brewer on the East Coast. Theofilatos quickly delved into previously unexplored territory and is producing their first Kombucha Ale.
Boasting a 6.5% ABV, Mava Roka – a Maple Vanilla Rooibos Kombucha Ale – is rocket powered by the addition of special yeast. The sweet-sour ale starts off as a vanilla rooibos tea Kombucha brewed in oak casks. Maple syrup is added at the second fermentation stage to give the ale a sweet fizziness. The result is wonderfully unique beer with flavors of that wash over one's taste buds in alternating waves of sweet and tart. Mava Roka will not leave you wanting.
As a bonus, since it is an unpasteurized beer, Mava Roka retains all the healthy B-vitamins, amino acids, and digestive enzymes found in regular Kombucha. Beyond Kombucha drinkers can also rest assured that their beverage is chlorine and fluoride free as the company uses only reverse osmosis, remineralized water to ensure the best flavor. They also draw power from solar panels located atop the facilities roof.
Have you tried any of these Kombucha Beers?
Which one looks best to you?
Leave a comment below!