was founded by Adam Goodman and he is exactly what his name indicates, a good man. I met up with Adam along Santa Cruz's beautiful coast line.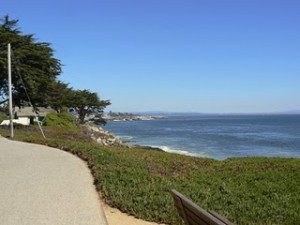 I thought that the man approaching me might be him, but no, he wouldn't have a baby strapped to him, would he? Yes, he did have the baby, Asher, who just turned 9 weeks old that day, with him, as well as a bag of Kombucha Botanica for me to sample.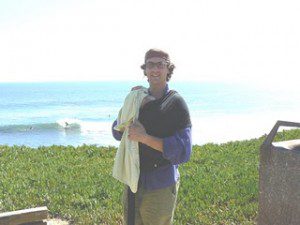 I offered him a taste of my Goji Berry brew that had been in the bottle about a week or so at that point and he promptly spit it out. Most people might be offended by such a gesture, but Kombucha is a rather subjective beverage depending on your personal taste and after sampling his wares, I can see why he found mine to be a bit tart.
Adam, originally from Virginia, moved to Morro Bay after spending a few years in South America while in the Peace Corps. He first learned to surf in Ecuador and it's a passion that brought him to the West Coast. A passion that led us to stroll down the coast to "Steamer Lane" a popular surf spot near the lighthouse just to watch the surfers enjoy the Southern swells.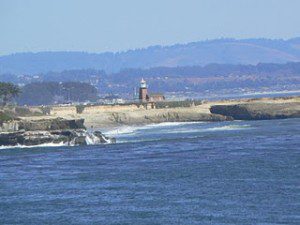 He first heard about Kombucha in New Mexico in 1995. Then when he moved to Morro Bay, he stared brewing it for Shine Cafe located inside the Sunshine Health Foods store which is a health food store with an organic vegan café. Not only did Adam enjoy Kombucha's usual health benefits [improved digestion, liver detox, strengthened immunity,etc.], but also discovered that it helped greatly with his chronic eczema. He treated the eczema with a topical compress of a mature brew (10-14 days) directly applied to the affected areas.
His successful brewing experiences in Morro Bay inspired Adam to start his own company, Alta Vida, which translates from Spanish to "High Life". Adam's experiences in South America and the Peace Corps led him to have a deeper appreciation for the Earth and its inhabitants. This caused him to pursue a healthy lifestyle that honors the body, mind, spirit and planet.
This philosophy has carried over to his business practices as well. Kombucha Botanica is certified USDA Organic, Fair Trade Certified , Kosher and is a member of 1% for the Planet. He also pays his employees a fair wage based on San Francisco's minimum wage, which is the highest in the country. I have to say that I'm in complete agreement with Adam's business model. I really appreciate his commitment to all organic products sourced from fair trade farms and the choice of exceptionally healthy flavors. I firmly believe that capitalism, social responsibility and environmentalism can not only co-exist in harmony but are the necessary next step for humanity as a whole.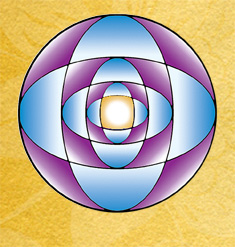 This is the logo that Adam uses as designed by Carrie Toder. When I asked him about the symbol's significance Adam replied, "To me the mandala in the middle of the label invokes energy, depth, femininity, beauty, mystery (no one thing to each person) just as kombucha serves each person differently." Coincidentally, we ran into Carrie at the end of our walk. Here she is with Adam & Asher.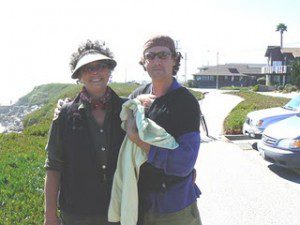 Adam brews his Kombucha in custom made ceramic crocks that are housed in a special fermentation chamber kept at a temperature of 75-80 degrees. The brew takes 20-24 days to reach maturation due to volume. Then, all organic ingredients are added to the bottles to create his unique flavors. He has discovered that the natural carbonation of his Kombucha tends to vary according to the ingredient with the ginger producing the most carbonation sooner than the others. So while you may purchase a bottle of his Kombucha and find it flat at first, it will definitely increase in carbonation the longer it remains in the bottle. Given the luxury of time, perhaps he would try to control this process more precisely, but as it is flying off the shelves, that may be a consideration for the future.
We did touch on certain topics that I'm researching along the way.
1. Distilled Water
Adam said yes to this. I'm still a little hesitant and after talking to Ed Kasper, I'll elaborate further on this point. I think it's important if you are selling a product, but for home consumption, I'm happy with my filtered water that is boiled.
2. Tea
Adam uses a blend of organic green and black teas for flavor and for each of their own health benefits.
3. Sugar
Adam uses evaporated cane sugar. His view is that the Kombucha doesn't need the minerals that are found in molasses, maple sugar, brown sugar, etc. Plus it's harder for the Kombucha to break down the sugar into it's simplest form. He uses the cane sugar because it's organic and doesn't contain any chemicals like you find in white sugar.
4. Heating Pad
Adam feels that heating is necessary for the Kombucha. The typical fermentation temperature range is 70-80 degrees and it can get cold in Morro Bay, Santa Cruz and yes, even in Los Angeles. With the heating pad, the ferment time can also be reduced and it produces healthier looking mushrooms. That being said, while Adam recommends a heating pad at home, his Kombucha is brewed in a temperature controlled chamber designed to produce an optimum brew.
Kombucha Botanica Flavors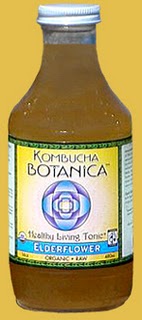 Elderflower is well known in Europe and abroad for being a great immune system booster, particularly for  the upper respiratory system. This brew is pleasantly sweet with champagne notes. The perfume of the flower adds a delicious, sparkly flavor.
As I was leaving Santa Cruz, both my siblings caught a cold (and blamed me for bringing it from LA, of course) and I felt that I had a sinus headache fevery fuzzy feeling coming on. I immediately imbibed nearly the whole bottle of Elderflower and fortunately didn't get sick. I definitely think that the booch helped along with nipping it in the bud (rather than being in denial about it).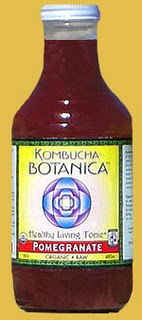 Pomegranate has gained popularity in recent years as being an amazing anti-oxidant. The pomegranate has full fruity flavor that pairs nicely with Adam's delicious brew. It doesn't have that dry mouth feeling that I usually get from drinking straight pomegranate juice.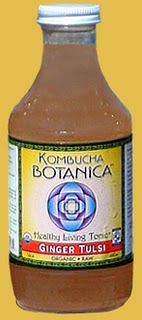 Adam only uses the finest quality organic Hawaiian Ginger and it has a great spicy flavor that pricks the tongue. Tulsi is also called "Holy Basil" and has a thousands of years long tradition of use in Hindu Ayurvedic practice. It is the most revered herb of Ayurveda and is used extensively throughout India. Often it is used as an herb that boosts the effects of the other herbs it is paired with and it is in this capacity that it accompanies the ginger to soothe and calm the nerves, digestive system and reduce stress. Although I don't think I can distinguish what it tastes like, the flavor of this one is fabulous.
I have to say that I wish Kombucha Botanica were available locally, but for now, it only has distribution in Northern California. Adam plans to expand his operation due to demand, but doesn't envision world domination preferring a vision of several local brewers making their own regional Kombuchas. I can appreciate this vision as it allows for lots of people to make their own livelihood doing something they love, for people they love, for brewing Kombucha truly is a labor of love and sharing is caring.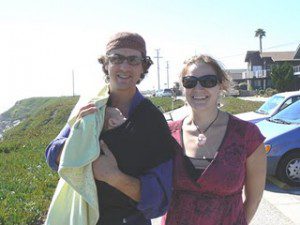 About Kombucha Botanica (from their website)
Founded in the spirit of service, Kombucha Botanica™
is committed to supporting the health of people, community and planet.
---
UPDATE: Unfortunately, after the withdrawal of 2010, Bontanica attempted to return to the shelves with a reformulation, but closed their doors soon after. We wish Adam the best on whatever adventure he is tackling these days! 🙂