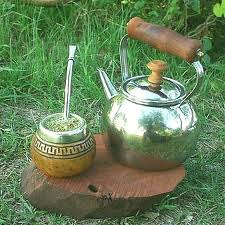 This is a follow up to the previous post:
"Tea & Kombucha – What to Use & What to Avoid"
Although Kombucha thrives best in a nutrient solution of straight tea and sugar, the advanced brewer is highly encouraged to experiment by using other herbal infusions to ferment the culture. One of the many benefits to this type of experimentation is that you receive far great health benefits from herbs that have been "pre-digested" through the fermentation process with the Kombucha culture.  Basically, Kombucha grabs the healthful elements (polyphenols, sterols, anti-oxidants, etc) and starts breaking them down into a form that is more bio-available; that is, easier for the human body to absorb and make use of immediately. Try these types of experiments once you have a stash of back-up cultures in your SCOBY Hotel.
PU-ERH TEA
Pu-erh (AMZ) is a member of the tea family (camellia sinensis). An ancient 1700-year old tea tree lives in the mountains of Yunnan, the province in China where Pu-erh County, the namesake of the tea, is located.  The locals have closely guarded their secrets in producing this highly prized tea that can range in price from a few dollars to thousands per ounce.  It undergoes a special fermentation process which imbues specific healing properties i.e. lowering cholesterol and aiding weight loss. It is known as a "living" tea because the natural microbes present on the tea leaves at the time of picking are allowed to ferment the leaves in what is known as post-fermentation.
Located on the "茶馬古道" (Chámă Gŭdaò – tea horse ancient road), which served as an export road for horses from Tibet to China and tea from China to the Tibetans, Indians & beyond, Pu-erh County was a key stop along the path. Tibetans had little to no vegetables in their diet and the nutrients from the tea, which they soak in butter and drink to this day, helped fill that nutrition gap. The road took traders through treacherous terrain, crossing deep gorges on rope bridges and was seldom undertaken alone.  Several outposts cropped up along the way to service the traders. The 茶馬古道 was at its height in the Song Dynasty (宋朝 960-1279) when 2000 or more travelers a day would carry over 7500 tons of tea out of China. Quite an amazing feat when you consider they did all this on foot!  Besides tea, culture and Buddhism also spread in both directions thus influencing the philosophical development of future generations of Chinese thinkers.

Bonus Reading: The complete fascinating story of The Ancient Tea Horse Road crossing China into Tibet.
A Legend of Pu-Erh Tea
The process to creating the finest pu-erh tea is shrouded in mystery. To this day, many of the famous pu-erh tea plantations closely guard their techniques for cultivating this uniquely fermented tea. One legend states that monks took to burying their tea cakes to prevent them from being stolen by marauders. When they came back to uncover the tea, they discovered that it had undergone a transformation into what we now know as pu-erh tea.  It was often pressed into lucky shapes such melons, mushrooms or in the shape of coins which made it easy to use as currency. To this day, decades old pu-erhs are highly prized and treated as investments similar to investing in fine French wines of a particular year.
The flavor of pu-erh tea is much more mild and fragrant than its appearance would seem to suggest. The first time I tried it, I was expecting a more robust flavor but was pleasantly surprised by its natural sweetness.  Add some pu-erh to your tea blend to increase the body's ability to deal with fatty foods, lower cholesterol and to help lose weight. In China, pu-erh is considered a medicinal tea and only drunk when required by one's physical state of health.  This makes it a great companion to the Kombucha's natural healing properties.
YERBA MATE
I first discovered Yerba Mate when one of the founders of Guayaki shared with me the ritual of the gourd.  We were at a restaurant convention and though the place was packed with curious restauranteurs eager to gobble up or gulp any sample set before them, David spotted a kindred soul (I'm sure of it!) and passed on the ritual of drinking yerba mate.  Yerba is the Argentinian variant for the Spanish word "hierba" meaning grass or herb. Mate comes from the Quechuan word for the gourd out of which the yerba is drunk, mati; literally, "herb cup." Now, I share this gift with you!
The ritual starts when the cerbador (server) prepares the yerba mate to be drunk. First, a portion of dried stems and leaves are added to the gourd with some cold water to protect the nutrients and prevent scalding. When the mate has absorbed the water, then hot water (not boiling) is poured in the gourd. The cerbador will usually drink the first 1-2 rounds of "washings" to make sure the temperature is right and that it is running smoothly. Plus it gives them the energy to play host!
Then, the mate is offered to each friend with the bombilla (metal straw) facing the recipient. The cerbador looks the receipient in the eyes as they exchange the gourd.  Only when the drinker has had their fill of mate will they then say gracias (thank you.)  After each mate has been drunk, the cerbador adds a fresh supply of hot water and shares it with the next in the circle of friends. The yerba mate can be brewed several times, making it ideal for sharing with others.  As they say, "We share the gourd, not the beverage."
I was immediately taken with this ritual. It is so much about building community and connecting to others in a positive and sharing way. Friends gather to enjoy the mati and conversate about all manner of topics – a habit many people have lost thanks to the boob tube. There is an additional bonus to this communal sharing of the bombilla and mate; inoculation due to shared saliva. Basically, by swapping spit with friends, each person is inoculated to different viruses thereby building immunity.  In our germophobic society, that might seem gross, but it is theorized that even kissing was developed to spread germs.
OK, back to the mate. My husband and I engaged in this ritual quite frequently while spending many long hours building the new website. My favorite part of this ceremony is when you look into each others eyes.  So often these days, people avoid direct eye contact. Part of building community, is also building a safe place for that community to exist. Looking each other in the eye, sharing the same gourd and engaging in stimulating conversation is the perfect way to draw others into your circle of trust.
Yerba mate's benefits extend beyond the ritual to the plant itself. Ilex paraguariensis, the latin name for Yerba Mate, is a species of holly tree native to subtropical South America in northeastern Argentina, Bolivia, Uruguay, Paraguay and southern Brazil.  Mate has as much caffeine as coffee but its nutritional profile offsets the typical crash experienced by most coffee drinkers.  When I drink yerba mate, I find that the energy is focused.  I don't feel jittery nor do I experience the caffeine crash typical of coffee.
According to a study at the University of Illinois – Champaign Urbana (quick fact – my alma mater!), "Yerba maté tea-based beverages contained the largest antioxidant and poly-phenol content among tea-based and non-tea-based drink in a recent study published in the Comprehensive Reviews in Food Science and Food Safety. This contributes to the functionality of the beverage, which has been shown to include anti-inflammatory and low-density lipoprotein (LDL) cholesterol-lowering properties that help aid in the prevention of diabetes and heart disease."
I include Yerba Mate into Hannah's Special Blend because I like the slightly smoky flavor and increased energy boost that it provides. Experiment for yourself and see!
Bonus Reading: Yerba Mate Drinks Have The Most Antioxidants, Polyphenols
ROOIBOS
Pronounced "roy-boss", Rooibos (literally "red bush" in Afrikaans) has been popular for generations in Southern Africa where it originates. The plant is used to make an herbal tisane called rooibos tea, bush tea, redbush tea, South African red tea, or red tea. Naturally free from caffeine and having a pleasantly sweet taste has boosted its popularity worldwide.  It is also purported to help calm colicky babies and soothe skin afflictions when applied topically.
Traditionally drunk by the Khoikhoi people of the South African Bush, this red bush herbal infusion nearly faded into extinction due to the dwindling tribe and environmental factors.  In the late 18th century, botanist Carl Thunberg re-discovered it, but it wasn't until the early 20th century when Benjamin Ginsburg developed a method for fermenting the leaves similar to the traditional process for fermenting (or as we know from the previous post "oxidization") Keemun tea from China.
Bonus Fact: Khoikhoi means "people people" or figuratively "real people" so in that sentence above, the "Khoikhoi people" are the "people people people" – trippy!
I enjoy the deep, smoky flavor of Rooibos in my Kombucha, but I use it sparingly in combination with other teas, otherwise, I find that the flavor may be too overpowering. I include it in Hannah's Special Blend for a hint of sweetness and depth.  Its pretty red leaves glint among the green, black and white of the other teas.
Bonus Reading: Rooibos was trademarked?