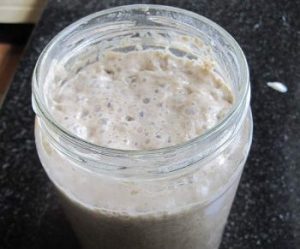 Kombucha sourdough is deliciously tangy, easy to make, and a great way to use extra yeast from your brew! Rather than throw them away, collect the brown strings of Kombucha yeast and we'll show you how to make sourdough from Kombucha.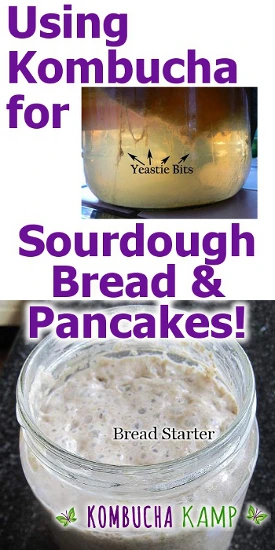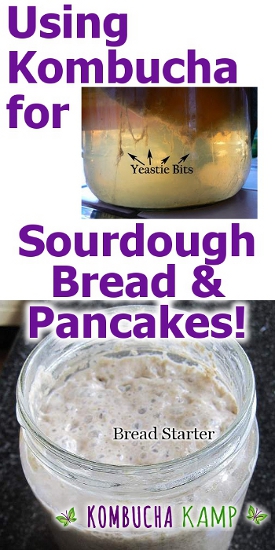 Yeast are a crucial component of Kombucha. They are the "Y" in Kombucha SCOBY! There could be no bubbles without the yeast. Plus they provide nutrition to us in the form of B vitamins.
But if left unmanaged, the yeast will overproduce and dominate. This throws the brew out of balance, which can lead to bad flavors or even mold.
As we do our regular maintenance on our SCOBY Hotel, or trim up the SCOBYs in our Continuous Brew, or even just filter out the extra yeast at the end of a Batch or CB round, saving it in a separate vessel and using Kombucha for sourdough bread is a great way to use up what would otherwise be waste.
Kombucha Sourdough: just another way the brew helps the environment!
The History of Sourdough
Historically, bread has been called "the essential food for most people for most of recorded history". More simply, it's known as the "staff of life."
Although we still don't know the exact origin of bread, recent evidence traced the oldest known flatstone baking to Jordan 14,500 years ago, more than 4,000 before agriculture.
While the most ancient breads were unleavened types similar to today's pita and naan, the first record of leavened bread (with yeast) is sourdough made by the Egyptians around 4,000 b.c.e.
Leavening and Yeast, Briefly
Leavened bread rises due to the presence of yeast. It's what makes the large holes (aka crumb) in a well fermented Sourdough. Leavening occurs when wild yeasts populate a mixture of flour and water.
The yeast feast on the carbohydrates (sugar) naturally present in the flour. This (somehow) attracts lactobacillus, which creates a symbiosis (sound familiar)? Fermentation breaks down the naturally occurring phytic acid in the grain, creates a lighter texture (yeast release carbon dioxide that creates air pockets), and preserves the bread from spoiling too quickly.
Modern Bread
Most bread for sale today, especially at the grocery store, has undergone little-to-no fermentation, and may have added chemicals, fillers, or other artificial ingredients intended to standardize the otherwise artisanal process of baking or extend the shelf life of what is supposed to be a very freshly consumed product.
How else could they sell something via the supermarket that should be bought each day from the baker themselves?
And so many a homebrewer has wondered: can I make bread using Kombucha yeast? And the answer is yes! 🙂
Kombucha Bread Starter
*Used with permission from The Big Book of Kombucha





(83 votes, average: 3.47 out of 5)


Loading...
– Yield: 3 cups starter
– Prep Time: 5 minutes
– Cook Time: 3 days
– Total Time: 3 days 5 minutes
Ingredients
2 cups all purpose flour
1 cup sugar
¼-1 cup Kombucha yeast
1-2 cups Kombucha or Kombucha Vinegar (i.e. very sour Kombucha or Hotel Liquid), at room temp
Instructions
Combine the flour, sugar, yeast and Kombucha in a medium nonreactive bowl.
Stir to form a lumpy mixture.
Cover the bowl with a cloth, secured with a rubber band.
Leave at room temperature and stir once a day until small bubbles form in the mixture, which may take 3-7 days.
Feeding the Starter
Once it becomes bubbly, it may be used for baking but it is still weak. Taking the time to feed it for a few more days will ensure the best flavor and rising power.
Instructions
Use a nonreactive container that can hold at least 3 quarts and has a tight fitting lid.
Add 1 cup of flour and 1 cup of Kombucha or KV to the starter.
Stir until well combined.
Cover with cloth secured with a rubber band
Leave at room temperature for 24 hours.
Feed the starter again each day for the next 2 days.
At the end of the 3rd day, the starter will be robust and ready to bake!

Using & Storing the Starter Tips
It may seem like you have more starter than you need, however 1-3 cups will be needed for each recipe included below. Every time some is removed to use for baking, replace with the same amount removed in order to maintain the supply. If you need more, add more without removing any and allow it to come up to strength.
Between uses, store starter in tightly covered nonreactive container in the fridge. Yeast are temperature sensitive, so bring the starter back to room temp before using for baking.
Starter will keep for 6 months in the fridge. The longer it's stored the more sluggish it becomes.
To restart, keep 3 cups of starter & discard the rest. Repeat the feeding process outlined above.
Kombucha's dominant yeast is Brettanomyces bruxellensis and may not have the same lift as Saccharomyces spp. If the bread is too dense, simply add some commercial yeast to the starter to create more airiness in the dough.
General Tips
Letting the dough rise near your Kombucha brewing vessels is a good idea as it will capture wild yeast that is in the air.
If after 24 hours the starter doesn't have a ton of small bubbles and hasn't at least doubled in size just feed it.
As soon as it gets lots of small bubbles, and a nice sour smell then you have a mature starter and can bake bread with it.
Store in the fridge between feedings. It will keep several months. To revive, remove from fridge and feed.
Here are a couple of great, simple ways to make use of that lovely sourdough Kombucha bread starter you've just cultivated!
Here's another great use for starter from fermentation buddy Sandor.
Have you made Kombucha Bread before, or just want to try it?
Leave a comment letting us know how it went! 🙂