Description
Wholesale Cultures (SCOBYs) for Sale – 10 Pack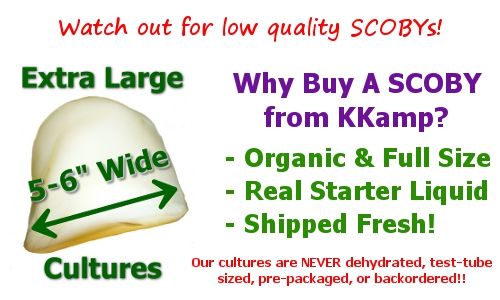 Save even more when you select the 10 Pack of wholesale cultures (SCOBYs). Each KKamp SCOBY is large, 6 inches across, and packed in very strong starter liquid, ready to brew on arrival. Use these SCOBYs for teaching a class, sharing with friends, making multiple large batches of Kombucha, or anything you like!
This is the world-famous Kombucha Kamp SCOBY, often imitated but never duplicated, the best culture available and guaranteed to brew. You can also choose to add a second SCOBY to your order, which is great for larger batches or sharing with friends. Each KKamp SCOBY is large, 6 inches in diameter, and packed in very strong starter liquid, ready to brew on arrival. Accept no substitutes!
PRODUCT FEATURES
10 SCOBY Kombucha Cultures

 

– Individually Packed – makes 10 gallons of Kombucha or JUN
10 Cups Strong Starter Liquid – 1 cup packed with each SCOBY and vital for a healthy start to the brew
FREE SHIPPING! (in the continental US)
Short-cut Kombucha Tea Recipe, Tips & DIY Guide (OPTIONAL)
1 Gallon Tea Bag of Hannah's Special Tea Blend for Perfect Kombucha or Green Goddess Tea – enough Special Tea blend for a 1 gallon batch packed inside a reusable muslin tea bag (OPTIONAL)
Please note that SCOBYs for wholesale bulk packaging will be packed in weight and volume –

Pieces will not be in perfect disks but will be strong. Many of our commercial clients proudly use Kombucha Kamp SCOBYs for brewing their ready to drink Kombucha with great success. We anticipate your batches will do well too.

Not eligible for further discounts.
—————————————
Looking for Larger Quantities of BULK Kombucha SCOBY?
Email for a Quote
Retailer Notes
SCOBYs guaranteed to brew for 120 days from ship date

Store at 55 – 75 degrees – Do Not Refrigerate
—————————————
Quick Kombucha Culture FAQ
Why wouldn't I buy this cheaper dehydrated SCOBY?
While dehydrated SCOBYs may produce a safe batch of Kombucha, they are VERY SUSCEPTIBLE TO MOLD. The living culture at the center of a dehydrated SCOBY cannot properly protect itself early in the brewing cycle without the full power of the culture and starter liquid (included with your Kombucha Kamp SCOBY). Water is the source of all life on Earth. Why begin your quest for a healthy LIVING beverage with a bone dry culture?
Test tube size? That's a joke right?
Unfortunately, no. There are test tube size SCOBYs and even SCOBYs the size of a half dollar, requiring multiple batches to get up to full brewing potential. Unsuspecting consumers are duped everyday by these sellers. The worst part is that many new brewers give up, thinking they have done something wrong. It's not you, it's your starter culture!
How are Kombucha Cultures grown?
Every Kombucha Kamp culture is grown in its very own jar until it's thick and creamy, then harvested to a SCOBY Hotel and stored for shipment in strong starter liquid. There is no wait for a SCOBY to grow, it has never been dehydrated, nor has your SCOBY been sealed in a box for weeks. Fresh means your culture is ready to brew on arrival, that's the Kombucha Kamp guarantee.
Ask the above questions of any Kombucha culture seller online before investing your money in their product.
Or just order high-quality Kombucha Kamp SCOBYs and you'll already have the answers! 🙂