Fermented Cold Shrub Recipe made with Kombucha Vinegar plus Kocktails & Mocktails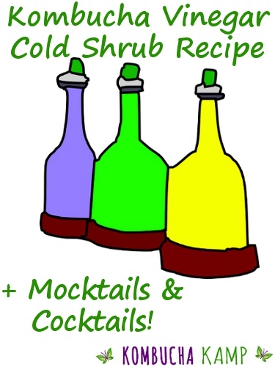 Shrubs (beyond being attractive landscaping) are a sweetened fruit syrup preserved in vinegar. Refreshing and delicious, this cold shrub recipe has delighted humankind since ancient times. Shrubbing was a crucial process to ensure that vital nutrients such as vitamin C were available throughout the leaner winter months or on long voyages across the sea.
During Prohibition, shrubs became a popular alcohol substitute. The modern "farm-to-bar" cocktail movement made them hip again. Whenever the whistle desires whetting, shrubs offer a tangy, refreshing option, whether added to a cocktail or just a plain glass of water.
Using kombucha instead of vinegar adds another layer of flavor and bacteria and yeast buddies. The cold shrub recipe process means our little friends stay alive and active. These tasty and easy-to-make syrups are sure to become family favorites, whether they're destined for homemade sodas or for cocktails. Check out all the options below!

KMAMMA SEZ… 
Shrub is derived from the Arabic word sharāb which means "wine" (or any beverage), and shariba which means "to drink." Originally, a shrub was a drink made of citrus juice, sugar, and rum or other liquor. The term evolved in the mid-1800s to include the vinegar/sugar/fruit cordial varieties in this cold shrub recipe.
The typical cold shrub recipe follows a standard ratio of 1 part fruit:1 part sugar:1 part vinegar. However, since kombucha vinegar is less acidic than traditional vinegars, the ratio for a Kombucha shrub is 1 part fruit:1 part sugar:2 parts kombucha vinegar. Any type of fresh fruit works — try berries, peaches, plums, rhubarb, apricots, apples, melons, cherries; you name it!
Kombucha vinegar yields the best flavor, but unflavored Kombucha can also be used as it will continue to ferment, even in the fridge. Flavored Kombucha or Kombucha Vinegar can add a layer of complexity to the final shrub.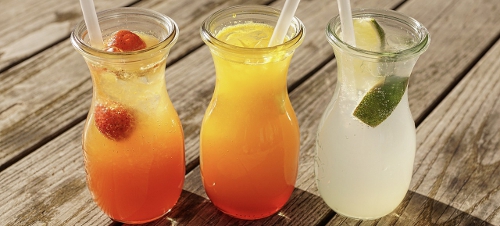 To Make a Kombucha Shrub, You're Going To Need Kombucha Vinegar
Nearly any old Kombucha, meaning Kombucha that has been fermenting for a long time (even from a SCOBY Hotel), might be considered "vinegar" due to the sour taste on the tongue. But sour Kombucha may only contain up to about 1% acids, which is tame when compared to traditional vinegars that generally have around 5% acids. Gradually adding the sugar prevents the brew from becoming overwhelmed, instead spurring the natural processes repeatedly until the acids have built up to a more powerful 2-3%. Even still, this leaves Kombucha Vinegar about half as strong as traditional vinegar, which is why we use twice as much for this recipe.… Continue Reading