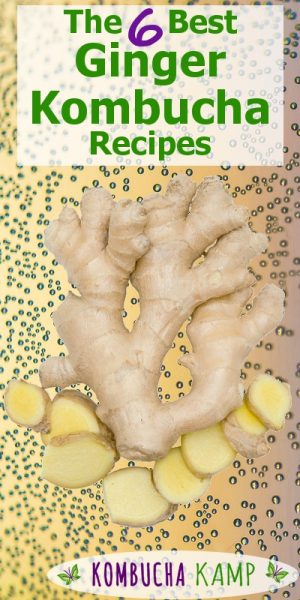 Ginger Kombucha is the #1 best selling Kombucha flavor worldwide. And it's no wonder, as they pair perfectly. The warm, spicy taste lends Ginger Kombucha a tangy bite, like "ginger ale" with a kick.
Done right, the best Ginger Kombucha recipes beat any store bought sugary soda, which is why nearly every brand on the shelf sells their own version of Ginger Kombucha.
Ginger Kombucha Benefits
There's a reason humans have been growing and consuming Ginger for over 5000 years! Ginger has been shown to improve digestion (great for an upset stomach), reduce inflammation and contains antioxidants; all that good stuff also stimulates the yeast in Kombucha and bumps up the bubbles.
Ginger has also demonstrated anti-cancer properties and may help with cardiovascular health, so it's a powerhouse!
FUN FACT: The most popular beverage in the US before Prohibition was Ginger Beer.
What Type of Ginger To Use for Kombucha Flavoring
Ginger comes in so many different formats: fresh, dried, candied, syrup, and powder to name a few. So which will be the best for flavoring Kombucha? Cut and dried is our favorite type of Ginger as it's the most versatile and storage friendly, but you might choose another depending on what you have handy or how much "fire" you want in your flavor.
The smaller the pieces, the faster and more deeply the flavor will infuse, which is why ginger juice is the most potent. While sometimes strong ginger flavor is a good thing, it can overwhelm other components and become bitter or harsh on the throat. Start with a small amount and scale up.
Candied ginger and ginger syrup will add more sugar to the final product. That can be good as it will create more carbonation, due to the sugar reactivating the yeast, but too much could lead to bottle bombs. Start with only a little candied ginger or syrup. If you are concerned about too much carbonation, open bottles in the sink with a ziplock bag over the top to prevent Jackson Pollack-ing your ceiling with ginger pieces!
Powdered ginger ends up clumping in the liquid and has to be remixed into the beverage, and it leaves quite a bit of sediment that may need to be strained out, making for a goopy mess. For this reason, we generally avoid powder.
Dried Ginger for the Win!