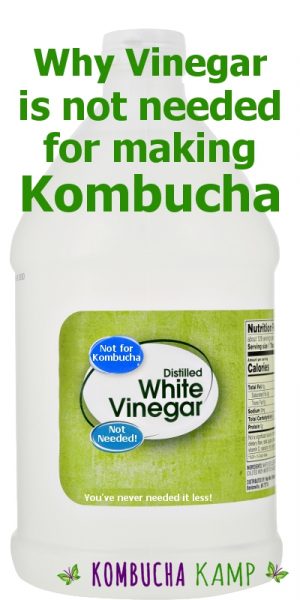 Have you seen a recipe for Kombucha that says you need to add vinegar? Why would you need to do that? Does it make the brew stronger? These and many other questions about vinegar and Kombucha often fill our inbox.
While there is a lot of conflicting information about vinegar and it's easy to get confused, the short answer is NO you do not need to use vinegar, either as starter liquid or in your vessel.
However, there are some situations where vinegar can serve as a useful brewing tool, assuming the correct type of vinegar is used. Below, we'll review exactly when and when not to use vinegar with your Kombucha brew.
How Do Kombucha and Vinegar Relate?
Kombucha is an acetic acid ferment, which means it belongs to the vinegar family. The bacteria in both are generally related but different in type and mix, while the yeast differ greatly.
Vinegar is technically defined as having 4-8% acetic acid content. By contrast, Kombucha contains just 0.5-1.2% acetic acid. We do not need to dilute Kombucha in order to enjoy it as a beverage, making it an "easy drinking" tea vinegar. The acetic acid provides a delicious flavor punch as well as a host of other benefits.
Should I Be Using Vinegar for Kombucha Starter?
…
Continue Reading