Who loves bubbles in their beverage? We do! In fact, most Kombucha homebrewers desire more fizz in their brew. Any why not? It's fun, adds texture and flavor, looks cool in the glass and reminds many people of good times. How exciting when a new Booch is opened, bubbles rush madly upward, increasing exponentially, frothing to the top of the bottle and spilling forth gently!
There may even be a secret reason we crave those carbonated quaffs…could it be nutrition? Natural fizz – the kind found when bottling Kombucha, JUN and Kefir homebrews – indicates the presence of living yeast, which contain B-vitamins that the body can use in bioavailable form.
Usually, if carbonation is a problem, the issue is not enough bubbles (See Carbonation Techniques Basic & Carbonation Techniques Advanced for more help with those issues). However too much of a good thing can transform pleasantly bubbly Booch to messy geyser or even bottle bomb under the wrong combination of conditions. Signs of over-fermentation when bottling Kombucha, Jun or kefir include bubbles leaking from the top, hissing sounds as CO2 tries to escape any which way, and stressed or bulging caps.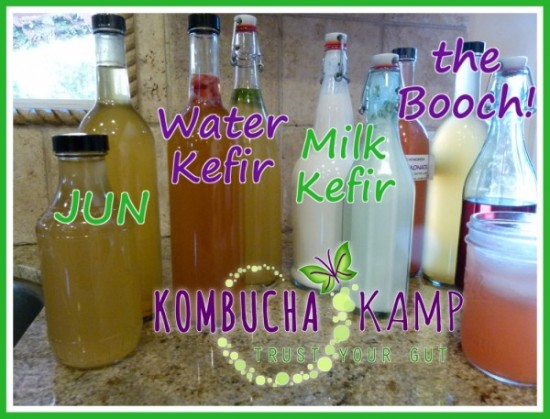 The good news is that it's pretty easy to avoid a mess when bottling Kombucha or any fermented drink at most times of the year, especially cooler seasons when carbonation can be a fickle friend. But as temperatures rise, the yeast become more active, and coupled with sugar in the form of fruit or flavorings (especially pureed fruit – see below), the excessive pressure produced by this dynamic duo is the issue to be on the lookout for.
… Continue Reading