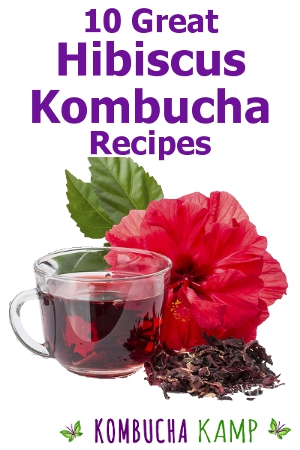 Hibiscus Kombucha recipes can vary, depending on whether the hibiscus plant is used in the first or second ferment. But either way you want to make it, we have a delicious and easy Hibiscus Kombucha recipe to fit your cravings. Check out the options below!
What is Hibiscus?
Hibiscus or jamaica (say huh-my-kah) is a delicious infusion of the edible hibiscus plant called Roselle (Hibiscus sabdariffa). Historically found in Africa and grown in warm climates across the globe, the ruby hued dried petals are high in vitamin C and have been prized by many cultures for centuries.
In Jamaica and parts of Central America, the petals are steeped along with a mixture of ginger, cloves and other spices. Sugar is often added to sweeten the tangy bite. And it's occasionally spiked with rum!

KMAMMA SEZ…
Use the Hibiscus Spice recipe at the end of this post to make your own Jamaican Spiced Kombucha Kocktail using your favorite spirit.
Hibiscus Kombucha Benefits
Hibiscus is naturally high in antioxidants which are vital to human health. Several studies have been conducted on humans and animals showing that hibiscus may also help lower blood pressure, detoxify the liver as well as help maintain a healthy weight.
Hibiscus – Is it a Tea or Tisane?
When brewing at home, the rule is to always use real tea when making Kombucha. That means the Camellia sinensis plant, picked and processed in a variety of styles, which we know as black teas, green teas, and white teas, to name just a few.
Hibiscus is a… Continue Reading