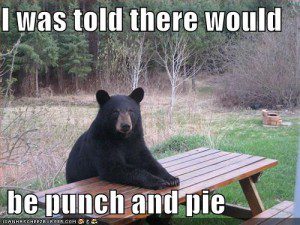 Most recipes for party punch are total sugar bombs.
From sherbet to soda, they are prone to causing the typcial crash and burn cycle.
With the holiday season nigh upon us, the demand for festive beverages is on the rise.
Moreover, treats abound – that Halloween candy will turn into pumpkin pie and Christmas cookies in no time.
Here is a great way to sneak some healthy probiotics into a delicious party punch.
Plus, since Kombucha aids liver detox, I like to think its like having a little antidote with your poison.
Check out this video for a quick, easy Sparkling Kombucha Party Punch.
<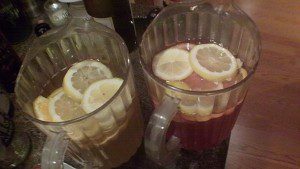 The recipe for this Kombucha Party Punch is simple and can be easily varied.
Here is the basic recipe shown:
2 parts Summer Breeze or Ginger Punch KT (ginger & hibiscus)
2 parts sparkling wine
1 part sparkling water
Sliced orange & lemon
Here are just a few variations:
KT Cider Punch

1 parts Apple Pie Kombucha
1 part spiced rum
1 part warmed apple cider
Fresh or dried apple slices
Cinnamon sticks for garnish
Tropical Punch

2 parts Pineapple Ginger KT
1 part vodka, sparkling wine or rum for spiking or use sparkling water for a virgin version
1 can or 1 whole Fresh pineapple in chunks and the juice or mango or guava or papaya
Sliced oranges
Shredded coconut for garnish
Festive Punch

2 parts Cranberry Ginger KT
1 part Vodka
½  part Orange Juice
½ part Lemon Juice
1 part sparkling water
Lemon slices
Sprigs of mint for garnish
Have you tried incorporating Kombucha
into a party punch or other cocktails?
Leave a comment below describing your concoction!