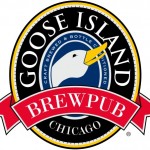 See the VIDEO OF MY VISIT TO GOOSE ISLAND including a TASTING OF FLEUR! It was awesome!
As a native Chicagoan, I keep updated on what's new in my hometown, and when it also happens to involve Kombucha tea, I simply have to know the story. When I heard that locally based Chicago brewery Goose Island had developed one of the first Kombucha beers on the market, known as Fleur, I gave them a call to find out more. I had no idea they'd invite me for a tour! Almost as soon as it started, the surprising similarities between beer brewing and kombucha brewing began emerging.
John Laffler is a Cicerone, the beer world's equivalent of a Sommalier, for Goose Island. John started brewing before he was legal (shhh!), so he's obviously got a natural love for the process.  He attended Siebel in Chicago and started as an intern at Metropolitan, a small start-up beer brewer in Chicago, eventually making his way to Goose Island.
As a necessity of this new venture called Fleur, John has added the title of Kombucha Master Brewer to his job description. He told me that the Kombucha offers a sourness to balance the natural sweetness of the beer as well as adding fruitiness from the Hibiscus. By blending with the right kinds of (similar to Kombucha) yeast found naturally in many Belgian ales, beer and Kombucha tea can be married into one delicious beverage.
Based on its initial local success, Goose Island has ramped up Fleur's production and will be rolling out both kegs and 4-packs in several new markets across the nation this Spring and Summer. Hopefully it will come to California!
Stay tuned Thursday (happy St. Patty's!)  for a peek at my visit to Goose Island. In the meantime, John was kind enough to elaborate on the similarities and differences between brewing Kombucha tea and beer. Take it away John!
************************************
"There's a lot of similarity between brewing kombucha tea and beer. Fundamentally, as brewers, our job is provide a suitable home for our yeast. We make sure the temperature is right, everything is clean, there's both the right type and quantity of food available and there aren't any waste products building up. If we do a good job and our yeast are happy then about 14 days later we get something delicious to drink and share with our friends. Sound familiar? The only differences are in the details.
Due to it's bacterial component, kombucha ferments a bit warmer, around 82 dF, while most ale yeast does best at a cooler temp – usually in the mid-60's. If you try to ferment kombucha that low it will take significantly longer to create the organic acids and become tart. If we were to ferment beer at kombucha temperatures, our yeast would ferment our beer very quickly but would create a lot of higher alcohols and ethyl acetate which would mean the beer would smell like nail polish remover! In order to restrain the temperature, beer brewing tanks are fitted with cooling jackets to closely control the temperature of fermentation.
Of course it's important to make sure everything is clean when making kombucha, we have to be more stringent with our cleaning when brewing beer. The acidic nature of kombucha provides a measure of protection from bacteria and wild yeast that can cause flavor problems. Beer doesn't have that same level of protection so we need to make sure that our brewing equipment and fermenters are squeaky-clean and sanitize them before use.
There are some differences in the food source too. Both beer and kombucha ferment sugar but the types of sugars are different. Kombucha can only ferment simple sugars such as glucose and sucrose. Wort, the malt-sugar solution we ferment into beer, is made up of several complex and simple sugars –  the most predominate of which is maltose which is too complex for kombucha to digest. Sure, there is yeast in kombucha, but when yeast is fed too much simple sugar it "forgets" how to break down more complex sugars.
Getting rid of waste products also takes a bit more attention when brewing beer. Yeast ferments sugar into alcohol and carbon dioxide. If either of these build up too much the yeast will die off.  Kombucha fermentation does the same thing, fermenting sugar into alcohol and carbon dioxide, but then uses oxygen to convert the alcohol into organic acids. This need for oxygen and the low pH means you only need a cloth cover which can easily diffuse O2 in and excess CO2 out. Because beer doesn't have the same natural acidic protection, it is generally fermented in closed stainless steel fermenters which keeps out any stray bacteria or wild yeast as well as oxygen.
Except at the very beginning of fermentation, oxygen is an enemy of beer and promotes premature staling and off-flavors. In order to let the CO2 produced by fermentation escape without allowing any oxygen in, we use a devise called an "airlock." This may sound complicated, but can be as simple as a bucket of water with a hose off the fermenter submerged in it. This lets the CO2 bubble out but doesn't allow air back in.
Regardless of these differences, brewing kombucha and brewing beer aren't really all that different. We take care of our SCOBYs or yeast and make sure they're happy. In turn, they take care of us and make us happy. So please raise a glass of either and celebrate the wonders of fermentation during Chicago's Craft Beer Week!"