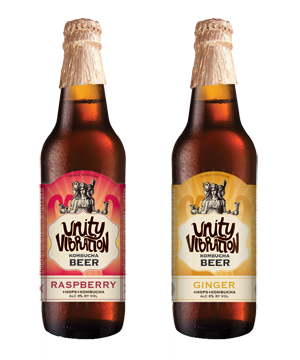 Kombucha and beer. It may sound like an odd combination, but they are no strangers to each other.
Goose Island makes Fleurwith hibiscus tea Kombucha, Lambrucha (Drizzly) makes a 3.5% alcohol lambic blended with Kombucha Tea, and now Rachel & Tarek Kanaan from Michigan have released Unity Vibration's Triple Goddess Kombucha Beer (Drizzly).
Flavored with hops & organic fruit or ginger, this Kombucha beer with a little extra kick (8% ABV) is unique. In most Kombucha-beer combinations, beer is the base and Kombucha is added for flavor, depth and wild yeast.
With Triple Goddess however, the converse is true: Kombucha serves as the flavor base, then hops and brewer's yeast are added to give the tea a whole new dimension.
The beer is brewed lovingly in oak casks for extra authenticity, then bottle conditioned too. Unity Vibration was one of the first commercial Kombucha companies to opt return to the shelves in December 2010 as an over-21 product following the withdrawal.
Their commitment to brewing a traditional, raw, organic Kombucha inspired them to apply for a microbrewery license, the happy evolution of which is Triple Goddess brewed in the lambic style. Triple Goddess made a well-received debut this past summer at the Michigan Brewer's Guild Summer Fest.
Lambics are special beers brewed in the Brussels region of Belgium. What makes them so special are the wild yeasts. Unlike most beers where the brewer carefully selects which exact types of yeast to use in the fermentation process, lambics are exposed to the air to intentionally be populated by wild yeasts.
Oftentimes fruits like cherries, raspberries and peaches are added. They imbue the brew with complex fruity flavors and are allowed to mature both in the barrel and the bottle, much like the secondary fermentation process in Kombucha brewing.
Kombucha Beer Tasting Video VIDEO:
Unity Vibration
with Hannah Crum the Kombucha Mamma
Unity Vibration is based out of Ypsilanti, Michigan and distributed regionally.
Click on each label for a close up.