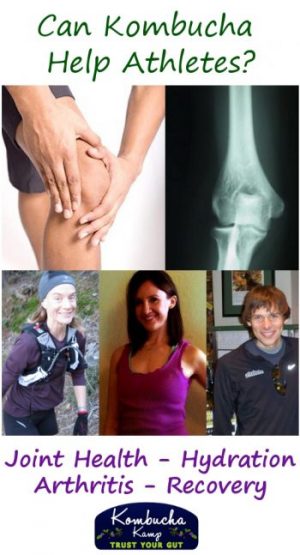 If you are drinking Kombucha, chances are you are paying attention to what goes into your body. While some Westerners were raised on the booch, the great majority came to their Kombucha habit through the realization that it offers some form of benefit when they consume it regularly.
One thing I've noticed is the growing number of athletes that swear by Kombucha as part of their daily workout routine.
They have discovered that not only does Kombucha boost their energy levels during performance, it also helps their bodies recover more quickly post-workout (we touched on this briefly in Kombucha News Athlete Edition).
I decided to ask some athlete friends who drink kombucha all the time to weigh in on what they think Kombucha does for them.
First, let's look at what Kombucha does for joint health.
Kombucha & Joint Health:
2 Theories for Why It Works
The reasons for Kombucha's powerful assistance to joint health are a matter of debate among respected researchers all over the world. The common wisdom, backed up by many lab studies, is that properly brewed Kombucha contains a number of specific substances that can directly improve joint health, most importantly Glucuronic acid (also responsible for Kombucha's powerful detoxification properties), Chondroitin sulphate, Mucoitin sulfate, Heparin, Hyaluronic acid and the incredible Glucosamine. These enzymes are believed to be responsible for helping the body to rebuild tissue, especially in the knees.
Not All Agree
Respected Kombucha researcher Michael Roussin disagrees, asserting that these compounds do not exist in Kombucha. Still Michael himself has told me that he credits drinking Kombucha for restoring health to his knees, allowing him to continue refereeing youth soccer.
To what does Michael attribute those great Kombucha benefits to joint health? From his research…
… Analysis of Kombucha under these conditions indicated a total absence of polysaccharides or mucopolysaccharides in solution… It was, however, curious that after two days the neutralized Kombucha became somewhat gelatinous… This may indicate the presence of the building blocks responsible for the formation of the mucopolysaccharides of the polysaccharide colony from the Kombucha solution. (Authors Note: This is an important finding, as many Kombucha drinkers have expressed increased joint flexibility and decreased joint pain. We can theorize from this "gelatinous" conversion of the Kombucha chemical constituents, that the building blocks are present in Kombucha for the body to be able to repair or replace joint cartilage and fluids.)
What's that say? Basically that Kombucha is busy building SCOBYs in your knees! How awesome is that?
Whichever theory is correct, Glucosamine does wonders for joint health in general and for arthritis sufferers specifically and the survey on our Kombucha benefits page shows that 51% of regular Kombucha drinkers reported relief from arthritis type symptoms. Cajun Ernie raves over the help Kombucha gave him in battling Arthritis type problems. Other joint issues such as Gout have been reported to improve with Kombucha consumption and there are testimonials all over the web.
On to the Athletes!
With some of the science explored, let's hear from the hard core athletes who LOVE Kombucha and experience first hand these Kombucha benefits we've been talking about.
Our 3 Contributors:
Jennifer Jordan, the founder and main ass-kickin' babe of Sweat and the City, the online destination for daily workouts.
Matt Tabor, a self-described "running foodie," has combined his passion for his two favorite hobbies and blogs about it at The Athletes Plate.
Devon Crosby-Helms is a marathon runner (and chef!) who just qualified for the Olympic Trials after placing 10th among the women at the LA Marathon. Go Devon! Woot!
***************
1. How much Kombucha do you typically consume?
Jennifer:I thrive off a Citrus Kombucha from GT in the morning. On our Superfood Diet we recommend starting the day with purified water + citrus, and adding the Kombucha in is just taking it one step further for cleansing and replenishing the body in the am. I'll usually drink 1/2 bottle upon rising, and save the other 1/2 for before a workout or for anytime I hit an afternoon slump.
Matt: I normally drink 16 ounces per day (7 days a week) of GTS Kombucha. I normally drink it in the mornings after my workout instead of coffee. I used to drink coffee every morning, but I don't get that afternoon crash with Kombucha. Right now, my favorite flavors are the multi-green, gingerade, and synergy.
Devon: I drink one 16 oz glass everyday, usually right before or with lunch. I have been drinking Kombucha for a long time (5 years now) and it just makes me feel right. It helps me recover better from all the work I put my body through. I also think it really helps with my digestion; I have a lot of food intolerances and I seem to be less symptomatic when I drink Kombucha.
Grape is my run away favorite. I just add 1-2 ounces of 100% grape juice to my glass and then add my kombucha. Of all of the kombucha I've tasted, I like my homebrew best.
***************
2. Do you buy commercial or homebrew? Brands?
Jennifer: I buy commercial, but with the recent removal of kombucha, I know that home brewing is something I'd like to learn. If that ever happens again I want to be ready so that I don't have to go without. (If that happens again I'll handcuff myself to any grocery store that removes it, but that's a whole other story!) 🙂
Matt: I used to homebrew, but I got really lazy about it. I buy GTS now that it is back on the market. I've liked every brand that I've tried besides High Country. That was terrible. GTs and Honest Kombucha are my top two.
Devon: I started homebrewing 5 years ago after a friend introduced me to Kombucha and gave me my first kombucha starter. At one point I had a dozen gallon jars brewing at once. Now I try to keep it to two gallons using more of a continuous brew method which takes less space & time for the brewing process.
GT's is widely available so often times I drink that (usually the green one) as my commercial option. I really like High Country because it tastes more like a well fermented home brew. Healing Springs is delicious as well. I don't like Kombucha that tastes just like cold tea (i.e. barely any trace of fermentation), I like my kombucha strong and vinegary.
***************
3. As an athlete, what benefits do you experience from drinking Kombucha regularly?
Jennifer: As an athlete there are two go-to beverages that I can't live without: Coconut water and kombucha. I use kombucha as a pre-workout boost, but I feel that wherever I factor it in to my day (pre/post workouts, etc) there is always some instantaneous, amazing benefit.
Matt: I've never used Kombucha as a sports related supplement, and though I do drink it after my workouts, I've never put the two together. Maybe that's why I am improving each and every week? Basically, Kombucha makes me feel good. Actually, it makes me feel great. For $3 a day, that's something I'll pay.
Devon: For me, drinking Kombucha is part of a holistic healthy lifestyle. More than anything, my consumption of Kombucha is symbolic in terms of my overall commitment to health. I know that Kombucha has a long list of health benefits and I feel much better when I drink it. I just feel right and that as an athlete is very important.
It helps keep my body working well and recovering right. Kombucha is not something I consume casually, I am very committed to drinking it on a daily basis just the same as I do a healthy diet and the few supplements I take. I definitely think it is one of my "secret" weapons.
***************
Are you an athlete who uses Kombucha to help with recovery?
Or have you noticed a difference in your joint health since you began drinking Kombucha?
Leave a comment below! 🙂