Ever since The Recall, Kombucha's popularity just grows and grows. There are a ton of tiny companies starting up all over the country, getting their fingers into little niche markets and utilizing whatever local advantages they can. And now world-class athletic stars are openly declaring their love for Kombucha! It continues to be the most exciting time in Kombucha history, and I am pleased to be able to share my view with you!
Kombucha SCOBY

under an electron microscope – Cool! As Cecil B. DeMille would say, Kombucha is ready for its close-up. Wow! Thanks @realingredients!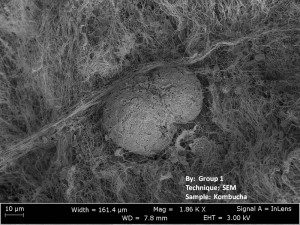 Athlete's Kombucha Tweets
Everyone is figuring it out: Kombucha can help athletes perform better than sugary "ades" and other recovery drinks. Is it the glucosamine? The B vitamins and enzymes? Whatever it is, these physical specimens who perform at the very top of the world's athletic pursuits love what Kombucha does for their bodies. Those who say they are worried about sugar or caffeine intake with Kombucha should consider the endorsements by such premiere athletes.
Scott Jurek – The American world record holder for the ultra-marathon. His Twitter profile:"World renowned ultramarathon champion, power vegan, running coach, physical therapist, passionate plant-based cook, star of NYT bestseller Born To Run" – Tweeted "Look what's growing in my kitchen! Bottling up my first batch of home brewed _________?" Look at all the GT's Kombucha bottles he's using. LOL
Steve Nash – 2-time NBA MVP and Future Hall of Fame Point Guard for the Phoenix Suns – "I love this Kombucha stuff. Anyone else have an opinion?" Yes, Steve. We love Kombucha too. Thanks for joining the ReVolution! And then again just last week…I guess you do like it Steve!
Has Kombucha helped with your workout recovery? Leave a comment to let us know!