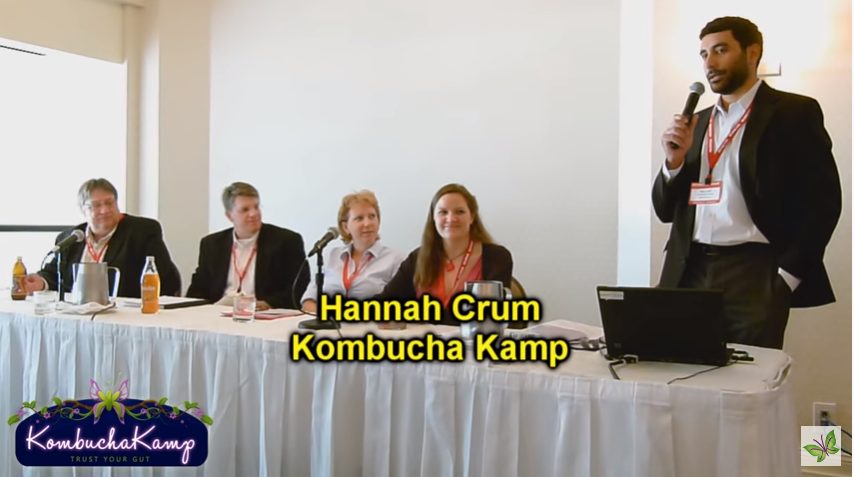 Here at Kombucha Kamp, we are not only passionate about homebrewing but also very supportive of the Kombucha beverage industry. Kombucha as a beverage category is growing dramatically year after year and is quickly evolving. KKamp works closely with big and small manufacturers from all over the country (and the world – hello Turkey!) to promote Kombucha as a category to report on the industry, and to educate people through speaking engagements (See also New Year's ReVolution & the 30 Day Kombucha Challenge).
Uniquely positioned as industry ambassadors, we have also been reporting for BevNet.com for the past couple of years, most recently penning the cover story The Kombucha Crisis – One Year Later for the August 2011 issue of Beverage Spectrum Magazine (now BevNet Magazine). That article details the ups and downs of the category as it recovers (and subsequently thrives) post Summer 2010 withdrawal. To follow up, BevNet hosted a panel discussion at their winter conference in Santa Monica, CA, offering us a chance to dive deep into the category as a whole, and the resulting discussion was lively and fascinating.
The Kombucha Category: A Deep Dive
The panel itself was comprised of Bobbi Leahy of SPINS, the foremost marketing data company; Ron Lloyd, CEO of Bucha Live Kombucha and Ed Rothbauer, co-founder of High Country Kombucha and myself; moderated by Ray Latif of BevNet. After a quick video introducing Kombucha, Bobbi gave an overview of the Kombucha market from a data perspective showing the remarkable bounce-back and continued growth of the category despite the withdrawal in 2010. Ed and Ron both offered insight into the category through the lens of their experience with their respective brands.
Here are some of the issues touched on in the video:
the resiliency of the Kombucha market
the shift toward mainstream
the need for internal policing through an industry trade group
the need to differentiate Kombucha from other "probiotic" beverages (i.e. kefir water, etc)
health claims
In the Loop
BevNet is a beverage industry magazine, website, and forum for all things related to beverages. Their Summer & Winter Conferences are excellent events for entrepreneurs and other beverage enthusiasts to learn more about the industry and network with the movers and shakers. The conference features breakout sessions, a mini expo, and a sampling bar in addition to panels with industry experts and the annual awards ceremony. The BevNet Live Summer conference is coming up in June in New York.
No stranger to Kombucha, BevNet founder John Craven truly enjoys sampling all the different brands and flavors that are sent to the office making him a veritable Kombucha connoisseur. It should come as little surprise then that GT's Kombucha has been named a "Best Of" 2 years in a row: GT's Synergy Kombucha won Best Beverage of 2010 and this year GT Dave's newest Kombucha twist – Enlightened Synergy with Chia – won for Best Tea Based Beverage of 2011. Heck, at this rate, they'll have to create a Best Of Kombucha category for the 2012 Awards! (Hey John, what do you think??)
I hope you enjoy the video! What is your favorite brand of Kombucha? If you are a homebrewer, do you also buy Kombucha? How did you first hear about Kombucha? Leave your comments below. 
#kombucha #kombucharecipe #kombuchabenefits #howtomakekombucha #kombucha tea# greenliving #rawfood #hannahcrum #kombuchaKamp
#BevNet, #Kombuchaindustry, #EdRothbauer, #HighCountryKombucha, #SPINS, #BobbiLeahy
#beverageindustry #functionalbeverages 
Timestamps