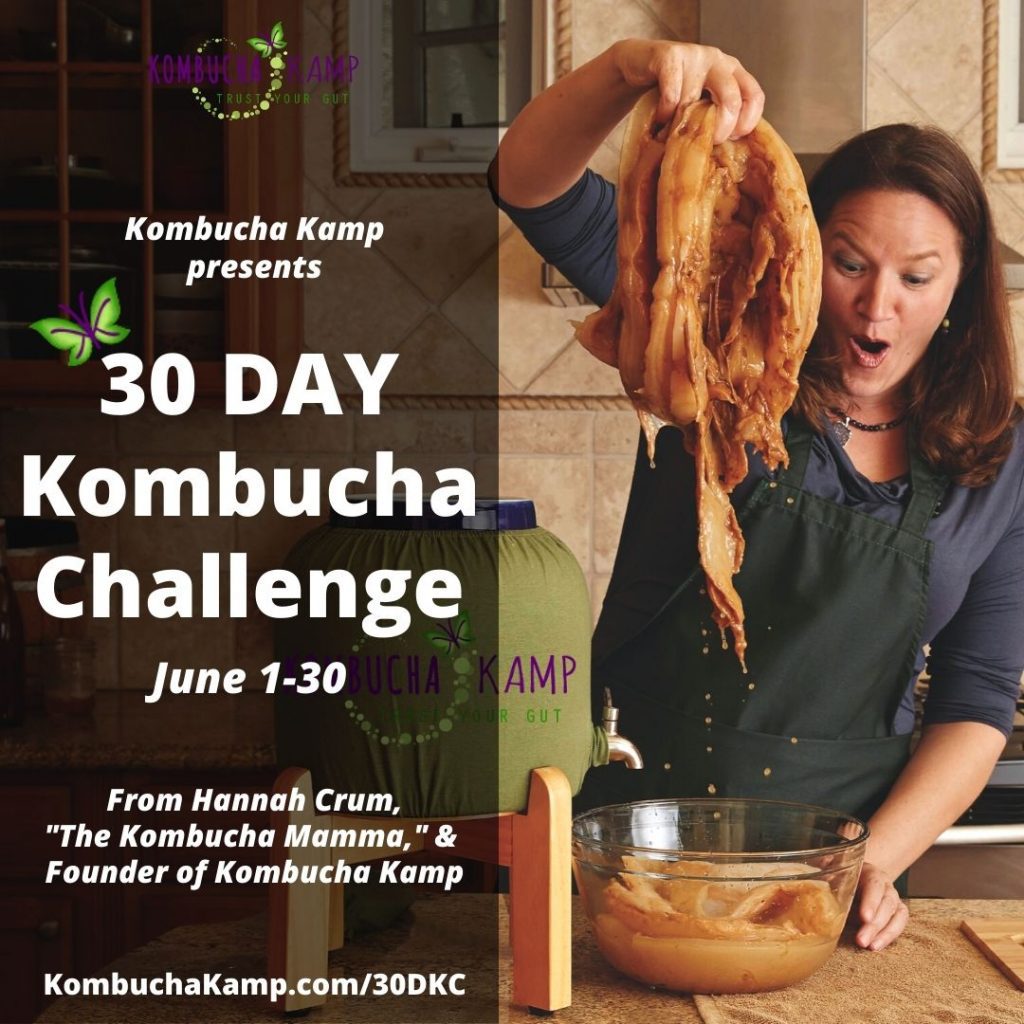 Welcome to the 30 Day Kombucha Challenge!
Hi I'm Hannah Crum, the Kombucha Mamma. I have been drinking and brewing Kombucha for nearly two decades. Kombucha is a naturally effervescent, cultured tea that has been consumed for thousands of years by populations all over the world as a folk remedy and daily tonic. I bought my first Kombucha 18 years ago and I was instantly hooked. I have been drinking it ever since and it has led me here to this moment with you. Whether this will be your first sip or you have been drinking it since the '80's, I'm thrilled you are joining us on this journey. 
What is the 30 Day Kombucha Challenge?
A 30 Day Kombucha party! We are daring people to try Kombucha for themselves and see if it is for them. We love drinking Kombucha, we love buying different brands of Kombucha, we also love brewing Kombucha at home and we think you might enjoy it too! 
Why drink Kombucha for 30 Days?
The short answer is, why not? The next 30 days are going to happen no matter what, what have you got to lose? Maybe you've tried quitting "crash and burn" beverages like soda or coffee or energy drinks before, but the habit eventually crept back in. Kombucha is such a fun and versatile drink with flavors that range from sweet to tangy, herbaceous to fruity – there is sure to be a flavor for every palate. 
A journey is more fun when you have companions to share it with you – Booch buddies, badges and accountability partners will play a key role on social media where you will log your progress. Invite a friend, family member or co-worker to take the challenge with you! 
In the span of the thirty days you will see for yourself if Kombucha is right for you. By the end of the Challenge, you will have experienced Kombucha, accomplished a goal and you may even feel a closer connection to Trust YOUR Gut.  And guess what? Thirty days is also long enough to see real results! I can't wait to hear about your success! #KombuchaKampChallenge
☮ & ♥ Hannah & 30DKC Team