Kombucha Recipe 1 Gallon Short-Cut Method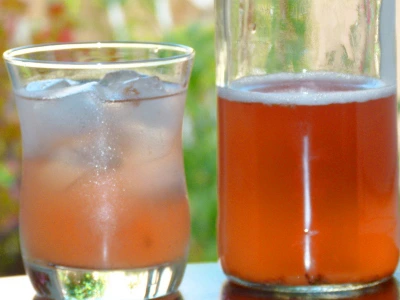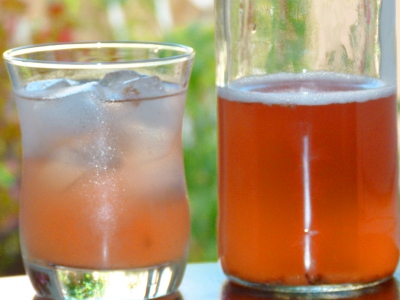 This easy Kombucha Recipe was designed for anyone who wants to brew up to a gallon in their first batch. The steps are specifically arranged to create a simpler process for you.
Following this basic Kombucha Recipe also prevents contamination by eliminating the wait for the sweet tea to cool. Because you can add the fresh Kombucha SCOBY and starter liquid right away, the brew is guaranteed to succeed.
—————————
Easy Kombucha Recipe
Kombucha has been made for thousands of years by people all over the world because it is easy to prepare and offers immediate and long term benefits to the regular drinker. The ingredients are inexpensive and the process is simple and sustainable. However care should be taken anytime food is prepared at home. Follow these directions to brewing success.
Scale this kombucha recipe up or down depending on the size of your vessel





(217 votes, average: 3.63 out of 5)


Loading…
– Yield: about 1 Gallon
– Calories per 8oz Serving: about 30
– Prep Time: 5 minutes
– Cook Time: 20 minutes
– Total Time: 25 minutes
Ingredients
Equipment
—————————
The Lucky 13 Step Kombucha Recipe
Boil 4 cups (1 liter) of purified water.

Add hot water & tea bags to pot or brewing vessel.

Steep 7-15 minutes, then remove tea bags.

Add sugar and stir to dissolve.
– If the vessel is empty, add 2-3 quarts (2-3 liters) of purified water, then add the hot tea solution. (adding cold water first helps keep the vessel from heating up)


or




– If the sweet tea was made in the vessel, then simply add 2-3 quarts (2-3 liters) of purified water


NOTE: The amount of water added depends on vessel size. If exactly one gallon or a little smaller then leave enough space for the culture, starter liquid & 1-2 inches from the top for breathing room. If your vessel is larger than one gallon, add no more than 3 quarts (3 liters) of cold water to the 1 quart (1 liter) of hot sweet tea.

Check to make sure the sweet tea is body temperature or below. A clean finger is the perfect tool!

Once it is, add SCOBY and starter liquid.

Cover with cloth cover and rubber band or a custom brewer cap.

Say a prayer, send good vibes, commune with your culture (optional but recommended).
Place the container in a warm, ventilated area out of direct sunlight for 7- 21 days (depends on taste). 75-85°F (24-29°C) is the best range, 80°F (27°C) is ideal (more information about maintaining proper temperature for your brew here). It may or may not get fizzy. The SCOBY may rise to the top or sink to the bottom, doesn't matter, the new culture will always form at the top (more information about the 5 Signs of a Healthy Brew here).

After 7 days, or when you are ready to taste your KT, gently insert a straw beneath the SCOBY and take a sip. If too tart, then reduce your brewing cycle next time. If too sweet, allow to brew for a few more days. Continue to taste every day or so until you reach your optimum flavor preference. Your own Kombucha Recipe may vary.

Set aside your SCOBY(s) and starter liquid (2 cups if possible) for the next batch from the top of the current brew. You may put them in any vessel or a SCOBY Hotel.
Decant & flavor your kombucha (optional). Learn about Flavoring Kombucha here.
Kombucha Recipe Notes & Tips
1 minute Kombucha Recipe video!
—————————
Kombucha Recipe Troubleshooting
—————————
Kombucha Recipe FAQ
—————————
Kombucha Recipe VIDEO:
Do I Have To Use Sugar To Make Kombucha?
with Hannah Crum the Kombucha Mamma
—————————
Variations on the basic Kombucha Recipe
It's possible to alter a Kombucha Recipe in many ways. Homemade Kombucha is the freshest and making kombucha for yourself allows for complete flexibility to try whatever kombucha recipe appeals to you. Here are a few ways to mix it up! 🙂 
High Powered Kombucha Recipe
Want to have extra flavor and power to your brew? Are you the kind of Kombucha drinker that likes the strongest brew you can get? By increasing the amount of sugar and tea used in the initial sweet tea prep, this Kombucha recipe variation provides more fuel for the brew to create healthy acids. Everything else will be present too, including enzymes, tannins, antioxidants, and residual sugars, making for a mouth puckering brew. Because there is a little more sugar remaining in the brew, it should also carbonate very well in the bottle, so be careful!
Try 1.5 cups of sugar per gallon, and up the tea to 9-12 teaspoons (3-4 tablespoons). If that's not strong enough, raise it to 2 cups sugar per gallon. For even stronger tea, use all black tea and rather than adding more simply steep longer, 30-60 minutes. When following these Kombucha recipe modifications, maintaining correct temperature is even more important as the extra sugar is vulnerable to mold. At least 80F is recommended for best results. Also brewing time will likely increase by 3-5 days on average.
Low Caffeine or Caffeine Free Kombucha Recipe
Caffeine helps drive the fermentation process and nourishes the SCOBY. But not everybody can tolerate the buzz and jitter, even the low amounts left after brewing. Most of the caffeine in Kombucha is utilized in the fermentation process by the organisms, but if your brew is keeping you buzzed at night, try one of these low caff/no caff variations.
Lower Caffeine: There are a couple of ways to lower the caffeine. First, combining one or two bags of black or green tea with rooibos will minimize the caffeine. White tea also may have less caffeine, so use it by itself for a very mellow flavor. Combine this with the steep and dump method to minimize the caffeine while still providing some for the culture.
No Caffeine: The Kombucha culture is "flexible technology" which means it can ferment a wide range of substrates (fancy word for types of tea). If completely caffeine free is the only way you can enjoy the booch, then steep 3-5 bags of your favorite herbal tisane such as chamomile (3-5 teaspoons of loose leaf) or hibiscus petals (bonus, pink SCOBY!). Some types of herbal tea may prevent the SCOBY from forming properly so use a backup from your hotel. Another option is decaf tea. If the SCOBY starts to look weak on any of these substrates, then give it a batch of sweet tea with regular caffeine to renourish. You don't have to drink it (give it to your friends!) and it will keep your mother chugging along.
Ginger Kombucha Recipe
Ginger and Kombucha are a match made in digestive heaven. In fact, it is the top selling flavor of Kombucha at the store. Americans (all people really!) love ginger so much that before Prohibition, Ginger Beer was the most popular beverage in the United States. Rather than give it up however, it was reborn as ginger ale and for nearly a century has been prescribed by concerned moms everywhere to soothe upset tummies.
Upgrade your ginger delivery system from syrupy soda to probiotic and digestive enzyme rich Kombucha! Add zip and 'zing' to your booch by adding 1 tablespoon of dried or fresh chopped ginger to the tea DURING THE INITIAL STEEP. You can even toss in a few slices of ginger into the primary fermentation for enhanced power. Then add ginger juice to the bottle for a mouthwatering punch. The flavor will have you buzzing!
—————————
—————————
Kombucha Recipe ~ Bad Advice Heads Up!
There are a lot of well meaning people out there, your average Aunt Alice or Blogger Betty or even "Cheap SCOBY Seller Chet", and they all have "THE ANSWERS" about the best Kombucha recipe. But they're not experts, and a lot of bad advice is simply recycled. The below are real quotes from leading sites on the internet, and they are dead wrong. Watch out for these traps and avoid sites that promote these ideas!
"Cheesecloth is fine for any brew." False. Cheesecloth is NO GOOD for brewing, the weave is too loose. Even if you fold it over, mold and dust will catch in the open holes and when the cloth is removed, will fall in. Use a tight weave cotton cover.
"No matter how big the batch, you can use 1 SCOBY. It will just take longer." False. Using not enough SCOBY for the amount of sweet tea will lead to mold. Just as important is the starter liquid, which must also be scaled up. For each gallon of sweet tea, use 1 large SCOBY (5-6 inches across, ½ – 1 inch thick) and 1-2 cups strong starter liquid.
"Vinegar is just as good as starter liquid." No way. Starter liquid is like liquid SCOBY that helps to distribute the organisms around the brew right away. This leads to a faster, safer brew. Vinegar does not do this at all, it only drops the pH which may help prevent mold.
"Dehydrated SCOBYs make good Kombucha." Wrong. Any seller that asks you to rehydrate a SCOBY for 2 weeks is wasting your time and money. Dehydrated SCOBYs do not reproduce and often lead to mold. Always start with fresh SCOBYs only.
"You should throw away any SCOBY that turns brown." False. It is natural for the SCOBYs to darken over time due to the yeast and the tannins in the tea. If a SCOBY starts to fall apart or turns very dark brown or black, it likely is ready for retirement. But light brown color is normal and does not indicate a dead SCOBY.
"Always toss the (old/new) SCOBY." False. This one gets said both ways. Both are untrue. You can keep both cultures, one is not better than the other.
"Metal Kills the SCOBY." Not true, but the wrong kind of metal can be an issue. Brief contact with metal has no effect on the SCOBYs. Leaving them in long term contact with metal that is not stainless steel can be a problem, but not because it kills the SCOBY. Instead the culture and brew will leach impurities from the metal. However, Stainless Steel 304 grade and higher are not a problem.
"Store SCOBYs in the fridge." FALSE! Perhaps the most commonly spread misconception is this old wives tale. The refrigerator does not preserve the SCOBYs, it puts them to sleep and makes brewing more difficult. Store at room temp and refresh the SCOBY Hotel every couple of months and all is well!
"Your SCOBY has to be the same size as the jar you are brewing in or else it won't work/won't create carbonation." Nope. Any shape SCOBY can be used as the new layer will then grow across the top to create the seal.
"Retain the SCOBY and enough liquid from the bottom of the jar to use as starter tea for the next batch." False. Always use starter liquid from the TOP of the previous brew for best results, otherwise there will be too much yeast.