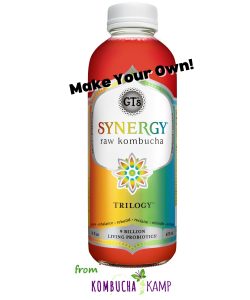 Like many people, the first Kombucha we ever tried was GT's. This was 2004, so there weren't a lot of brands on the shelf. In fact, it might have been the only one that fateful day at Whole Foods in Westwood.
Since then, we've had the pleasure to try literally hundreds of different brands of Kombucha from all over the world! Each brew is unique, in most cases a reflection of the home brewer that decided to cross over to the commercial side.
In the same way, your brew will taste unique to your process. But if you've ever thought about trying to copycat SYNERGY Kombucha flavors at home, here's a few tips.
Who is GT?
In case you're not familiar, SYNERGY Kombucha is the market leader for commercial Kombucha. In fact, GT Dave started the whole category. For a long time, there were only a few brands around.
Even today, with so many new brands appearing all the time, Classic Kombucha and SYNERGY Kombucha (see more about that below) dominate the marketplace. Fans are very loyal to their favorite GT's flavors. And for good reason, he makes delicious Kombucha!
Which SYNERGY Kombucha Brand Are You Trying to Copycat?
There are 2 "brands" by GT – the regular SYNERGY Kombucha and GT's SYNERGY. As it says on their website:
"SYNERGY Kombucha and Classic Kombucha both use Kombucha that is 100% certified organic and raw. Classic Kombucha is 98% Kombucha and 2% organic flavoring, while SYNERGY Kombucha is 95% Kombucha and 5% unsweetened organic fruit juice or puree."
So look at the bottle, which one are you trying to copy? If it's SYNERGY, know that you will be adding about an ounce of juice or fresh fruit per 16 ounce bottle for more of a blend. If it's SYNERGY Kombucha, the flavoring amounts will be less, often using dried barks, berries, or flowers to achieve the flavor, with the Kombucha taste more forward.
For example, if you look on the bottle of GT's SYNERGY Trilogy Kombucha ingredients, it says the flavorings are raspberry juice, lemon juice  (THRIVE, AMZ) and ginger juice. We don't know how much of each to use exactly.
However, the ingredients are listed by the amount present, from most to least. And we know that the approximate total of juice is about 5%. (*Note: Frankly, this seems kind of low based on our experiments. Perhaps his juice is more concentrated. Feel free to add up to 10% if you find 5% is not enough flavor for you.)

So while we don't know the exactly GT's Trilogy Kombucha recipe, we can take our best guess for a mix of juices and other elements to replicate the flavor at home!
Tea for SYNERGY Kombucha
As always, for the best results and flavor, we recommend only organic ingredients. That is what GT's uses, according to the label, and KKamp offers only organic ingredients as well.
The type and quality of the tea will have a big effect on the brew. For the best base flavor, we recommend using Hannah's Special Tea Blend for perfect Kombucha. However, you could choose to use any organic tea you like.
A blend is best because it offers a balanced flavor. If trying to copycat SYNERGY Kombucha, we've heard that a half-and-half black/green mix is a good way to start, then adjust to find the taste you like. The choices of black and green teas is extensive, click here to learn more about teas to use when making Kombucha. Or visit the selection of KKamp Organic Teas here.
Making Kombucha with Juice Instead of Sugar?
GT is famously secretive about his process. But from reading the label, we can see kiwi juice is listed as the sugar source. Unfortunately, kiwi juice is not readily available to consumers, at least not in a form that would be suitable for brewing. It's a commercial sweetener which hasn't caught on yet with consumers. So it's perfectly fine to stick with quality organic sugar for brewing.
However, in the "hack" below, you'll see McKinley's technique for brewing GT's flavors involves using fruit in the first ferment. Although kiwi is not listed, conceivably you could try juicing your own kiwi to try and recreate GT's exactly.
But beware! Kiwis are not easy to juice, and it might get expensive fast. Instead, using more juice friendly and readily available fruits like berries is an effective technique.
Follow the guidelines about using and storing SCOBYs to avoid mold issues, and you may be able to pull of the unthinkable: making something that's even BETTER than GT's, right in your own kitchen! 🙂
KMAMMA SEZ…
Keep in mind that by cooking the fruit first, we are essentially pasteurizing the fruit sugar used for brewing. This means there should be very little if anything alive to create off flavors or mold, making it safer to brew with fruit. Still, always keep your fruit brewing SCOBYs away from your regular Hotel!
Guest Post
Brewing Copycat SYNERGY Kombucha using Fruit in the First Ferment
Please welcome guest poster and power home brewer McKinley Alvarez from Santa Cruz, CA!
While we advise brewers never to use fruit during primary fermentation to protect the health of the brew, of course there are many ways to make Kombucha as the SCOBY is an extremely hearty organism.
In that spirit, McKinley shares some ideas of how he makes his flavored Kombucha.
Enjoy!
*******************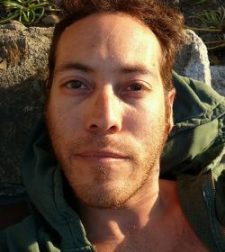 Thank you Kombucha Mamma for inviting me to share my story! This is an honor since I consider you a critical resource to the Kombucha community.
I hope my story will inspire people who may be afraid to try brewing their own Kombucha.
I can't imagine life without Kombucha. When I'm hungry but don't have time to eat, I drink some Kombucha to keep me going for a couple hours.
I also think it helps settle my stomach down too, but who knows, I'm not a doctor.
One Sip Is All It Took
I remember the first time I heard of Kombucha—it was at the Bikram yoga studio where I practice. Some people say Kombucha is an acquired taste, but I was hooked after my first bottle of Divine Grape. Oh my God, I had never tasted anything so refreshing.
I got so hooked, a hippie friend of mine encouraged me to make my own. "No way can this make mine taste like the expensive GTs brand I've been buying," I thought.
Remembering that Kombucha is an ancient Chinese tea, I researched how to brew my own on this very website. I decided I wanted to try making Strawberry Serenity or Divine Grape, my two favorite flavors.
Time to Copycat SYNERGY Kombucha!
I dove in and got a Kombucha SCOBY. I have to keep it simple: I use organic tea bags, I use frozen fruit, and my empty GT's bottles (ed. note – if your GT's caps are wearing out, try these replacements). Anything to save a penny.
Something to remember though: Kombucha is only as good as the ingredients. Some fruit sources work better than others. Blueberries are pretty delicious no matter who grows them. Same with blackberries and I'm also pleased to report that I've had great success with frozen mango as well.
At the yoga studio where I practice, 3 friends have begun to brew their own fruit flavored Kombucha. While their brewing methods are more traditional than mine, their results are fantastic—apricot/mango, pomegranate. It's been a real treat to enjoy the brews my friends are making and each one is just amazing in its own way.
That's the exciting thing about Kombucha, there is a lot of room for experimentation.
Imagine how they were doing it 3,000 years ago in China? It must have been the same way, a different brew on every block.
Copycat SYNERGY Kombucha Recipe Using Fruit
Interested in making fruit flavored kombucha in the brewing stage?
Try this recipe, but remember, these are experimental techniques and may not brew a successful batch every time.
ALWAYS use an extra SCOBY from your SCOBY Hotel when trying a new brewing technique.
– Yield: about 1 Gallon
– Calories per 8oz Serving: about 30
– Prep Time: 10 minutes
– Cook Time: 25 minutes
– Total Time: 35 minutes
Ingredients
Equipment
Directions
Add 6 ounces of fruit to 2-6 cups water and bring to a boil in a stainless steel pot (AMZ).

Remove from heat, add tea bags to pot.

Steep 5-7 minutes, then remove tea bags.

Add about 1/2 cup of sugar and stir to dissolve. (The amount of sugar depends on the sugar levels of your fruit. Experiment for best flavor.)

Add fruit/tea mixture to vessel.

Fill vessel most of the way with purified water up to one gallon total. Leave at least 1-2 inches from the top for breathing room with purified cold water.

Add SCOBY and starter liquid.

Cover with cloth cover and secure with the rubber band.

Say a prayer, send good vibes, commune with your culture (optional but recommended).

Set in a warm location out of direct sunlight (unless vessel is opaque).

Do not disturb for 5-7 days.
Notes
Brewing Cycle may be reduced with this method.

Since the fruit is in direct contact with the fermentation process, it is possible that the flavors may turn sour more quickly.

Monitor the brew closely and taste after only 4-5 days to gauge flavor/progress.
CLICK HERE for more Kombucha Recipe tips
Have you tried brewing with fruit?
How about other non-traditional brewing techniques?
Have you ever considered starting your own brand?
Check out our Commercial Brewing Consultations Here