The holidays are nigh upon us and with this joyous time of year comes lots of opportunities to overindulge.
When the holidays come around, no matter what the celebration, overdoing it with food and drink is the norm. By including Kombucha in your diet throughout the holiday season, you can take advantage of improved digestion, increased energy and even a bit of a hangover cure if needed.
Kombucha at the Holidays
Kombucha flavorings are traditionally reserved for the secondary fermentation stage in order to protect the mother culture. As an exception, when cinnamon is used during primary fermentation, it yields a sweeter and smoother flavor than typical Kombucha, excellent for mixing with holiday drinks.
Cinnamon is used both in Ayuervedic & Chinese medicine to increase heat and improve circulation, the beneficial effects of which are passed on in the Kombucha Cider & Punch.
Tip: As spices may affect the health of the yeast and bacteria
long term, use a spare Kombucha culture from your
SCOBY Hotel when brewing with cinnamon.
First, brew up some Cinnamon Kombucha:
Cinnamon Brew Kombucha Recipe
Yield: 1 gallon
Brew the tea and cinnamon with the 4 cups of boiling water.

Allow to steep 5-10 minutes.

Remove tea bags.

Stir in 1 cup of sugar until dissolved.

Add 3 quarts of water to bring the temperature down quickly.

Once the temperature of the sweet tea is body temp or lower, then add the SCOBY and pour the liquid on last.

Cover with a cloth cover and set aside in a warm, well ventilated location for 7-10 days.

Taste with a straw until the flavor is the right combination of sweet & sour.

Decant into bottles or jug.
Then use the Cinnamon Kombucha to make either (or both!) of the following delicious drinks: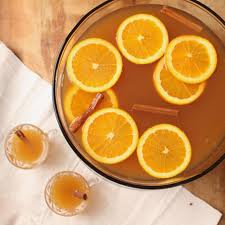 Warm Kombucha Cider
Combine apple cider, dried cranberries, dried apple and mulling spice in a pot.

Simmer on low heat for 20 minutes.*

Remove from heat and let cool for 5 minutes.

Add cinnamon brew Kombucha to cider.
Enjoy in a mug with a cinnamon stick as garnish.
*Spike mixture with rum just before turning off heat if desired.
Sparkling Kombucha Punch
Make Warm Kombucha Cider.

Chill in the fridge for 2 hours to overnight.

Remove from fridge and pour into punch bowl over ice.

Add sparkling water.

Garnish with pine needles for festive flair.