Yay! Jenny McGruther's new cookbook is here! If you are not familiar with Jenny's work, she is the artistic eye and culinary genius behind Nourished Kitchen. We first met Jenny at the Freestone Fermentation Festival in 2011 where she was one of the speakers. Her passion for fermentation was obvious as she spoke of the myriad families that had been healed through eating a traditional foods diet that also included ferments.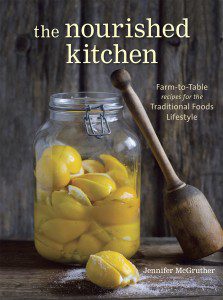 At that time, I was just learning about the research of Weston Price and deepening my own understanding of the role fermentation has played in the evolution of humankind. What I've gradually come to realize is how much chaos the Industrial Foods Revolution has wrought on the health of our entire nation. Home cooks were enticed away from the hearth with easy bake cake mixes and TV dinners that purported to be just as nutritious as their homemade counterparts.
Gradually, convenience foods along with innovations such as microwave ovens have led to an erosion of basic cooking skills. Moreover, packaged food itself is now comprised of chemicals, additives and generally lacking in the very things we eat food for in the first place – nourishment!
Enter Jenny McGruther's beautiful blog (now turned cookbook), Nourished Kitchen, featuring recipes with traditional ingredients and cooking classes to help people reclaim the lost skills that had traditionally been handed down generation to generation. Jenny's writing style and striking photos illustrate the simple beauty of how to make bone broth, ferment kefir and prepare nutrient dense organ meats with mouthwatering appeal. Paired with the science of nutrition, Nourished Kitchen closes the knowledge gap created by our wholehearted adoption of "the foods of commerce."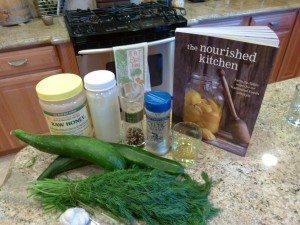 When fellow real food blogger & friend Courtney Polivka of Revived Kitchen came by for dinner the other evening, it seemed like the perfect opportunity to celebrate the launch of the Nourished Kitchen cookbook by whipping up one of Jenny's tasty summer salad recipes featuring Milk Kefir.
"Kef" means feel good and those in the Caucasus Mountains closely guarded their prized grains. They were also included in a woman's dowry when she married so that she could carry on the tasty and healthy tradition of fermenting milk to make it last longer and elevate its nutritional content.
Milk kefir grains have a diverse composition of bacteria that not only break down the lactose in milk, making it easier to digest, but also boost immunity and protect the gut.
Making kefir at home is fun and easy with
Kombucha Kamp's Milk Kefir Grains
(free Lacto-Fermented Recipe Guide with purchase!)
Cucumber Salad
w/Milk Kefir Dressing
(p.20)
1 1/2 lbs cucumbers
1 small shallot, minced  (we used garlic)
2 TB chopped fresh dill
Dressing
1/4 cup milk kefir
1 tsp honey
2 tsp apple cider vinegar (we used Kombucha Vinegar from the Oak Barrel)
1/4 tsp finely ground unrefined sea salt
1/4 tsp ground white pepper (we used multi grain pepper)
Peel the cucumbers if their skin is tough and bitter, then halve them and scoop out the seeds with a spoon. Slice them no thicker than 1/8 inch, and toss them into a mixing bowl with the shallot and dill. Stir gently to distribute the shallot and dill evenly among the cucumbers.
In a separate bowl, whisk the kefir with the honey, vinegar, salt and white pepper until smooth and uniform. Pour the dressing over the cucumbers, stir until well coated and serve.
Reprinted with permission from The Nourished Kitchen by Jennifer McGruther (Ten Speed Press, © 2014).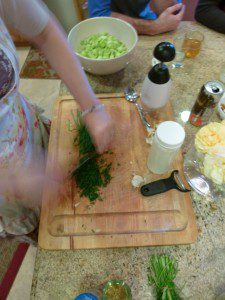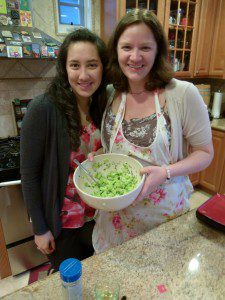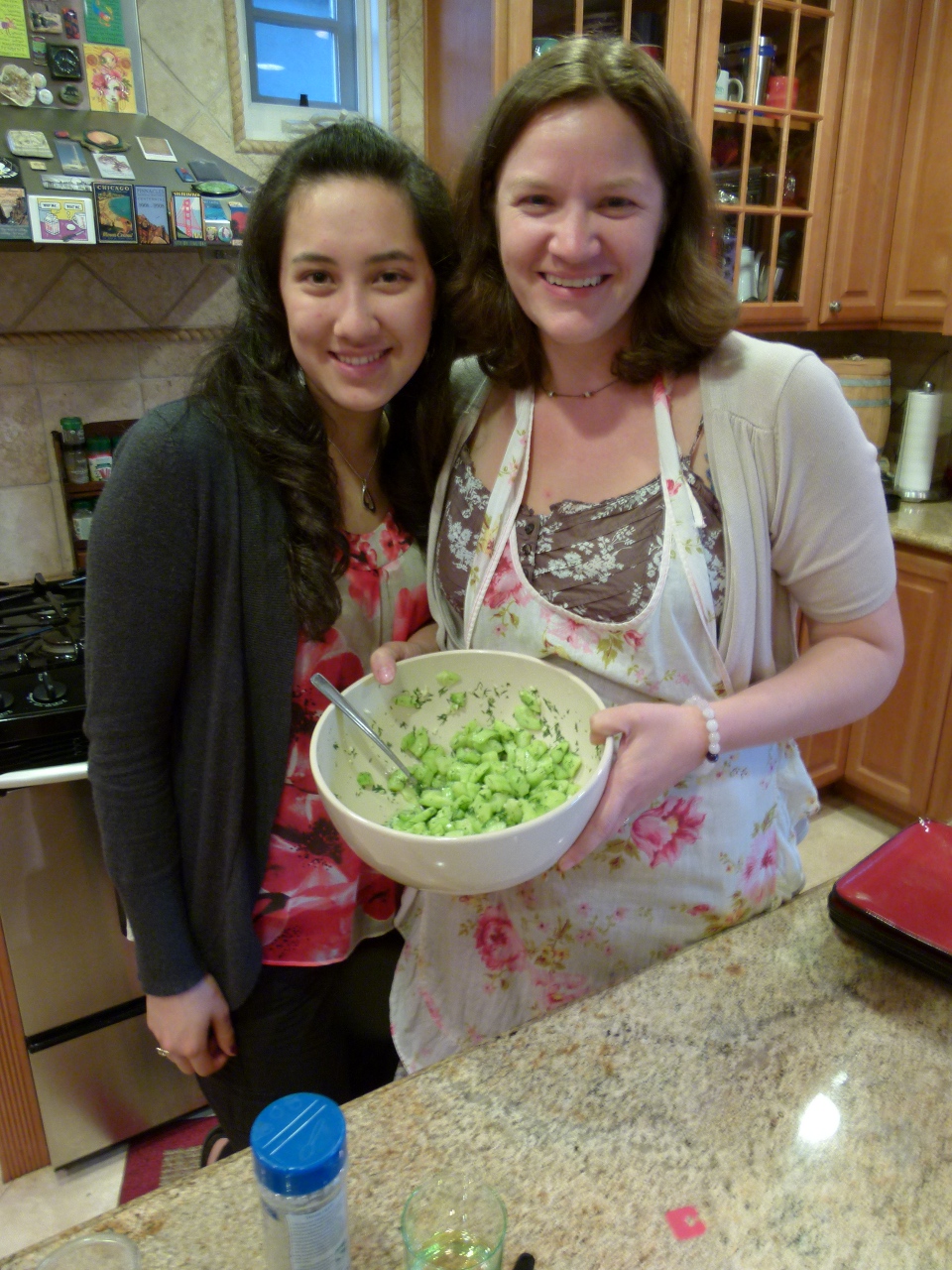 We had ours with grass fed burgers & pastured pork brats. Any summer barbecue will benefit from this cool, fresh salad that also serves as a digestive aid.
The cucumbers lend a crispness that is nicely complemented by the fresh dill and tanginess of the kefir. The raw honey balances the tart of the kefir and rounds out the flavors that leaves a refreshing flavor on the palate. Kombucha vinegar is milder than apple cider vinegar and the garlic was stronger than the shallot. All told, the flavor of this salad perfectly balanced the burgers and brats.
The Nourished Kitchen cookbook is on sale now. If you are thinking about getting this book, DO IT NOW and help drive the book and the conversation about traditional foods to the top of the Best Seller List.