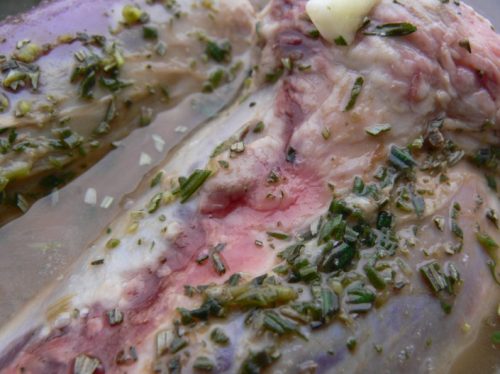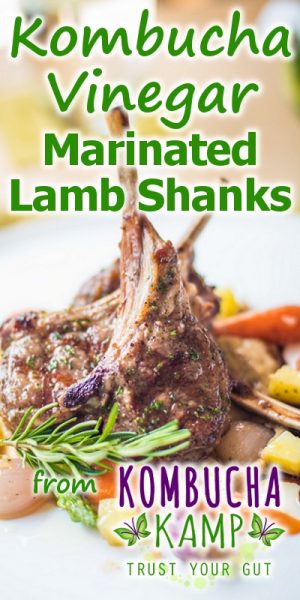 Lamb has a long history as a sacred food at this time of year and within Christian, Jewish and pagan traditions, the lamb carries powerful symbolism. This Kombucha vinegar marinade helps made the meal delicious and tender.
After a long, hard winter in which access to fresh foods were limited, the ritual of slaughtering a Spring lamb was heralded not only as a first taste of fresh meat but also as a reminder of sacrifice and salvation.
In Jewish tradition, Pessach, better known as Passover, celebrates the Jews' liberation from enslavement by the Egyptians. Known as the "Egyptian Passover Sacrifice", according to Exodus, the Lord sent a message to the Jews instructing them to stain their lintel with the blood of a freshly slaughtered lamb.
As the last of 10 plagues brought on to free the Jews, the Lord skipped or "passed over" the homes of those who had proven through this blood sacrifice that they were among the chosen people while visiting the homes of all unproven Egyptians and killing the first born of both man and animal.
In Jerusalem, the Jewish temple leaders also had the custom of a daily sacrifice of a lamb to atone for the sins of the people. This lineage of sacrifice as a means of purification was also reflected in the Genesis story of Abraham and Isaac.
Naturally when Jews converted to Christianity, they brought their traditions with them. The sacrificial lamb clearly had deep significance in these ancient times. Christians identify strongly with the concept that the sacrifice of the Lord's only son was for the salvation of the human race.
Moreover, the book of Revelation makes reference to the Lamb of God. Thus, eating lamb at Easter is a way of commemorating and remembering that sacrifice.
For me, the most important aspect of Easter is the opportunity to be with family and friends; creating new memories, sharing time and space together, and remembering the ancestors who have handed down these time-honored traditions.
As you gather with those you love, enjoy the blessings of Spring, the promise of new life and the warm feelings that sharing a sacred meal with family and friends sparks.
You will spark a delightful conversation when you reveal that not only did you make Kombucha Punch, but also Herbed Lamb Shanks with Kombucha vinegar marinade! Like most Kombucha brewers, you may have let a batch go a little to long only to discover that your lips pucker just at the smell of it.
That is what we call "Old Kombucha" (in case you missed it, here are 5 other uses for KT Vinegar).  KT Vinegar is a great secret ingredient in marinades, salad dressings and more.
Kombucha Mamma Sez: "My good bud and fellow food activist friend Renee at HellaD is also a Kombucha enthusiast. Here is her tantalizing take on lamb shanks using Kombucha Vinegar as a marinade. For those who don't have a slow cooker, you can grill, sear or braise the lamb shanks according to your preference.
Kombucha Vinegar Marinated
Lamb Shanks
"Using Kombucha vinegar marinade made the meat so soft, it just melted in our mouths. This recipe is fantastic. The rosemary comes gently through the meat–it is just amazing how well rosemary goes with lamb." ~ Renee aka HellaD
Serves 2
Ingredients:
2 lamb shanks (grass-fed is best!)

1/2 c KT Vinegar (or thereabouts)

3 cloves of garlic, minced

2 onions, sliced

3 c meat stock

4 carrots, medium dice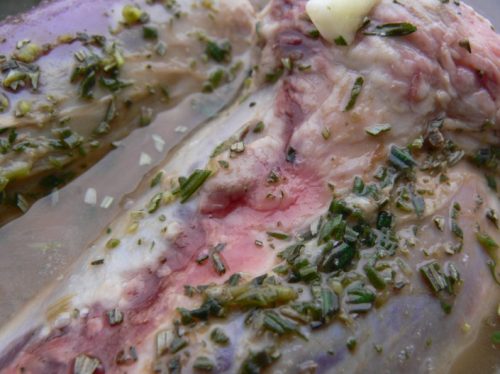 Instructions:
Place the lamb shanks into a dish and cover them with the Kombucha vinegar marinade (aka Old Kombucha), add the rosemary and garlic and roll the shanks around.

Place in fridge overnight.

The next day, remove the lamb shanks from the marinade and sear them on all sides in a hot pan until brown and caramelized.

Remove from pan and place into slow cooker.

Add the onions to the pan and caramelize, adding 1/2 c of stock at a time to make sure they don't burn but allow them to caramelize until a dark and rich color (this can take about 10 minutes).

Add these onions to the slow cooker, add the remaining stock and allow to cook.

About 1 to 2 hours before dinner, add the carrots and beans and continue cooking.
Just before eating add salt and pepper to taste.
Serving Suggestion: Serve it on mashed potatoes or on spaghetti squash. Absolutely to die for, so rich, delicious and nourishing. Yum.
Have you used Kombucha
vinegar marinade in another recipe?
What are you having for Easter Dinner?
Share in the comments below!