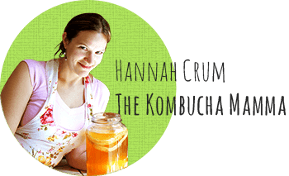 Master Brewer, Community Educator and Mentor
to thousands of new and experienced homebrewers
all over the world.
Welcome to Kombucha Kamp!
Your quest for knowledge about Kombucha tea has brought you to…
The best place for Kombucha Tea information on the web.
Kombucha Kamp is your one-stop destination for all things Kombucha Tea! Best of all, I've got:
Free Kombucha Recipe
Kombucha Benefits
Kombucha How-to Videos
Tips
Interviews
and more resources to help you make your own Kombucha…
All for you to enjoy without any ads. Thanks for stopping by!
☮ & ♥   Hannah