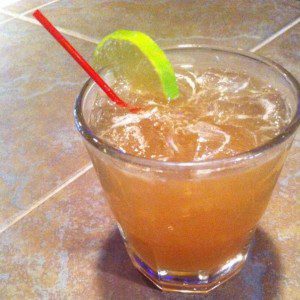 Kombucha's greatest strength is its versatility: healthy beverage, marinade, salad dressing and even cleaning fluid to name a few uses.
How about "Drink Mixer" too?! Yes, Kombucha pairs perfectly with liquor, plus it's a natural liver detox.
That means when you add Kombucha to the mix, you get a little antidote  with your poison.
To celebrate the end of summer, each Friday afternoon we'll be featuring a Kombucha Cocktail Recipes.
Enjoy!
********
Last week, we introduced you to the uber-hip fermentation cafe ed Culture Shock in Ithaca, NY (closed), and one of owner Marian Flaxman's favorite Kombucha Cocktail Recipes, the "Twisted Bliss".
This week, bar manager, Corey Schallek shares the recipe for his favorite Kombucha concoction, "Dark and Devoted," Culture Shock's twist on the Dark and Stormy, a sweet, yet tart ginger delight.
Follow this recipe for a delicious Kombucha refresher: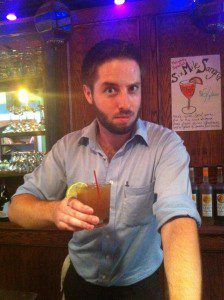 Fill a rocks glass with ice.
Muddle 1/2 inch slice of ginger in 1oz of simple syrup. Squish it good.
Strain 1/2 oz into rocks glass.
Pour 1.5 oz dark rum into a rocks glass.
Add .5 oz sour mix to same glass.
Fill with ginger kombucha.
Stir & garnish with a lime.
Enjoy!
********
Have any favorite Kombucha Cocktail Recipes
you'd like to share?
Add it to the comments
or send me an e-mail and maybe
we'll feature your
Kombucha Cocktail Recipes here! 🙂
********