Kombucha Mamma Live Events, Podcasts & Workshops
Check out the events page on Facebook


Want to include a Kombucha workshop, lecture or book signing at your event? Contact the Kombucha Mamma today!

UPCOMING SPEAKING ENGAGEMENTS & LIVE EVENTS
The Kombucha Mamma is available for workshops, demos, lectures, podcasts and more. Hannah Crum teaches workshops on the Kombucha commercial industry, Kombucha history, health benefits, how tos as well as the benefits of bacteria and fermented foods. Some of her featured talks include:
Kombucha 101
Kombucha & the Human Microbiome
Kombucha By the Numbers
The Science of Kombucha
Fermented Drinks – Probiotics on a Budget
Key Factors for a Perfect Brew
How to Start a Kombucha Bottling Business
Techniques for Controlling Ethanol in Kombucha
Kombucha Kocktails
Kombucha Benefits Your Bottom Line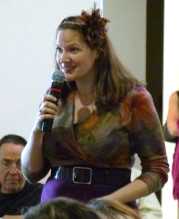 UP NEXT
Events
Date: 05/18/2019 – 05/18/2019
Location: Liberty Station, North Promenade 2848 Dewey Rd, San Diego, CA
Website Url: https://www.boochfest.com/
Come Get Your Booch On at SoCal's 1st Kombucha Festival!
BoochFest, launching in San Diego, is an event to promote health and wellness through food, drink, and fun! We are creating a space to bring the community together to celebrate everything kombucha through the craft and passion of the brands and maker's.
FEATURING:
Kombucha and Food Tastings + Live Entertainment + Zen Zone + Yoga Classes + DIY Workshops + Hard-Booch Lounge + Outdoor Games + Art Installations and Much More!
---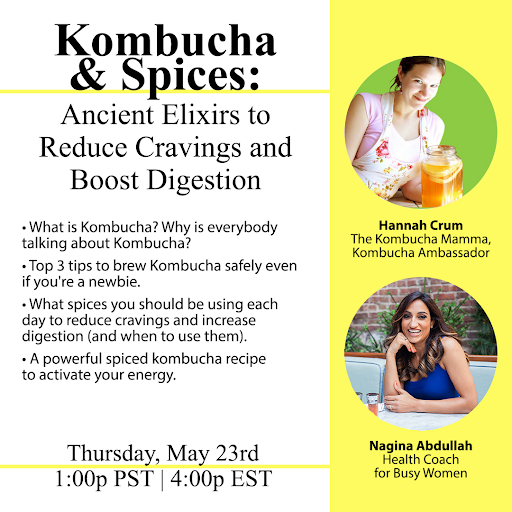 Date: 05/23/2019 – 05/23/2019
Location: ONLINE!
Website Url: https://masalabody.com/kombucha-&-spices-webinar-p12
Kombucha is fermented tea, an ancient elixir consumed for thousands of years by civilizations all over the planet. The most commonly attributed Kombucha Benefits include better digestion, increased energy, and a clearer mind.
Spices have been used for thousands of years, and were highly regarded by royalty due to their powerful benefits. Spices not only make you feel more alive while you're eating, there's a lot of evidence showing that spices are ideal for decreasing inflammation, boosting metabolism, increasing digestion, and even living a longer healthier life!
Combine these two and POW! you've got a supercharged and tasty quaff that boosts metabolism and curbs cravings.
Join Hannah Crum, The Kombucha Mamma and Nagina Abdullah, of Masala Body as they share their wisdom. Here are just a few of the things you'll learn in the FREE training:
What is kombucha? What are the benefits?
Which Kombuchas to buy and how to make it on your own
Top 3 ways to get started with Kombucha if you're a newbie
What spices you should be using each day to reduce cravings and increase digestion and when to use them
3 spices that burn belly fat (one of these is sweet!)
Top 3 recipes to get started with spices for health and weight-loss benefits
A powerful spiced kombucha recipe to make you feel better – we'll give you the recipe on the webinar!
RSVP for the webinar today to claim your spot!
---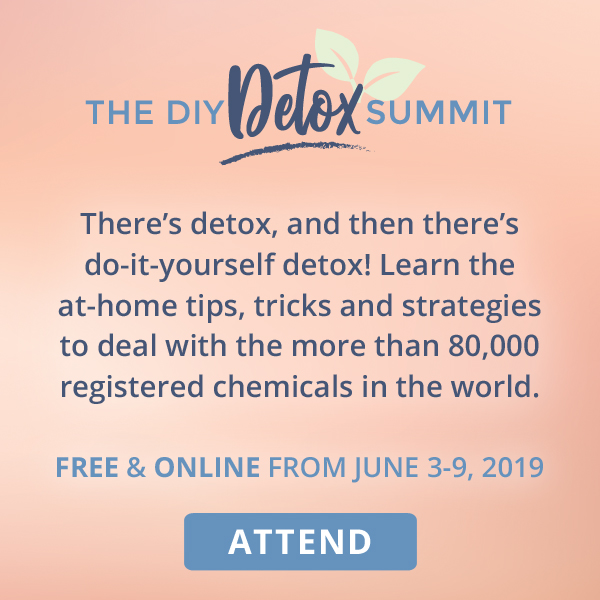 Date: 06/03/2019 – 06/09/2019
Location: ONLINE!
Website Url: http://bit.ly/DIYDetoxHannah
Could Roundup be lurking in your body? Absolutely.
Even if you eat well, exercise and drink enough water, you probably have Roundup toxicity. This sneaky herbicide can find its way into even the healthiest lifestyle, causing bad gut health, hormonal imbalances, detox issues and many other health problems. Crops that may also come with a helping of Roundup: alfalfa, apples, canola, corn, cotton, papaya, potatoes. soy beans, squash, sugar beets… Before you take another bite of your oatmeal, salad, soup or snack bar…
—>>Join me for free at The DIY Detox Summit!
RoundUp exposure occurs when people spray weeds as part of their landscaping efforts, both in residential and commercial areas. In fact, glyphosate is the most heavily-used herbicide in the United States, with its usage ever increasing. Since humans don't have the shikimate pathway, Monsanto claims that Roundup is not harmful to humans. However, while your body may not have the shikimate pathway, the beneficial bacteria in your gut DO use this pathway, and are therefore susceptible. And, various studies have connected glyphosate exposure to a host of issues, including:
Autism
PCOS
Autoimmunity
Depression
Deformities, learning disabilities
Infertility
Hormonal imbalances
Damaged mitochondria
Thyroid issues
Heart Disease
Impaired liver function
Acting as an antibiotic (glyphosate was patented as an antibiotic)
Chelating important minerals
Impacting neurotransmitter production
A great first step to clearing glyphosate toxicity is to determine your current levels. But, to truly detox from glyphosate, I urge you to attend Bridgit Danner's DIY Detox Summit. Bridgit is a well-known functional health coach who got incredibly sick from toxic mold. She wasn't prepared for it, couldn't find a practitioner who could assist, and had to dig into her own patience and perseverance to solve her health crisis… and she managed to do it without breaking the bank.
When I tested my glyphosate levels a couple of years ago, my levels were incredibly low. I attribute that to regular Kombucha consumption which supports a healthy liver and eating a diet primarily of organic fruits and vegetables and ethically sourced animal protein. While I cannot eliminate all potential exposure to glyphosate, these tips and so many more that will be shared in the summit can help your body release toxins rather than allowing them to accumulate in the body.
 —>>Join me for free at The DIY Detox Summit!
---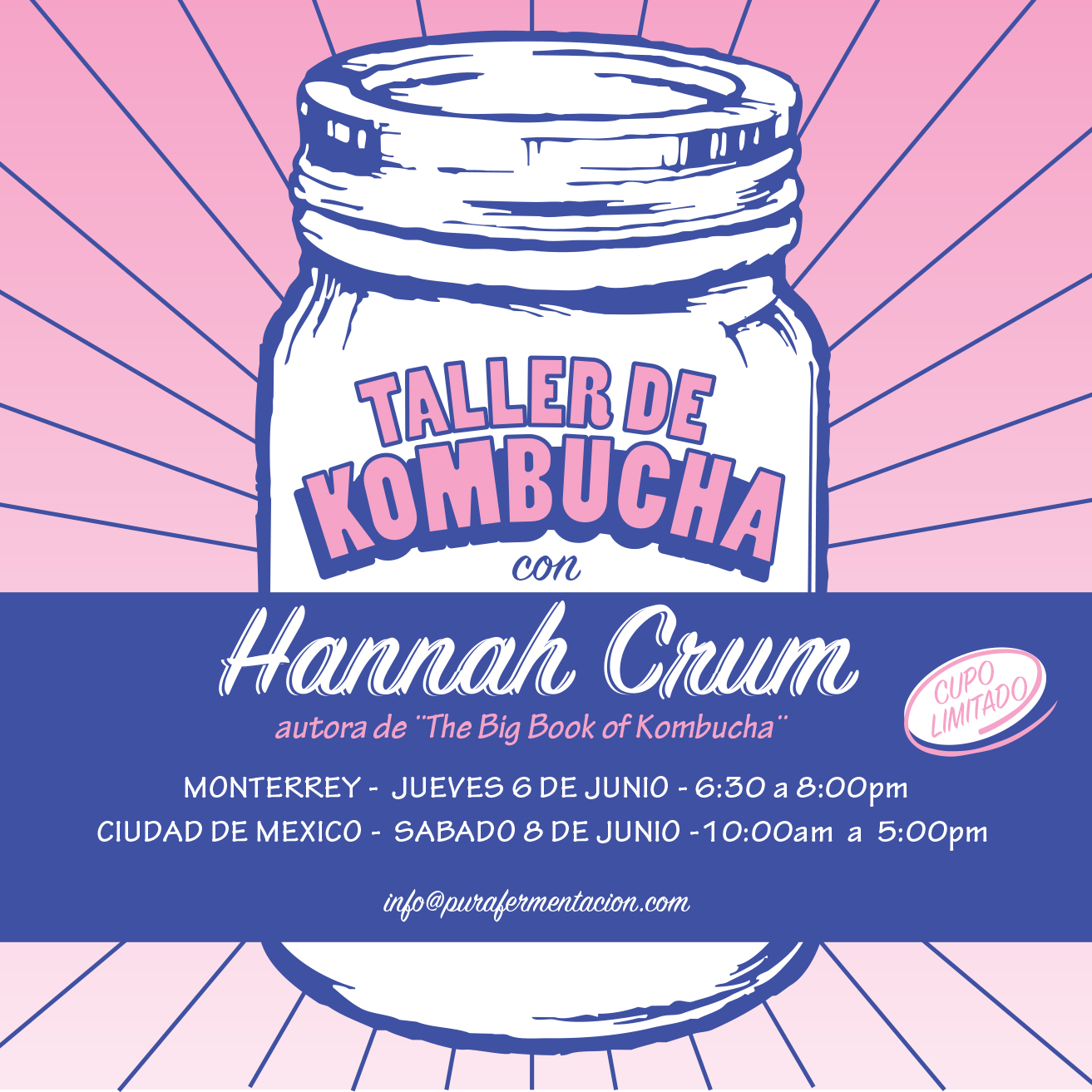 Date: 06/06/2019 – 06/06/2019
Location: Monterrey, Mexico
Website Url: info@purafermentacion.com
Join me in Monterrey, Mexico
Thu June 6th 6:30-8pm
Kombucha 101 w samples provided by Drink Panther
---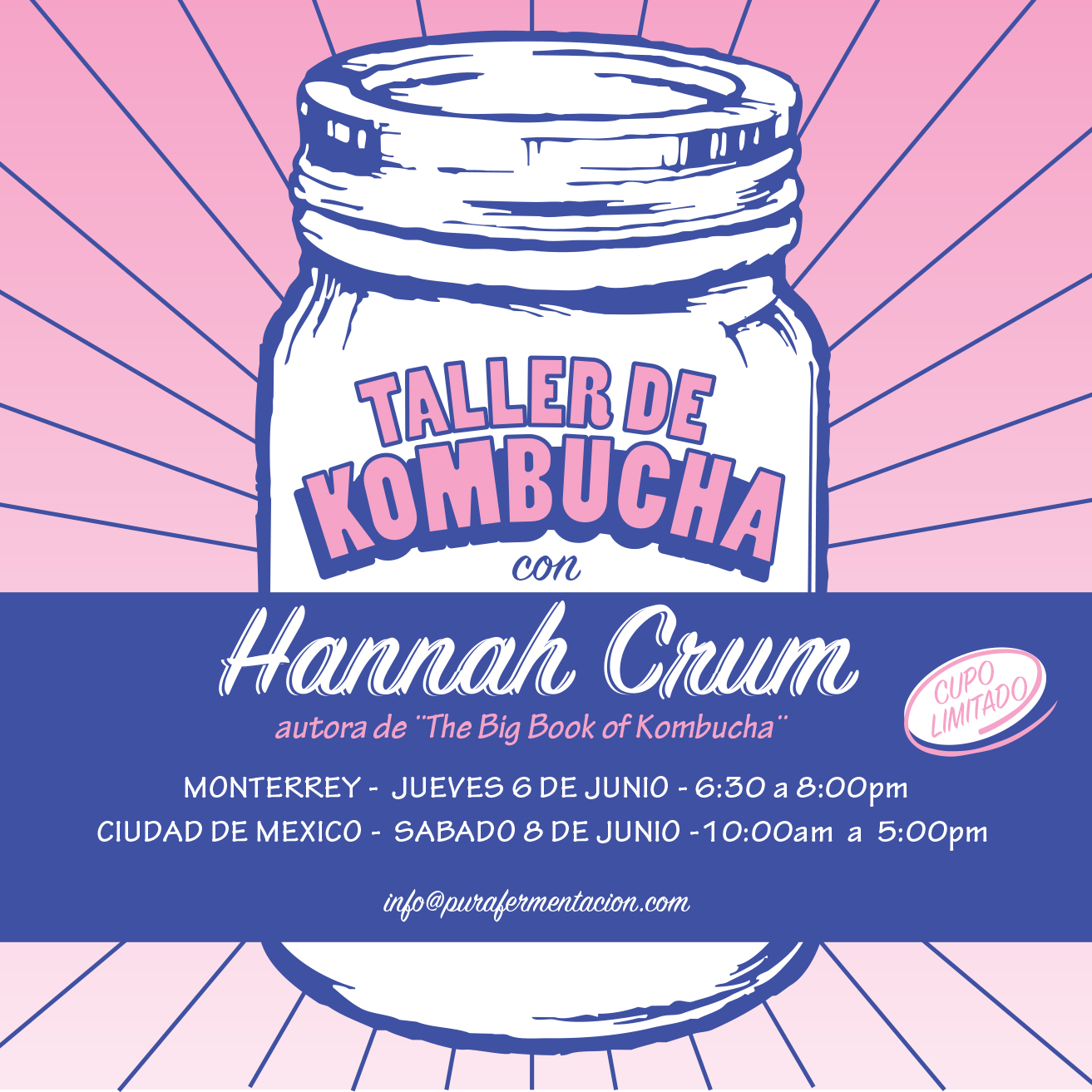 Date: 06/08/2019 – 06/08/2019
Location: Mexico City, Mexico
Website Url: info@purafermentacion.com
Sat June 8th 10am-5pm
Advanced Brewing Techniques including Continuous Brew & Flavoring
Troubleshooting & Fixes
How to Start a Bottled Kombucha Business
---

Date: 06/10/2019 – 06/13/2019
Location: Las Vegas Convention Center, North Hall
Website Url: https://www.worldteaexpo.com/en/home.html
For 16 years, World Tea Expo has been the hub for tea industry professionals to come together with their passion of tea to learn, grow their businesses, and network with their peers, while building lasting partnerships and friendships.
As the first event of its kind and originally called Take Me 2 Tea, World Tea Expo emerged as a one-of-a-kind trade show and conference that, for the first time in North America, gave the tea industry a place to call home. From just under 1,100 participants, to now more than 3,500 – we're well on our way to representing the rapid, exciting growth of the tea industry.
Now, more than ever, is the time to invest in the tea industry – whether you're buying, selling, or simply learning more about the passion of tea and the incredible business opportunity, World Tea Expo is the place to be.
Join us in Las Vegas in June as we all celebrate the traditions, serve the future and embrace the love of tea at World Tea Expo.
SPEECH TIME: Thursday June 13th, 8:30am
SPEECH TITLE: Kombucha Tea – Boost Your Bottom Line with Functional Fermented Tea
---

The Kombucha Mamma has been featured at these fine events
KombuchaKon (2014-present – Long Beach, CA)
FB!F – Food & Beverage Innovation Forum, Hangzhou, China 2019
World Tea Expo (2015, 2018-2019)
Congreso de Fermentacion Oaxaca, Mexico (2018)
New Mexico Fermentation Festival (2017-2018)
Second Nature Workshop Series (August 2016 – Los Angeles, CA)
The OC Fair (August 2016 – Costa Mesa, CA)
The Wahls Protocol Seminar (August 2016 – Cedar Rapids, IA)
Slow Food Preservers Los Angeles (June 2016 – Los Angeles, CA)
NYC Vegetarian Food Festival (May 2016 – New York, NY) – Presentation
NTA Conference (March 2016 – Portland, OR)
Upshur Street Books (March 2016 – Washington, DC)
Natural Products Expo West (March 2016 – Anaheim, CA)
Mother Earth News FAIR (Feb 2016-2019 – Belton, TX | Apr 2016-2017 – Asheville, NC | Jun 2018 – Frederick, MD | Jul 2016 – West Bend, WI | Aug 2016-2017 Albany, OR | Sep 2016-2019 – Seven Springs, PA | Oct 2016-2017 – Topeka, KS)
Austin Fermentation Festival (Oct 2015-2016 – Austin, TX)
Whole Foods (Sep 2015 – West Los Angeles, CA) – Demo Workshop
Los Angeles Fermentation Festival (Jul 2015 – Venice Beach) – Culture Petting Zoo
PaleoFX (2015-2017 – Austin, TX) – Kombucha Demo
San Diego Fermentation Festival (Jan 2015-2017 – San Diego, CA) – featured speaker, Cultured Petting Zoo
BlogHer Food – (May 2014 – Miami, FL) – Kombucha Demo
Artisanal LA – (Oct 2013 – Los Angeles, CA) – Kombucha Demo
Sol Food Festival (Sept 2013 – Santa Barbara, CA) – Culture Petting Zoo & Water Kefir Demo
BaconPalooza (Sept 2013 – Staunton, VA) – Kombucha Cook-off
Healthy Beverage Expo (June 2013 – Las Vegas, NV) – featured speaker

Master Food Preserver's Program (June 2013 – Los Angeles, CA) – featured speaker
Craftcation (March 2013-2014 – Ventura, CA) – featured speaker
Weston A Price Conference (Nov 2012-2013, 2015-2016 – Santa Clara, CA/Atlanta, GA/Anaheim, CA/Montgomery, AL) – featured speaker
Heirloom Expo (Sept 2012-2013 – Santa Rosa, CA) – featured speaker
Farm to Fermentation (Sept 2012-2014 & 2016 – Santa Rosa, CA) – Keynote speaker
Santa Barbara Fermentation Festival (July 2012-2014 – Shepherd Farms, CA; Sept 2016-17 – Goleta, CA) – Culture Petting Zoo, featured speaker
Road Less Traveled (June 2012 – Santa Ana, CA) – Kombucha workshop
Patchwork Indie (June 2012/Oct 2013) Culver City/Costa Mesa – Kombucha Demo, Fermented Sodas Workshop
Real Food Symposium (May 2012) Pasadena – featured speaker
Earth Night (April 2012) Santa Monica
Green Festival (Nov 2011-2013, Sep 2016) Los Angeles, (May 2016) Washington DC – featured speaker
Eat Real Festival (June 2011) Culver City – featured speaker
Freestone Fermentation Festival (May 2011) Freestone – featured speaker
Culture Club 101 – Continuous Brew Class
Project Butterfly – Kombucha workshop
Erewhon – Kombucha 101
Co-Opportunity Speaker Series – Kombucha 101
BOOK TOUR DATES & LOCATIONS
Meyers Falls Market (January 2017 – Kettle Falls, WA)
Fermentation Farm (October 2016 – Costa Mesa, CA)
Natural Grocers (October 2016 – Austin, TX)
Metier Austin (October 2016 – Austin, TX)
Woods Hill Table (September 2016 – Concord, MA)
Beaverdale Books (August 2016 – Des Moines, IA)
The Book Vault (August 2016 – Oskaloosa, IA)
Prairie Lights Book Store (August 2016 – Iowa City, IA)
Iowa City Brewlab (August 2016 – Iowa City, IA)
New Bo Mercantile & Vintage Shop/Next Page Books (August 2016 – Cedar Rapids, IA)
Lonnski's Deli (August 2016 – Grinnell, IA)
GYST Fermentation Bar (July 2016 – Minneapolis, MN)
Magers and Quinn Booksellers (July 2016 – Minneapolis, MN)
Arcadia Books (July 2016 – Spring Green, WI)
Fresh & Green Market  (July 2016 – Oconomowoc, WI)
News Segment – WTMJ-TV Morning Blend (July 2016 – Milwaukee, WI)
BookPeople (May 2016 – Austin, TX) – Book Signing
Eco Garden Expo (April 2016 – San Juan Capistrano, CA)
Tattered Cover Bookstore (April 2016 – Denver, CO)
Happy Leaf Kombucha (April 2016 – Denver, CO)
Boulder Bookstore (April 2016 – Boulder, CO)
Denver Public Library (April 2016 – Denver, CO)
Colorado State University Fermentation Club (April 2016 – Ft. Collins, CO)
Old Firehouse Books (April 2016 – Fort Collins, CO)
True Nature (April 2016 – Carbondale, CO)
Rosetta's Kitchen and Buchi Bar (April 2016 – Asheville, NC)
Malaprop's Bookstore (April 2016 – Asheville, NC)
Craftcation (April 2016 – Ventura, CA)
Chaucer's Books (April 2016 – Santa Barbara, CA)
SHED (March 2016 – Healdsburg, CA)
Omnivore Books (April 2016 – San Francisco, CA)
Sacramento Public Library (April 2016 – Sacramento, CA)
Book Passage (April 2016 – San Francisco, CA)
Book Cellar (March 2016 – Chicago, IL)
Good Food Festival & Conference – Kombucha Workshop – (March 24-26 – UIC Forum, Chicago)
Willy Street Co-op (March 2016 – Middleton and Madison, WI)
Fresh & Green Market (March 2016 – Oconomowoc, WI)
Powell's Books (March 2016 – Portland, OR)
CommuniTea Kombucha (March 2016 – Seattle, WA)
Village Books (March 2016 – Bellingham, WA)
Book Larder (March 2016 – Seattle, WA)
Podcasts, Interviews & Articles – click here