Description
JUN Tea Brew Kit for Sale – 1 Jun Culture
Buy this high quality Raw Honey JUN Tea Kit with free shipping and a brewing guarantee!
—————————————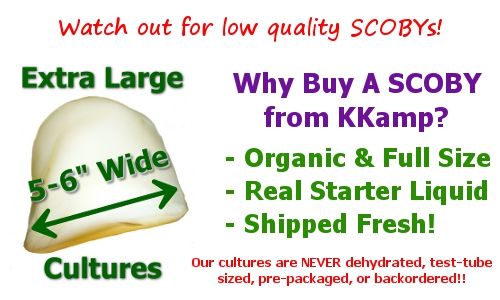 —————————————
The JUN Tea Brew Now Kit
Authentic JUN Tea Cultures from Kombucha Kamp are grown using only organic and real RAW Honey. Watch out for cheap "honey jun" cultures made from pasteurized honey and regular Kombucha cultures. These genuine JUN Cultures thrive on RAW honey only and prefer green tea, though other tea blends will still brew. When using this culture, all future batches should be brewed with raw honey, so be sure you have a good supply of local real raw honey or you can add bottles to your order, 8oz per gallon is recommended. These high quality JUN Cultures create an authentic brew and have been cultivated exclusively by Kombucha Kamp for many years, so you can buy and brew with confidence. Plus you can customize the kit to include additional cultures, USA made glass jars for brewing, heating elements, and more! CLICK HERE to learn more about JUN Tea at our blog.
THIS PRODUCT FEATURES:
1 JUN Tea Culture – makes 1 gallon of JUN in the first batch, if you'd like to make more than 1 gallon right away, consider adding a second culture
Strong Starter liquid – at least 1 cup, packed with the culture and vital for a healthy start to the brew
Hannah's Green Goddess Tea Blend For Perfect JUN or Kombucha – our special all green tea blend for the best tasting JUN or Kombucha, plus it makes a delicious cup of tea, hot or cold, anytime; 2oz/30 servings
Reusable Muslin Tea Bags
100% Raw Honey – USA Grown (1 brew)
Hand-Cut Cotton Cloth Cover & Rubber Band
FREE SHIPPING! (in the US)
e-Guide with Batch Brew and Continuous Brew instructions – 100 page pdf (written originally for Kombucha but all the basic information applies to JUN)
OPTIONAL ADD-ONs:
Add a 2nd JUN Tea SCOBY for only $20! – Why two SCOBYS? Each culture is for a 1-Gallon Batch the first time. So if you want to make a 2-Gallon Batch right away, or make Two 1-Gallon Batches right away, or want to start a JUN SCOBY Hotel and a Batch Brew, or if you want one for a friend/family member…there are so many reasons to want 2 JUN Cultures!!
Add a USA Made 1 Gallon Glass Jar…or Two! FREE Thermometer Strip(s) and an extra cloth cover for jar #2 make this a great value, all with FREE SHIPPING! (in the USA) – If you need a high quality glass vessel for Batch Brewing or even a Hotel, we've got you covered. The included 

thermometer strip(s)

 offer convenience and accuracy and will stay attached once applied, even through the dishwasher. The strips let you know if the brew is in the right temperature range for brewing success, or if a heating solution may be needed. 70-80°F (21-27°C)

is the best range,

75°F (24°C) is ideal. Add 2 jars and you will receive 2 thermometer strips plus an extra

Hand-Cut Cloth Cover and rubber band

 for the second jar.
Add a high quality Kombucha Mamma Heating Solution – Each delivers the same great power, so select based on style and ease of use. From our manually controlled

Essential Heat Strip

to the dimmer control of the

Year Round Heating System

to the full thermostat control of the

Ferment Friend

, all are fully guaranteed and will warm up to a 2.5 gallon brew. Or you can wrap them around/between 1, 2 or even 3 regular gallon jars at a time (see the video below). For additional info on each model, click the product link above or for more

info on heating Kombucha and all the models, click here

.
Add The Big Book of Kombucha – The #1 Kombucha resource in the world with instructions for mastering Batch or Continuous Brew plus flavoring, troubleshooting, history and everything else you could ever want to know, offered at a discount! While this book is written for Kombucha, the majority of the information applies. Very useful for both JUN and Kombucha brewing!
—————————————
Quick Culture FAQ
Why does dehydrated matter?
While dehydrated SCOBYs may produce a safe batch of JUN Tea, they are VERY SUSCEPTIBLE TO MOLD. The living culture at the center of a dehydrated SCOBY cannot properly protect itself early in the brewing cycle without the full power of the culture and starter liquid (included with your Kombucha Kamp JUN Culture). Water is the source of all life on Earth. Why begin your quest for a healthy LIVING beverage with a bone dry culture?
Test tube size? That's a joke right?
Unfortunately, no. There are test tube size SCOBYs and even SCOBYs the size of a half dollar, requiring multiple batches to get up to full brewing potential. Unsuspecting consumers are duped everyday by these sellers. The worst part is that many new brewers give up, thinking they have done something wrong. It's not you, it's your starter culture!
What's a "Fresh Kombucha Culture" mean?
Every Kombucha Kamp culture is grown in it's very own jar till it's thick and creamy, then harvested to a SCOBY Hotel and stored for shipment in strong starter liquid. There is no wait for a SCOBY to grow, it's never been dehydrated, nor has your SCOBY been sealed in a box for weeks. Fresh means your culture is ready to brew on arrival, that's the Kombucha Kamp guarantee.
Ask the above questions of any JUN Tea culture seller online
before investing your money in their product.
Or just order high quality Kombucha Kamp JUN Tea SCOBYs
and you'll already have the answers! 🙂