JUN Tea Cultures
JUN Tea is like a cousin to Kombucha, made with 100% RAW Honey and best with green tea. Select the JUN Tea Culture by itself, in our JUN Tea Brew Now Batch Brew Kit, or look below at JUN Tea as a Continuous Brew option!
JUN Tea as Continuous Brew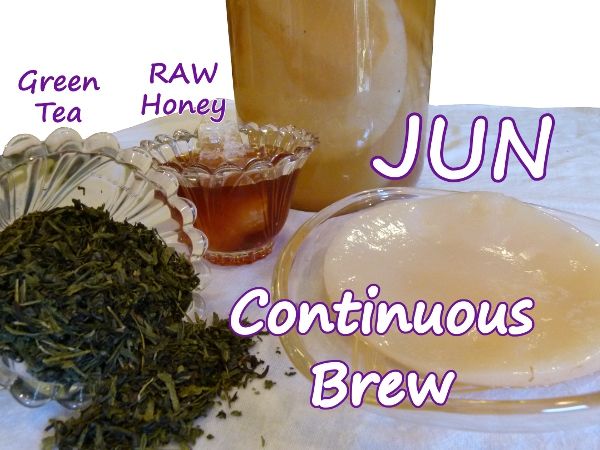 JUN Tea is another delicious fermented tea option and can be done as a Continuous Brew. Because JUN can mature faster than Kombucha, it is even easier to have plenty of fresh brew on hand. Although JUN is a cousin of Kombucha, all the basic concepts of Continuous Brew will apply, meaning that set up, SCOBY care, maintenance and more are essentially identical. The main differences are that JUN requires 100% RAW honey for brewing, is best when made with green tea, and can be brewed at a slightly lower temperature for a shorter time. If you select the JUN option, your kit will include 2 JUN Cultures, 100% Raw honey, and our Green Goddess Tea Blend for perfect JUN or Kombucha. The JUN Cultures work well with either the RAW honey we provide or your own local 100% RAW honey.
Click each category below to select your package level (or select Brewer Only if you already have cultures). Then choose the vessel type you want and select "JUN Tea" from the Brew Type drop down menu in the product. Soon you will be Continuous Brewing your own 100% RAW honey genuine JUN Tea!
Ready to order but need help deciding?
Call the KKamp Order Hotline! 424.245.5867