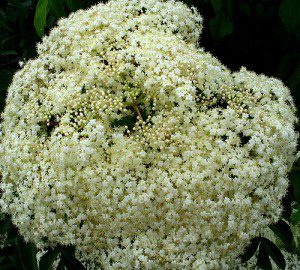 When summer is close at hand, the elderflowers go to blossom. Their characteristic creamy, honey-scented blooms have been boiled into a delicately flavored cordial since Roman times when Hippocrates expounded on its myriad uses. Termed "the medicine chest of the common people", elder's usage pre-dates the Stone Age and includes the berries, roots and flowers as well as the wood for making beautiful pipes.
It has been used as a home remedy for colds, tonsilitis and kidney ailments. Research shows that the traditional use of elderflower for diabetics has validity in regulating blood sugar levels.  
There has been a resurgence in popularity of this ancient tonic that can be seen in the rise of elderflower cocktails served at higher end establishments using St Germain, an artisan crafted liqueur.
Did You Know?
The 
lore of the elder tree is rich
 in Northern Europe where it has been 
considered a sacred tree among the native population
.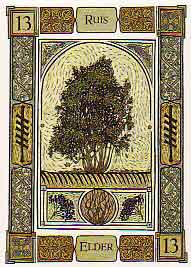 Ancient peoples thought that the "Mother Elder" spirit inhabited the tree so the removal of its branches was considered bad luck unless they were used to make flutes (
listen here
) or magic wands.
Elder tree branches, twigs and bouquets were used by witches and created a bridge between this world and the spirit world. Shakespeare referred to the Elder in his Love's Labour Lost citing the common medieval belief that Judas was hung from the Elder tree.
It was also thought that the Cavalry Cross was made from it as well thus becoming an emblem for suffering and death. However, as the cycles of life invariably move forward, the tree also signifies rebirth, regeneration and new life.

Kombucha flavored with elderflower has a dry, champagne like quality, especially when bottle aged for longer periods of time. Bring the delicate, sunkissed flavor of elderflower to your Kombucha recipes this Summer for a delightful treat!
The recipes below are for a 16oz bottle. Scale up or down depending on your taste preference and bottle size.
Sunny Delight Kombucha
Hints of citrus and floral give this Kombucha a refreshing twist.
½ tsp of elderflower
1 Tbsp of lemon juice or orange juice
½ tsp of sugar, honey or other sweetener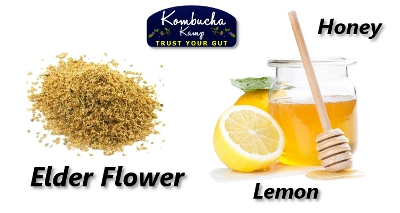 Kombucha Mamma Sez
:
"You can also flavor old Kombucha with elderflower to make a delicious vinegar for salad dressings & marinades. Other recipes for sour Kombucha can be found by Clicking Here"
English Garden Kombucha
Escape hot summer days with this cooling blend of cucumber, mint and elderflower reminiscent of elixirs enjoyed in Victorian times.
1 tsp of elderflower
3 slices of cucumber, finely diced
1 sprig of fresh mint or 1/2 tsp dried peppermint