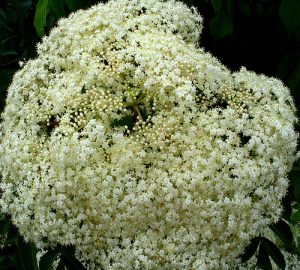 Imagine drinking nectar from a sacred tree. A crisp, champagne-like, floral flavor fills your mouth. That is the sensation I have when drinking this elderflower Kombucha recipe!
Each taste of elderflower sparks reverence for its subtle citrus notes. The creamy, white umbrels ("umbrella shaped") hold their own yeast. These elderflower yeast add to the flavor and carbonation of the brew. In case you couldn't tell by now, I absolutely adore elderflower. And I also love making elderflower Kombucha!
Elderflower History
Since the dawn of time, humans have relied on their allies in the plant kingdom to provide nutrients in a living form. But which to eat and which to avoid? We always learn these things through our taste buds.
When summer approaches, the heady aroma of sweet elder flower blossoms fills the air. Since Roman times (27 BC – 1453), the honey-scented blooms have been fermented into a delicately flavored cordial.
Hippocrates expounded on its myriad uses. It was termed "the medicine chest of the common people." Elder's usage pre-dates the Stone Age and includes the berries, roots and flowers. It's even possible to carve the wood into beautiful pipes.
The Sacred Elder Tree
The lore of the elder tree is rich in many cultures around the world, including North America, where it has been considered a sacred tree among the native populations. Ancient peoples thought that the "Mother Elder" spirit inhabited the tree so the removal of its branches was considered bad luck unless they were used to make flutes (listen here) or magic wands.
Elder tree branches, twigs and bouquets were used by witches and created a bridge between this world and the spirit world. Shakespeare referred to the Elder in his Love's Labour Lost citing the common medieval belief that Judas was hung from the Elder tree.
It is believed that the Cavalry Cross was made from it as well, thus becoming an emblem for suffering and death. However, as the cycles of life invariably move forward, the tree also signifies rebirth, regeneration and new life. Fermentation is, at its heart, this same process of rebirth. Microorganisms break down the substrate into its smaller, easier to absorb nutrients. This generates "new life" from decay.
Elderflower Rediscovered Today
There is a modern resurgence in popularity of this ancient herb. The result is a variety of elderflower sodas, cocktails and Elderflower Kombucha to buy.
In terms of how to take it, steep elderflower in hot water as an herbal tea. This is a traditional home remedy for colds, tonsillitis and a host of other ailments. Some research shows that consumption of elderflower does help regulate blood sugar levels in rats with diabetes. (Click Here for more about Kombucha's health benefits)
Brew up a thirst quenching batch of elderflower Kombucha today and imbue the sun-kissed flavor of elderflower into your Summer for a delightful treat!
Kombucha flavored with elderflower has a dry, champagne like quality. Bottle aging for a long time helps bring this out.
The recipes below are for a 16oz bottle. Scale up or down depending on your taste preference and bottle size.
Elderflower Kombucha Recipe
"Sunny Delight"
Hints of citrus and floral give this elderflower Kombucha recipe a refreshing twist.
Kombucha Mamma Sez
:
"You can also flavor old Kombucha with elder flower to make a delicious vinegar for salad dressings & marinades. Other recipes for sour Kombucha can be found by Clicking Here"
Elderflower Kombucha Recipe
"English Garden"
Escape hot summer days with this cooling blend of cucumber, mint and elderflower reminiscent of elixirs enjoyed in Victorian times.