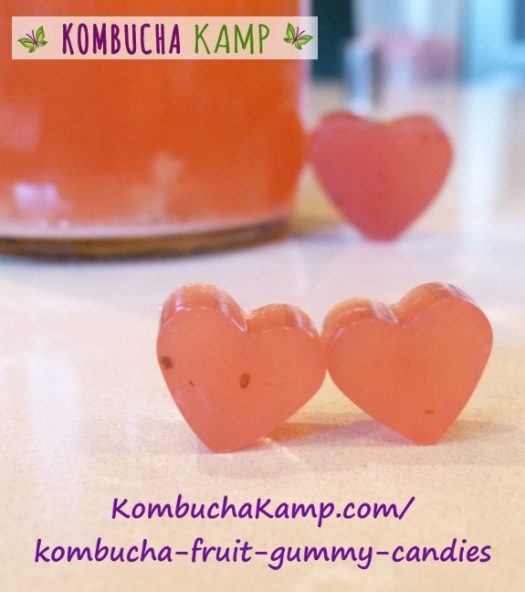 Valentine's Gummy Kombucha Fruit Hearts
They say the way to a person's heart is through their tummy and we couldn't agree more! These cute Valentine's Gummy Kombucha Fruit Hearts say "I love you" in more ways than one.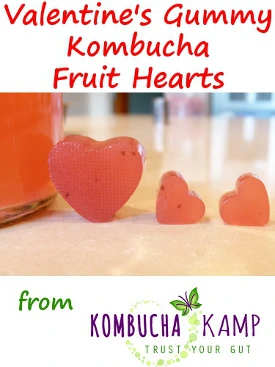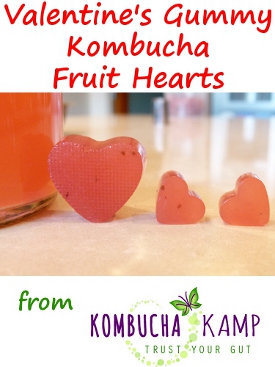 Not only are these gummy candies bursting with flavor and made with love, but they also contain nutritious gelatin and a healthy tang from the Kombucha. And you can make them any time of year!
Gelatin is a traditional food and a sustainable by-product, rich in collagen, that is made by boiling animal bones, cartilage, and skin. Our ancestors understood the value of using every part of the animal to nourish the human body, reduce waste, and honor the beautiful sacrifice made. Flavorless with a jelly like texture, it has a range of culinary uses.
NOTE – If gelatin is not suitable, then use agar agar which is a seaweed based thickening agent. Use the same amount as gelatin – i.e. in this recipe 6 tablespoons.
Is Gelatin Good For You?
Gelatin has long been known to support healthy skin, hair and nails. Plus it contains vital nutrients for healthy bones and easing joint pain. Protein rich, it also contains glycine, an amino acid that promotes a healthy mucosal lining in the gut, secretion of digestive enzymes, controls blood sugar and improves sleep quality. To learn more about the benefits of gelatin, check our our pal Hollywood Homestead's awesome book The Gelatin Secret.
This gummy candies recipe is also a perfect way to use up sour or older Kombucha from your SCOBY Hotel that may be too tangy to enjoy by the glass. Gelatin has a way of minimizing intense flavors so we punch it up a bit with the addition of sugar or honey in addition to the fruit. Adjust the amount of sugar based on how tart the Kombucha is. We tested the recipe from ¼ cup of sugar up to 1 cup of sugar and found that a minimum of ½ cup is needed for the best flavor.





(9 votes, average: 3.89 out of 5)


Loading…
– Yield: approximately 32oz of Gummy Candies total (varies depending on type of mold used, but dozens of little hearts at least!)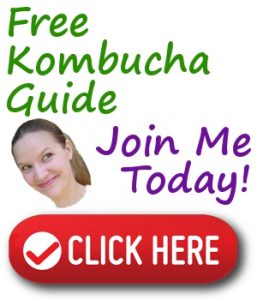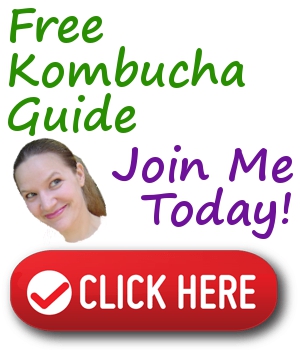 Ingredients for Gummy Candies
Equipment
Instructions
Add the fruit, sugar and ½ cup of Kombucha to a medium saucepan over medium heat. Stir occasionally to break down the fruit and ensure the sugar melts in the liquid. If using frozen fruit, this takes about 15 minutes.

While the fruit and sugar heat, bloom the gelatin in 1 ½ cups of cold or room temperature Kombucha in a large pitcher.

Allow the gelatin & Kombucha to bloom for 3 – 5 minutes. It will create a thick gel in the pitcher.

Once the fruit and sugar are broken down, pour the mixture into a blender and blend until smooth.

Pour the warm fruit mixture into the pitcher with the bloomed gelatin.

Stir to combine until smooth. If any gelatin clumps remain, extract with a spoon before pouring into molds.

Once smooth, pour the gelatin mixture into clean, heart shaped molds. You can also use a flat bottomed dish and then use cutters to make the hearts.

Place in refrigerator for at least 2 hours or longer until they are firm.

Pop the gummy candies out of the molds, or if using a flat bottomed dish:

Drag a sharp knife around the outside to separate the edges of the gummy from the dish.

Gently remove/peel the layer of gelatin from the dish.

Place on a cutting board and use a cookie cutter or other form to create the desired shape for your gummy candies.

Store in a glass dish in the fridge for up to 4 weeks.