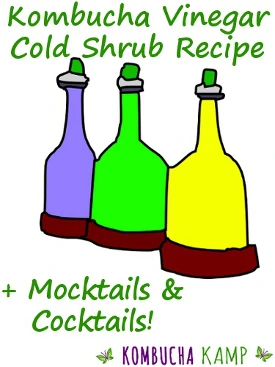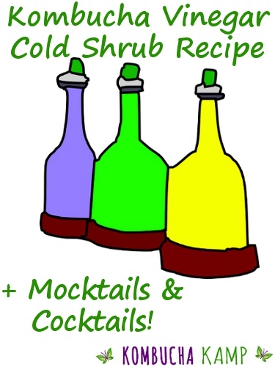 Fermented Cold Shrub Recipe made with Kombucha Vinegar plus Kocktails & Mocktails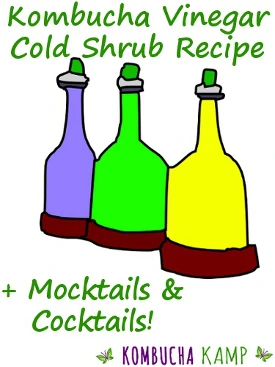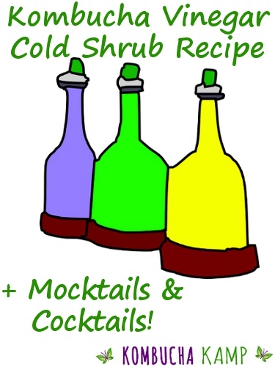 Shrubs (beyond being attractive landscaping) are a sweetened fruit syrup preserved in vinegar. Refreshing and delicious, this cold shrub recipe has delighted humankind since ancient times. Shrubbing was a crucial process to ensure that vital nutrients such as vitamin C were available throughout the leaner winter months or on long voyages across the sea.
During Prohibition, shrubs became a popular alcohol substitute. The modern "farm-to-bar" cocktail movement made them hip again. Whenever the whistle desires whetting, shrubs offer a tangy, refreshing option, whether added to a cocktail or just a plain glass of water.
Using kombucha instead of vinegar adds another layer of flavor and bacteria and yeast buddies. The cold shrub recipe process means our little friends stay alive and active. These tasty and easy-to-make syrups are sure to become family favorites, whether they're destined for homemade sodas or for cocktails. Check out all the options below!
KMAMMA SEZ… 
Shrub is derived from the Arabic word sharāb which means "wine" (or any beverage), and shariba which means "to drink." Originally, a shrub was a drink made of citrus juice, sugar, and rum or other liquor. The term evolved in the mid-1800s to include the vinegar/sugar/fruit cordial varieties in this cold shrub recipe.
The typical cold shrub recipe follows a standard ratio of 1 part fruit:1 part sugar:1 part vinegar. However, since kombucha vinegar is less acidic than traditional vinegars, the ratio for a Kombucha shrub is 1 part fruit:1 part sugar:2 parts kombucha vinegar. Any type of fresh fruit works — try berries, peaches, plums, rhubarb, apricots, apples, melons, cherries; you name it!
Kombucha vinegar yields the best flavor, but unflavored Kombucha can also be used as it will continue to ferment, even in the fridge. Flavored Kombucha or Kombucha Vinegar can add a layer of complexity to the final shrub.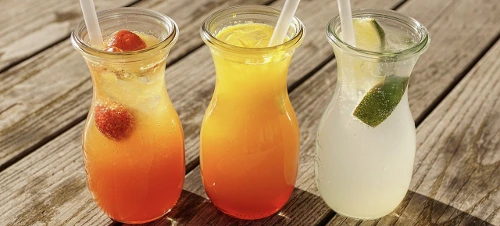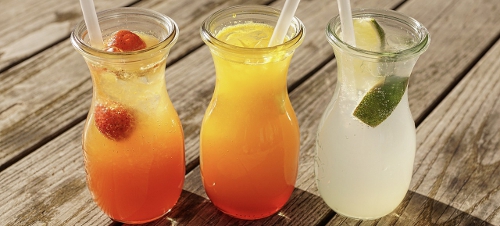 To Make a Kombucha Shrub, You're Going To Need Kombucha Vinegar
Nearly any old Kombucha, meaning Kombucha that has been fermenting for a long time (even from a SCOBY Hotel), might be considered "vinegar" due to the sour taste on the tongue. But sour Kombucha may only contain up to about 1% acids, which is tame when compared to traditional vinegars that generally have around 5% acids. Gradually adding the sugar prevents the brew from becoming overwhelmed, instead spurring the natural processes repeatedly until the acids have built up to a more powerful 2-3%. Even still, this leaves Kombucha Vinegar about half as strong as traditional vinegar, which is why we use twice as much for this recipe.
Kombucha Vinegar Recipe
The following is an excerpt from The Big Book of Kombucha pg 256 (Copyright Storey Publishing 2016). We recommend making Kombucha Vinegar in half gallon or larger batches so you have plenty on hand for shrubs, salad dressings, marinades and the like.
"To make kombucha vinegar, start with a batch of kombucha (1 gallon or less) that is already at least four weeks old; it should have about 1 percent acidity at that point.
To increase the acidity of the vinegar to 2 percent, add 2 teaspoons of sugar per pint of vinegar every two weeks for a period of six weeks (that's three rounds total). More rounds can be added as desired. Use immediately or flavor with herbs and ferment for up to six months, depending on how strong you like your vinegar. A SCOBY may form; you can either ignore it or remove it.
Because it has a relatively mild acetic-acid profile, kombucha vinegar tends to be less tart than other vinegars. When you're cooking with it, if you prefer a stronger vinegar flavor you can increase the amount of kombucha vinegar or supplement with another, more tart vinegar such as balsamic or apple cider."
Cold Shrub Recipe
Yield 3 cups
And now on to the Shrubbing! The sugar and acid help to break everything down, releasing the natural sugars from the fruit. The vinegar and sugar mix with all the natural flavors to create a sweet, sour treat. Both sugar and vinegar are preservatives, so the resulting product from this cold shrub recipe will have a long shelf life.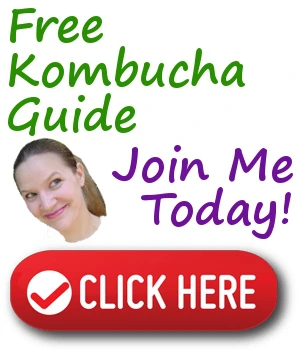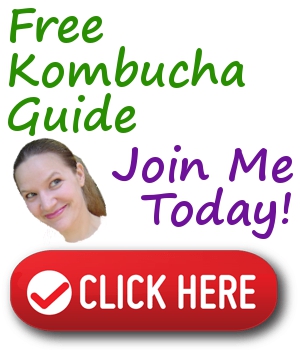 INGREDIENTS
1 cup fruit, chopped and pitted
1 cup sugar
2 cups Kombucha vinegar
INSTRUCTIONS
Place fruit and sugar into a non-reactive container and toss gently to combine. If the fruit is more fibrous, use a kraut pounder or potato masher to muddle the fruit and sugar to release more juices.
Store covered at room temperature for 24 hours. After a few hours, the sugar will pull liquid from the fruit creating a sweet syrup. Stir occasionally to redistribute the sugar over the fruit.
After 24-36 hours, strain the fruit through a sieve or piece of cheesecloth, pressing to release as much juice as possible from the solids.
Scrape any sugar bits left in the container into the syrup.
Add the Kombucha vinegar and stir to dissolve any residual sugar.
Pour the mixture into clean bottles or jars and shake again before storing in the fridge.
Shake prior to use to distribute the sugar evenly in the shrub.
The sugar may recrystallize on the bottom of the bottle when left undisturbed for an extended period of time. If that happens, shake well to re-dissolve the sugar in the liquid. Over time the acids in the vinegar and fruit will fully dissolve all of the sugar crystals. Taste shrubs frequently. They do mellow in the fridge, so frequent tasting will allow you to observe how the flavor changes over time. Shrubs keep for 2 months or longer but toss if any mold is detected.
Now that you have a reliable basic cold shrub recipe to work from, here's a couple of flavor possibilities to try. Make whatever type of shrub you think you will enjoy, there's no wrong combination!
Beet Lemon Kombucha Vinegar Shrub
INGREDIENTS
1 cup beets, sliced
¼ cup lemons, sliced – peels intact
Lemon Lavender Kombucha Vinegar Shrub
INGREDIENTS
Kombucha Shrub Mocktails or Kocktails
Now that you have the technique for making shrubs, let your imagination run wild and craft whatever flavor you like. Using those shrubs to make delicious mocktails and kocktails is the final step. Again, the options are unlimited, so pick your favorite drink and make your own best version! Here are just a couple of ideas to get you going, using the shrubs we already made. 🙂


Sangria Sangre
The jewel tones of the Beet Lemon Shrub and red grape juice give this "bloody" beverage its signature rich hue while imbuing real blood boosting properties. You can also make a larger batch (scale the recipe x4 or x8 to make a half or full pitcher to share with friends!) and allow the fruit to soak overnight for an authentic sangria experience.
BY THE GLASS INGREDIENTS
4 ounces Beet Lemon Kombucha Shrub
4 ounces Red or White Grape Juice (substitute wine for Kocktails)
⅛ cup of apples, pears or other crisp fruit, diced
1 Orange Wheel
INSTRUCTIONS
In a tall glass, add fruit pieces then top with shrub and juice.
Add a splash of sparkling water for fizz.
Garnish with an orange wheel.
KMAMMA SEZ… 
If you decide to make these into Kocktails, no worries, the healthy bacteria and yeast in Kombucha are not compromised by the alcohol! That is why they continue to have a positive effect on the body and help prevent hangovers.
🙂
LavendeRita
The soothing properties of lavender combine with the palate cleansing power of lemon to create a drink so satisfying you won't even notice its non-alcoholic.
INGREDIENTS
4 ounces Lemon Lavender Kombucha Shrub
Lavender bud
INSTRUCTIONS
Rim a martini or rocks glass with a combination of sea salt and sugar.
Add ice, shrub, and water (or alcohol) to shaker, mix and pour into glass.
Garnish with lavender bud.