Kombucha Starter Kit
Kombucha Starter Kit
Each KKamp Kombucha Starter Kit come with FREE SHIPPING and is packaged and shipped immediately to preserve freshness.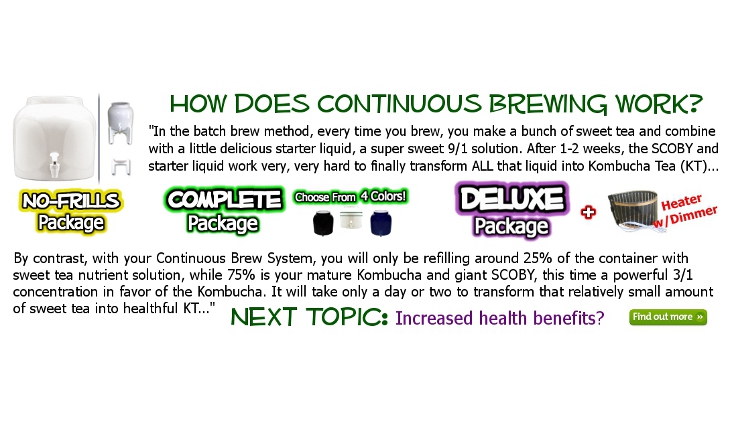 If you still need a Kombucha brewing vessel, they are available separately or, for even bigger savings, you can buy them as part of our Continuous Brew Packages. We offer the following vessel options:
Continuous Brewing vs. Batch Brew Method: Which is Better?
The Continuous Brew Method has tons of benefits and is becoming the preferred method of brewing Kombucha over the Batch Brew Method. Here are the top 3 reasons why the Continuous Brew Method is better than Batch Brewing:
Safer – Continuous Brewing is safer because the risk of contamination associated with repeated SCOBY handling is greatly reduced. You only need to  remove culture for cleaning/re-setting 1-3 times a year on average, meaning the rest of the time the brew and cultures stay protected in their low pH environment.
Tastier – Add sweet tea to a sour Continuous Brew base and you can have delicious Kombucha in 1-5 days. The mix of young and old Kombucha in Continuous Brew is preferred by many a homebrewer. With a batch brew, if you get busy and forget to harvest when the flavor is just right, you will have to start again to achieve the flavor, which could take 1-2 weeks or longer.
Easier – pouring and refilling your brewing containers using the Batch Brew Method can be messy and cumbersome. With the Continuous Brew Method, just drain from the spigot and add more sweet tea to the top. Or wait and add more sweet tea later if you would like to slow down production. That flexibility makes Continuous Brew the best choice for busy people!
Benefits of Brewing Kombucha Tea at Home
Cost
If you've already had the pleasure of experiencing the benefits of Kombucha, then you've probably already tried some of the commercially-available brands like GT/Synergy only to realize how expensive the habit can be. By brewing your own Kombucha, you save money and create less waste; now that's a win-win.
Control
You control the recipe, so you adjust the Kombucha's flavor, acidity and even carbonation! Change the amount or type of sugar, vary the tea, try longer or shorter steeping times for the tea, try longer or shorter brewing cycles; every option will affect the flavor and you can decide what works for you.
Fun
Brewing Kombucha at home is fun and empowering. The Continuous Brew Method streamlines the whole process, reducing the amount of time and energy required and allowing you to focus on the recipe, flavors, bottling and tasting!
The Do's and Don'ts of Brewing Kombucha
Brewing Kombucha at home doesn't have to be chore but there are a few rules you should follow to make sure you safely brew your 'Booch. Keep these Do's and Don'ts for the tastiest, safest homebrewed Kombucha:
Do
Do…Use a fresh, full-sized SCOBY when you begin your first brew

Do…Keep your Kombucha brew in a warm location away from direct sunlight

Do…Make sure your Kombucha is brewing in an open area for optimal airflow

Do…Keep a backup SCOBY on standby in a SCOBY hotel

Do…Make sure your SCOBY Hotel in located in a dry, dark place

Do…Use at least 1-2 cups of mature Kombucha Tea as starter liquid for each batch of Kombucha you brew

Do…Use filtered water when brewing your tea
Don't
Don't…Use soap to clean your Kombucha equipment – sanitize with hot water or vinegar instead

Don't…Use metal (unless it's brew-safe Stainless Steel) containers for brewing your Kombucha

Don't…Refrigerate your SCOBY or buy a refrigerated SCOBY to make Kombucha

Don't…Use a dehydrated SCOBY to Make Kombucha

Don't…Keep a batch with any sign of mold – once you have mold, throw it out and start over!

Don't…Use Stevia, raw honey or Xylitol in your Kombucha

Don't…Use a cheesecloth to cover your brew – use a cloth cover or coffee filter instead