Description
Toasted Oak Barrel Continuous Brew Vessel
Enjoy the mellow flavor of an American Made Handcrafted Toasted White Oak Barrel aged Kombucha or JUN at home. The oak provides the SCOBY bacteria and yeast a unique home and the culture literally grows right into the sides of the barrel. Lovely to look at and full of flavor, your own homebrewed oak barrel SCOBY will delight all who savor it.
Not only is this a lovely home for your SCOBY but it is made in the USA with all natural materials – no plastic! You can rest assured that your purchase supports your friends and neighbors here in the US. Plus you can put your mind at ease that with the wooden spigot and all wood construction, there aren't any harmful chemicals that could potentially leach into your SCOBY!
The oak provides tannins (also found in tea) that nourish the SCOBY culture yet mellow the acetic flavor.
Barrels have a medium char and include a wooden spigot and spigot brush. Choose from Plain or with KOMBUCHA inscribed on the front. Customize the inscription for only $10 more! i.e. "Rob's Brew" "Crumbucha", "Sally's Kombucha", etc.
Regular Delivery Schedule
STANDARD BARRELS: SHIP IN 2 – 4 BUSINESS DAYS
CUSTO

M BARRELS:
SHIP IN
3-5
BUSINESS DAYS
Specs
Dimensions:
10 Liter

(~2.5 gallons) 12″ x 8″ x 8″ inches with 6″ opening & 1″ high wooden stand

20 Liter (~5 gallons) 15″ x 10.5″ x 10.5″ inches with 6″ opening & 1″ high wooden stand – SOLD OUT UNTIL THE END OF MARCH 2022
Toast: Medium
Wood: Oak
Place of Manufacture: USA
——————————————-
PRO LINE HEATERS NOW AVAILABLE
RECOMMENDED FOR 5 GALLON BARRELS
In order to properly heat the larger 5 gallon barrels or any large vessel, we have created a new version of The Ferment Friend Heater with Thermostat, featuring a larger heating surface capable of producing 2.5 times the power of our regular heaters. Dubbed the new PRO Line, these 7″x27″ heat mats are identical to the original models but with the increased surface area makes it suitable for 5 gallon vessels, multiple smaller vessels, or for use on a regular 2.5 gallon vessel in very cold conditions. Simply select the PRO LINE Upgrade you prefer from the drop down menu above. (The PRO Line is not available with the Essential Heat Strip or Year Round Heating System w/ Dimmer at this time. We apologize for any inconvenience.)
——————————————-
Includes
Stand

Wooden Spigot

Spigot Brush

Sanitation Tablets
——————————————-
Add the Big Book of Kombucha for a discounted price
to any Continuous Brew Package!
The BESTSELLING, AWARD WINNING Book from Kombucha Kamp features 400 pages packed with 400+ recipes and everything a new or experienced brewer needs to find success! Never before has a book so comprehensive been published on this topic, and you can add it to your package for a discounted price today!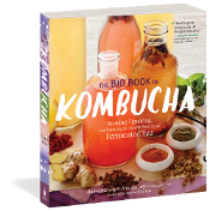 Add your copy by choosing from the drop down menu above.
(book may ship separately from rest of order)
——————————————-
Oak Barrel brewing is a joy for the palate as well as the eye. Over time, the barrel will achieve a unique, "worn in" look similar to that of barrels found in wineries or distilleries. This natural aging process is part of its rustic charm. The spigot is installed about 40% up the barrel to prevent overdraining.
Barrels have been in use since before 350 BC and were likely designed by the Celts borrowing wood bending techniques from boat building. Traditionally used for fermenting all kinds of foods from pickles to wine to vinegar and tabasco sauce. Continue the ancient practice of fermenting in wood with a Kombucha Kamp Barrel.