Description
Basic Kombucha Heater for Sale
It is a common home brewers refrain: How can I keep my Kombucha brew warm, especially in Spring, Fall and Winter? Let the brew get too cold and the cycle slows down, reducing the healthy stuff in your brew and even exposing it to a potential mold infestation. Not good! Until now, standard beer heating belts and weakly powered seedling mats were the only choices available. If you're house is cold, they won't help!
Simple, Economical, Yet Powerful Heating Solution for Any Ferment
The Kombucha Mamma Essential Heating Strip was designed by Kombucha Kamp with the help of a thermodynamics engineer. Designed for all types of ferments, the state of the art ultra-thin construction & patented heating technology makes for more uniform heat distribution. Wrap around one vessel  or lay behind several vessels to keep them all warm. This is a powerful little mat but is also very safe to use.  I recommend using it on the sides of the vessel rather than underneath so that the yeast isn't over stimulated. Move it closer to or further away from the vessel to increase or decrease the heat provided, or keep only a portion of the heater in contact with the vessel to regulate.
********
What Temperature is Recommended for a Genuine Kombucha Brew?
The recommended temperature for Kombucha is 75 – 85 degrees, with the ideal temp being 78. If it brews at lower temperatures, one may experience a flatter, more "dirty" tasting Kombucha that lacks the apple-y sour bite of a delicious, properly brewed Kombucha. Allowing the brew to go for a longer time at lower temperatures (mid to upper 60's) will help it grow more sour and should produce a safe, drinkable beverage over time. Attempting to ferment at lower than 64 degrees may produce a weaker beverage or may be susceptible to mold as the bacteria get "sleepy" and have a difficult time protecting themselves at the low temperature.
********
Need more control from your heating solution?
Check out the Year Round Heating System With Dimmer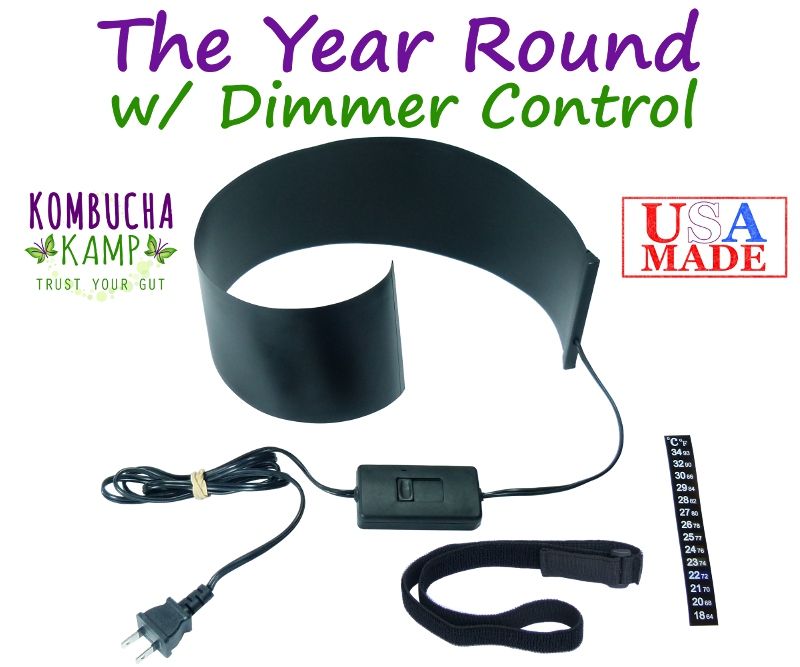 ********
For the easiest set it and forget it solution available, check out
The Kombucha Mamma FERMENT FRIEND™ Heating Solution with Full Control Thermostat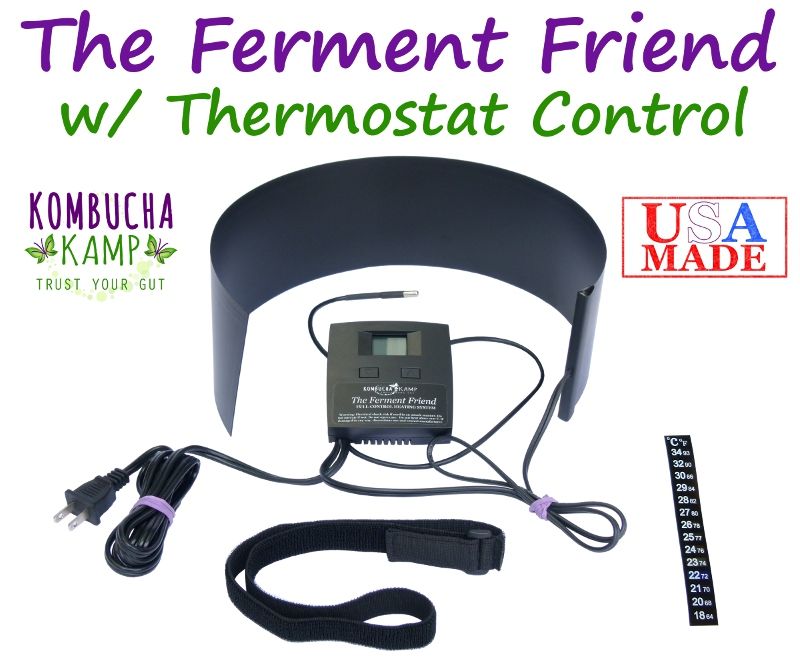 ********
Want to use the heater in an international location outside North America?
This heater can be specially wired for 220V systems for an upcharge of $35 by selecting the checkbox prior to adding to cart.

Need a custom sized strip to fit your specific fermentation needs? 
Email for a quote!