Description
Stainless Steel Continuous Brew Vessel
——————————————-
Continuous Brewing is easy and fun but can feel intimidating. This vessel and included support takes the guesswork out of the CB process, offers all the basics you need for brewing success plus great discounts on Kombucha Kamp's custom made brewing upgrades.
As with each of the Continuous Brew packages, Kombucha Kamp sets you up for success support materials at your fingertips. The Kombucha Mamma takes you on the journey of successful home brewing through the the 100+ page Complete Guide pdf which provides details, flavoring recipes and brewing tips in an easy to use format with a clickable table of contents. Even if new to fermentation or an old hand, this vessel and guide will make the process fun and successful!
Guide, Full Support, and Free Shipping included!
——————————————-
The Stainless Steel Vessel is made from a single piece of 304 grade Stainless Steel, which is the most corrosive resistant of the stainless steel alloys. Stainless Steel is commonly used in the beer and wine industry for easy sanitation and clean flavor.
All Stainless Steel Brewers from KKamp come with a Stainless Steel Spigot included in the price! Those who prefer to save by selecting brew-safe plastic spigots may do so from the drop down menu.
——————————————-
Add the Big Book of Kombucha for a discounted price
to any Continuous Brew Package!
The BESTSELLING, AWARD WINNING Book from Kombucha Kamp features 400 pages packed with 400+ recipes and everything a new or experienced brewer needs to find success! Never before has a book so comprehensive been published on this topic, and you can add it to your package for a discounted price today!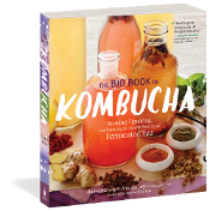 Add your copy by choosing from the drop down menu above.
Choose signed or personalized by the Kombucha Mamma herself as a special touch
——————————————-
STAINLESS STEEL VESSEL SPECS
Capacity: ~ 2.2 gallons

Vessel Height: 9.5″

Vessel Width: 9″

Height with Stand: 16.5″
PACKAGE INCLUDES
Stainless Steel Vessel with your choice of

Fine Finish Wood Counter Stand

Stainless Steel Spigot (included in price) or downgrade to brew-safe plastic

Custom Made Brewer Cap w/ Gripper Elastic (KKAMP EXCLUSIVE!) – Choose from a variety of colors. Upgrade to Brewer Tee Set for insulation and style!

Complete Handbook pdf (KKAMP EXCLUSIVE!) and full brewing support!

FREE SHIPPING IN CONTINENTAL USA!
——————————————-
A message from The Kombucha Mamma:
As decade long homebrewers and Kombucha drinkers, we understand that the key to delicious Kombucha is creating an appropriate environment for the culture. To that end, we continue to partner with American designers and small businesses to bring high quality, USA made and Handmade products that provide the ideal conditions for successful Kombucha brewing year round. Our USA Made vessels, USA Made premium heaters & USA made cap-n-brewer tee sets are high quality, functional, attractive and help employ artists, engineers and other professionals, your friends and neighbors.
As a small family business, we wear many hats to provide superior quality products and customer service to all of our clients. We appreciate your patronage and our reputation is built on word of mouth – sharing our blog posts and products with your friends and family. As our reviews attest, we always strive to achieve 100% customer satisfaction with integrity and a smile. Here are some review highlights of the Continuous Brew Package.
A Rodriguez – "OMG It worked! This kit is foolproof! I can't believe it was so easy."

Angie B. – "Finally a one stop shop on how to brew from start to finish!"

J Vinton – "The savings from having to purchase Kombucha at the store far outweigh the one-cost and minimal upkeep of this set."

Mary Mc – "You can't go wrong with Kombucha Kamp. Their site provides all the supplies needed to start brewing and has all of the information right on their Web site!"
——————————————-
Why is everyone Continuous Brewing?
SAFER BREW

LESS CLEANING, LESS MESS

SAVE TIME & MONEY

PERFECT FLAVOR, ALWAYS ON TAP

HEARTIEST KOMBUCHA BREW
Read more about Continuous Brewing
——————————————-