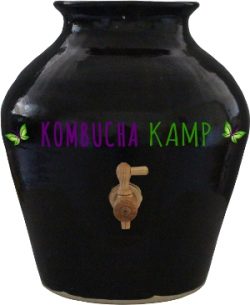 The
Easiest, Safest, Healthiest way to brew Kombucha!
Just as the Ancients Did…
The Continuous Brew Kombucha Method is for new Kombucha brewers and seasoned Kombucha brewers alike. In fact this is the very method that people for generations in China, Russia, and Germany have been employing with great results. Simply put, by using a Continuous Brew system, you get more of all the really good stuff in your Kombucha. More nutritious acids, more friendly bacteria, more of all of it. Plus, Continuous Brew Kombucha also produces, in my opinion, the best taste.
I have 3 Kombucha Continuous Brew Systems working in my own home, one of each of our vessels.  Our Modern Porcelain and Stainless Steel produce our weekly haul of fresh, delicious Kombucha. And the Artisanal Crock is used for fresh, unflavored Kombucha on tap whenever I want, especially to mix with juice or water for new drinkers. 
Flavoring my Kombucha is so simple! I add the flavors directly to my bottles and then fill them directly from the spigot. So much easier than funnels and jars splashing around in the sink.
How Does Continuous Brew Work?
Drink a cup, add a cup! It really is that simple, however we typically "decant a gallon, add a gallon" to streamline the process.
First, we brew up a larger batch of Kombucha or JUN right in the vessel following Kombucha Kamp's signature Shortcut Method™.
Then after 2-4 weeks of fermentation – tasting frequently from the handy dandy spigot – when the brew is ready to harvest, we simply decant it through the spigot directly into our bottles.  Look ma, no mess! No heavy jars to lift!
Once the brew is established, subsequent batches only need 5-7 days to ferment before it is ready to harvest.
In the batch brewing method, every time you brew, you make a bunch of sweet tea and combine with a little delicious starter liquid, a super sweet 9/1 solution. After 1-2 weeks, the SCOBY and starter liquid work very, very hard and finally transform ALL that liquid into Kombucha Tea (KT).
With your Kombucha Mamma Continuous Brew Kombucha System, you will only be refilling around 25% of the container with sweet tea nutrient solution, while 75% is your mature fermented tea and giant SCOBY, this time a powerful 3/1 concentration in favor of the Kombucha. It will take only a day or two to transform that relatively small amount of sweet tea into healthful KT.
testimonials from our very satisfied customers
The benefits of continuous brew Kombucha were almost immediately apparent and the complexity of the flavors I am able to achieve after bottling my brew are better than any store brand I have tried to date!
Carly Volpe
"The benefits of continuous brewing Kombucha are almost immediately apparent, and the complexity of flavors I am able to achieve after bottling my brew is far superior to any store brand I have tried so far!"
Lisa Hainsworth
"Hannah, I'm so impressed with my continuous brew Kombucha Kit and all the extra goodies that I got with it. You've made it so clear and simple. I've brewed my own kombucha before, but with this kit I have been really pleased with the consistency of results, the incredible thoroughness of the instructions, and the really attractive presentation (I LOVE my countertop kombucha pot with its adorable purple t-shirt).Kudos to you for a job EXTREMELY well-done. It's not often you see such thorough attention to quality, customer education, and service. It's awfully refreshing when you do."
Leslie Irish
"If you are thinking about brewing your own Kombucha – you need look no farther than this web site – and store. I live in Boston MA as far away from Hannah, the Kombucha Mamma, as you can get in the USA – yet I felt her support every step of the way.
Bert Seager
Musician
Top Three Reasons to Continuous Brew Kombucha & JUN
1. HEALTHIER: Using one container to both ferment and dispense your Kombucha removes much of the risk of contamination associated with the batch brewing method where the SCOBY is removed at each cycle.
2. TASTIER: The Continuous Brew Kombucha System allows you to customize the taste of your Kombucha more easily than batch brewing methods. There is a more distinct balance of sweet and tart. Plus you can opt to just add a splash to any beverage.
3. EASIER: The Continuous Brewing System is easier to use, from drinking to bottling to refilling.
 I almost forget the biggest advantage of all: SAVES $$$!
"Brewing is easy, just pour in the sweet tea. Bottling's a snap, just hold under the tap."
Read More about Continuous Brew...
Continuous Brew Kombucha FAQ Got questions about the Continuous Brew process? Still not sure how CB works or whether it's right for your home? The Continuous Brew Kombucha FAQ below can help! If you're still not sure, check out these other great pages: Continuous Brew vs Batch Brew Explained Continuous Brew Information & Testimonials How to…
Read More »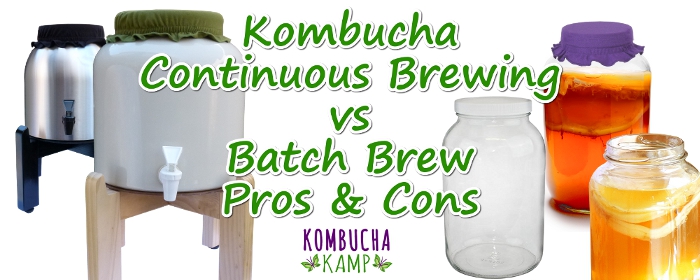 Kombucha Continuous Brew vs Batch Brew Explained While making Kombucha is easy and adaptable, usually new home brewers have questions about the two different methods, Kombucha Continuous Brew vs Batch Brew. Even worse, many "expert" websites offer confusing or flat out wrong information, especially about Continuous Brew. Never fear! Here we wil…
Read More »
Selecting the Best Kombucha Jar or Kombucha Container with Spigot for Brewing Ah! There is nothing like the crisp, bright flavor of a properly fermented glass of Kombucha! Whether harvested fresh from your Kombucha jar or enjoyed after a second ferment, homebrew is the best. But brewing in the right Kombucha container for your needs is just as impo…
Read More »
Find Your Continuous Brew Package