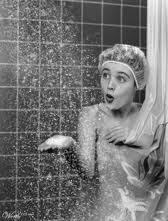 Water. Tea. Sugar. Culture. Time.
The ingredients for Kombucha reflect the simple nature of the beverage and the process. Our society makes these ingredients available in abundance, then perverts or pollutes them for profit, at the expense of the confused or even sickened consumer.
Tea may be decaffeinated with chemicals, table sugar may be laced with toxins and tap water may be carrying conspiracy, but education will always set us free. By learning which choices to make, we are empowered. So don't be afraid to stand under that cold shower of truth – go on, jump right in – the water, as it turns out, is just fine.
********
Summer has finally hit around here and we've sure had some hot days. Though I am rightfully upset about the disrespect our society shows for our global water supply, I am sincerely grateful and, when compared with great swaths of the world's population, incredibly lucky to live where water is readily available not only for drinking but also for washing my body, the dishes and even my dog.
Water is the most vital building block of life, without which we perish in just days. Like a famous NY pizza crust or San Francisco sourdough bread, water has a profound impact on the flavor of Kombucha Tea and health of the Kombucha Culture. (They all depend on regional wild yeasts as well, but that's for another post.)
Many types of water are suitable for brewing Kombucha but the most important consideration is the removal of chlorine and other contaminants that may harm the culture.
Before we dive in, some quick facts about water:
Water is a chemical substance with the formula H2O. Its molecule contains one oxygen and two hydrogen atoms connected by covalent bonds.

Water covers 70.9% of the Earth's surface, and is vital for all known forms of life. Oceans hold 97% of surface water, glaciers and polar ice caps 2.4%, and other land surface water such as rivers, lakes and ponds 0.6%.

Clean drinking water is essential to humans and other lifeforms. Access to safe drinking water has improved steadily and substantially over the last decades in almost every part of the world. There is a clear correlation between access to safe water and GDP per capita. However, some observers have estimated that by 2025 more than half of the world population will be facing water-based vulnerability.

1% of the water supply on earth can be used as drinking water.

Approximately 70% of fresh water is consumed by agriculture.

The human body is comprised of 66% water. It is in every organ and assists physical functions.
TAP WATER: IS IT SAFE TO DRINK?
It would be folly to deny that the drinking water supply is becoming increasingly contaminated via problems both environmental and systemic. Over-prescribed pharmaceutical drugs and other pollutants have been flooding into both municipal and groundwater supplies. Just as dangerous is the aging infrastructure of many city tap water facilities. Add fracking, pesticides and oil spills to the mix – that's a whole cocktail of yuck potentially ending up in your body and wreaking havoc on your internal ecosystem. And we haven't even touched on the chemicals they put in on purpose such as chlorine and fluoride, which attract plenty of controversy on their own.
Fear of tainted water supplies has driven some to bottled water, but as has long been known, some bottled waters are just municipal tap water with a fancy label while others are imported from foreign countries, leaving an enormous carbon footprint. To cut costs and reduce waste, more and more families are turning to home filtration systems, reverse osmosis or distillation as a safer alternative to tap water.
Chlorine
Chlorine is used extensively in municipal drinking supplies to kill contaminants such as harmful pathogens. In developing countries, the addition of chlorine has reduced the number of infant deaths related to waterbourne illnesses. However, this efficacy at killing bacteria means that it isn't suitable to use for brewing Kombucha because it could harm the healthy bacteria that are part of the culture.
When chlorine is added to the drinking water supply, it combines with other natural compounds to form Trihalomethanes (chlorination byproducts), or THMs. THMs are considered carcinogenic and long term exposure "results in adverse effects on the central nervous system, liver, kidneys and heart." Alternative methods to chlorine for treating drinking water include ultraviolet light and ozone, have been used extensively in Europe with great success. Some municipalities in the US have implemented these systems as well but for the most part, it is less expensive to use chlorine.
Fluoride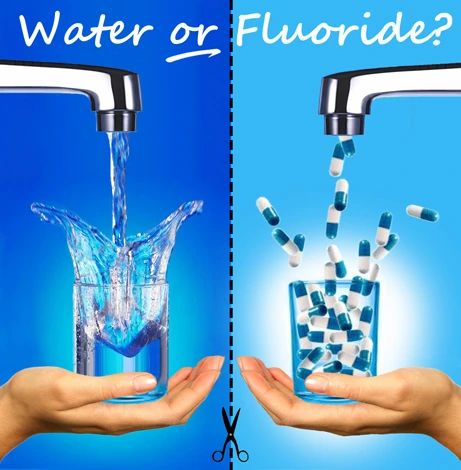 The history of fluoridation in the United States does not inspire confidence. The fact that the type of fluoride used in most water supplies in the United States is Hexafluorosilicic acid, an otherwise toxic and corrosive by-product of the fertilizer and aluminum manufacturing industries (i.e. weapons manufacturing), does not inspire confidence. Reports that 98% of European water sources are NOT fluoridated, and that there is no correlation between fluoridation and caries (cavities) in those countries, does not inspire confidence. The fact that authorities cannot control the dosage of fluoride each person ingests does not inspire confidence. I could go on, but you get the idea.
Fluoride toxicity has been linked to several diseases such as Alzheimer's and Down's Syndrome. More recent research indicates that topical application of fluoride (via toothpaste, mouthwash or at the dentist's office) is more effective than ingesting. Of course, daily, thorough oral hygiene practice produces the best results, but increased calcium and magnesium intake also play a significant role in preventing cavities.
For my part, I oppose fluoridation because a) the science is, at best, unsettled and, at worst, points to completely unnecessary toxic poisoning at the hands of the MIC, and b) the concept of applying medical treatment through the water supply without the consent of those being treated is difficult to justify.
The following quote from a recent study is telling:
"Although the prevalence of caries varies between countries, levels everywhere have fallen greatly in the past three decades, and national rates of caries are now universally low. This trend has occurred regardless of the concentration of fluoride in water or the use of fluoridated salt, and it probably reflects use of fluoridated toothpastes and other factors, including perhaps aspects of nutrition." 
SOURCE: Pizzo G, et al. (2007). Community water fluoridation and caries prevention: a critical review. Clinical Oral Investigations 11(3):189-93.
Note: While tea does contain fluoride, in that case it is a naturally occurring substance and, approximate levels are known to be low, as opposed to the fluoridation of the water and food supply which results in unknown quantities ingested every single day.
WATER FILTERING
Filtering water is one of the most common ways households use to remove chlorine and other particles that may be in the water supply. Most countertop and pitcher water filters use activated charcoal, a very porous material that absorbs chlorine and other gasses/contaminants as they pass through. The result is usually a much better tasting, even better looking water. Still, with most pitchers filters, only 30%-60% of the contaminants have likely been removed. By contrast, undersink systems will remove up to 99% of chlorine.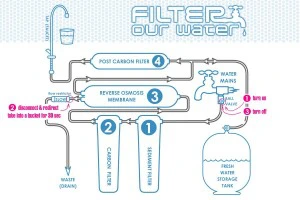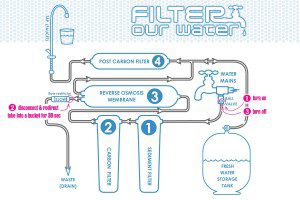 Another common type of filtering system is Reverse Osmosis. This works by forcing the water through a semi-permeable membrane. The pure water is pushed through the filter whereas the waste water goes down the drain. Finally, it passes through a charcoal filter before coming out the tap. The big disadvantage to RO is that a lot of water is wasted in this process. It takes 2 gallons of water to make 1 gallon of RO water.
Distillation is a process of boiling water so that it turns into steam, then recapturing that steam, allowing it to condense as it cools. The steam returns to a liquid state free of all minerals. The downside to distillation is the lack of these minerals. Some counteract those effects by adding salt to remineralize the water.
Filtering or boiling tap water is imperative for making Kombucha. A Brita type pitcher, named for the inventor's daughter, will do the trick. I always suggest that you use the water you have on hand. The whole point of making Kombucha at home is to save money, so using the water that you already drink won't be an additional expense. If you do not have a filter, here are a few ways you can dechlorinate your water.
DECHLORINATION
Evaporation – Chlorine is a gas. As such, given enough time, it will evaporate. Leave water out for 24 hours to allow the chlorine to evaporate.
Boiling – Boil your water for 10 minutes to remove the chlorine. Those who live outside of major cities may be using well water or spring water. Oftentimes this type of water may be used without filtering. If you aren't sure what is in your water, then check with the local water works for a free water quality report.
WATER & WORDS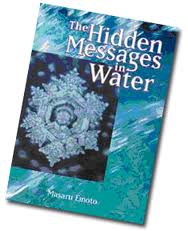 If you saw "What the Bleep" a few years back then you may already be familiar with Masaru Emoto's work. He is a doctor of alternative medicine who purports that frozen water crystals change shape based up the intention that is directed at them. For example, crystals of water that were exposed to heavy metal music were supposed to be less aesthetically pleasing than those exposed to thoughts of gratitude or love. Being a hippy at heart, this sounds awesome! Knowing that my thoughts can change the shape of water crystals is almost as thrilling as rainbows and unicorns!
However, Dr Emoto's lack of forthrightness in sharing his scientific process has led to much skepticism. One double blind study did bolster his case, but subsequent trials haven't been as successful. Well, don't let silly old science get in the way of the imagination. 😛  Adding positive words, beautiful images and playing music for your cultures are all ways to imbue more good vibrations into your booch.
DRINKING WATER WITH YOUR KT
Not only is water important for making Kombucha, but it is also important to drink plenty of it with your Kombucha. Because booch is a natural detoxifyer, you need water to flush the toxins that it releases from the body. If not enough water is consumed, the toxins may be reabsorbed into the body and then that's defeated the whole purpose.
I start my day with 2-4 ounces of KT in a tall glass of water. Not only do I get the health benefits of Kombucha Tea but I also get water I need to rehydrate. Plus the booch tastes a bit like lemon in your water – this is also an excellent way to get some Kombucha into a loved one who is resistant to the taste. Juice is another option but also adds extra sugar.
While it is tempting to down tall glasses of KT, it is best to take small, frequent doses to ensure maximum benefit. Too much Kombucha at once may be more difficult for the body to process and depending on each person's biochemistry, could result in a Herxheimer reaction. If you experience any discomfort while drinking Kombucha, the first thing to do is to increase water consumption while simultaneously reducing the amount of KT.
********
 What choice do you make for water at home?
Filter? Reverse Osmosis? Regular Tap?
Let us know by leaving a comment below! 🙂 
 ********