Description
Upgraded Kombucha Heater with Dimmer Control
It is a common homebrewers refrain: How can I keep my Kombucha brew warm, especially in Spring, Fall and Winter? Let the brew get too cold and the cycle slows down, reducing the healthy stuff in your brew and even exposing it to a potential mold infestation. Not good! Until now, standard beer heating belts and weakly powered seedling mats were the only choices available. If your house is cold, they won't help!
As a long time brewer, I was frustrated. Even in Southern California, it gets cold at night and in the Winter. Some of my Continuous Brewers are near the back door and can catch a draft. Seedling mats offer very little power and are run through with wires. There had to be a better way. So I went out and found it!
Powerful Heating Solution with
Smooth Dimmer Control
The Kombucha Mamma Year Round Heating System w/Dimmer was designed by Kombucha Kamp with the help of a thermodynamics engineer. Utilizing brand new technology perfected and patented only recently, this heating system is not only the perfect size to fit our Continuous Brewers but will keep your brew at the optimum temperature you desire all year long. Plus you can use this heating system with a gallon jar or almost any sized vessel too, anything 2.5 gallons or smaller. No wires so it's perfectly safe with glass! The only heating mat on the market specifically designed for Kombucha or any fermented food or drink really, COMPLETE WITH A DIMMER CONTROL!
Its ultra-thin construction & patented heating technology makes for a more uniform heat distribution which helps to maintain the ideal temperature for Kombucha, kefir, JUN, yogurt, or just about any type of home fermentation.  Plus, the dimmer makes temperature control super easy.  Simply turn it up when more heat is needed and decrease when the weather gets warms.  Finally, you'll be in control of your ferment cycle all year round.
********
Advice for heating a Kombucha brew properly…
The recommended temperature for Kombucha is 75 – 85 degrees, with the ideal temp being 78. If it brews at lower temperatures, one may experience a flatter, more "dirty" tasting Kombucha that lacks the apple-y sour bite of a delicious, properly brewed Kombucha. Allowing the brew to go for a longer time at lower temperatures (mid to upper 60's) will help it grow more sour and should produce a safe, drinkable beverage over time. Attempting to ferment at lower than 64 degrees may produce a weaker beverage or may be susceptible to mold as the bacteria get "sleepy" and have a difficult time protecting themselves at the low temperature.
********
For a more economical model, check out
The Kombucha Mamma Essential Heating Strip
********
For the easiest set it and forget it solution available, check out – also available in 220V
The Kombucha Mamma FERMENT FRIEND™ Heating Solution with Full Control Thermostat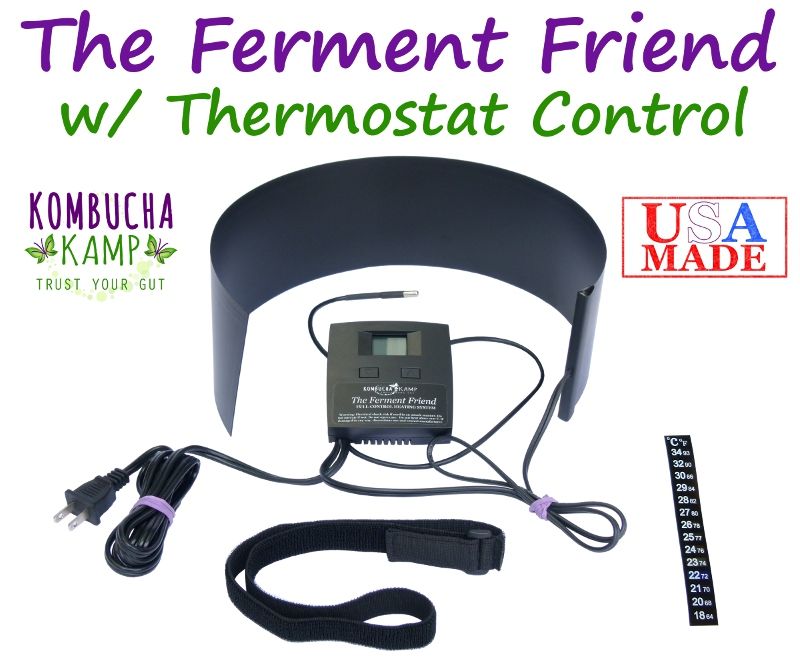 ********
Want to use the heater in an international location outside North America?
Select 200V Wiring via the drop down menu above – $35 upgrade charge
Need a custom sized strip to fit your specific fermentation needs?  
Email for a quote!
This video shows our original versions of the heating mats, as you can see from the product pictures, we have been through a few evolutions! But this video does still show the basic usage and some tricks. Check out the product listings for current photos. 🙂 MADE IN THE USA!!