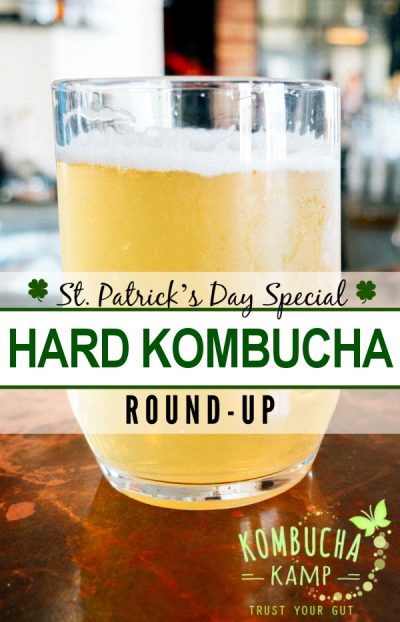 When it comes to flexibility, Kombucha is pretty amazing. We enjoy it with breakfast, lunch, or dinner, with snacks or on its own, before working out or after, with savory or sweet flavors, mixed into a cocktail; there's literally no end to the combinations and possibilities! Now Hard Kombucha, that is Kombucha with higher alcohol levels that can produce a buzz, is becoming more and more popular.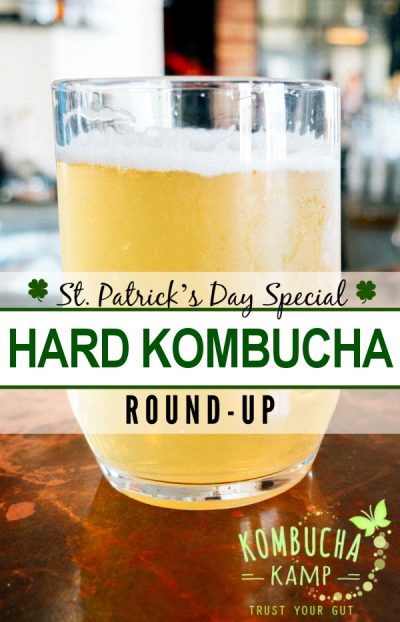 And why not! Combining the flavor of Kombucha with beers or wines, as well as adding the anti-hangover effect right to your drink, makes Hard Kombucha a fun and functional choice for all kinds of drinkers. Whether it's St. Paddy's Day or any time of year, trying these Hard Kombucha beers and blends should be on your list!
St. Patrick's Day Facts
Where did St. Patrick's Day come from? It was originally established as a guilt-free feasting (and drinking) binge day during Lent.
Why do we wear green on St. Paddy's? The official color of Ireland used to be blue, until the soldiers of the Irish Rebellion donned green uniforms to battle the red-coated Brits.
And the Pinching? Those not wearing green on St. Paddy's are vulnerable to the leprechaun, and getting pinched is your reminder!
And the Beer? Although the original feast encouraged indulgence, heavy drinking was frowned upon. Beer companies' marketing departments and "unfortunate stereotypes" have driven the link since the 80's.
Hard Kombucha?
All Kombucha has trace amounts of alcohol. This is a normal part of the fermentation process. But usually, the yeast and bacteria present keep the levels low. With Hard Kombucha, we add different yeasts that will drive those alcohol levels up.
Perfecting a Hard Kombucha is, well, hard! Disturbing the natural balance to create more alcohol while also creating a delicious flavor is the trick. As we've discussed before, Kombucha and beer are similar ferments, especially Lambic beers, and can be combined into one powerhouse beverage, if done correctly.
Beer brewers have been experimenting with Kombucha. At the same time, Kombucha brewers are using a variety of methods for creating a Hard Kombucha that mimic beer and create a true buzz.
So in honor of the official American drinking holiday, let's run down the list of artisanal Hard Kombucha you can find at local stores, bars, and restaurants. Most of them are naturally gluten-free because Kombucha is a tea and sugar ferment. The added yeasts increase the amount of alcohol produced. Hard Kombucha can come in a variety of flavors not typical for most beers, which makes them fun for the palate too!
Brand Listings – Hard Kombucha
Afterglow by Aqua Vitea 

Brewed in Vermont by Jeff Weaber and crew, these flavors come in at 5% ABV and is brewed using organic ingredients. Their flavors include Cherry Sour (Drizzly), Citrus Rush with a combination of Grapefruit & Blood Orange and Ginger Blue featuring the popular combination of ginger blueberry. Available on the East Coast.
Boochcraft
Brewed in San Diego, Boochcraft (Drizzly) was inspired to brew Kombucha beer after finding the recipe in The Big Book of Kombucha according to founder, Adam Hiner.
Boasting a bevy of fruit and spice inspired flavors and coming in at 7.0% ABV, Boochcraft delivers a little extra punch to the party.
Combinations include Apple, Lime, Jasmine and Watermelon, Mint, Chili along with a couple of ginger and turmeric inspired flavors which add a little extra benefit along with the bubbles.
The flavor combinations are unique and the alcohol content high enough to feel it in the first glass. Available on the West Coast.
Dr Hops Kombucha Beer
Based in the Bay Area and named after one of the founder's wife's bunny, Dr Hops Kombucha Beer (Drizzly) ranges in alcohol from a more sessionable 5% ABV of their Binky flavor featuring basil and lemongrass to the harder Jackalope at 9% ABV that was inspired by the Moscow Mule with flavors of ginger, lime and mint.
All of them are low sugar and naturally gluten free though we've not had the pleasure of trying them. The packaging is cool and the flavors sound delicious!
Available in the San Francisco Bay Area.
Flying Embers

A phoenix from the flames, Flying Embers  (Drizzly) is the latest offering from former Kevita CEO, Bill Moses.
On a mission to bring the world a healthier, higher alcohol experience, they combine adaptogens with fermentation techniques to yield an easy to drink 4.5% ABV product that would boast about it's health benefits if that were allowed for alcoholic products.
The flavor profile is smooth but lacks that Kombucha bite which some may prefer. Available on the West Coast.
GT's Classic Kombucha
The godfather of the commercial Kombucha industry never stops innovating in the category. His latest offerings in his Classic Kombucha line (over 21, usually 1-2% ABV) go one step closer to "hard" featuring 3 new flavors at 3% ABV including Heavenly Hops, Pina Paradise & New World Noir which make up his new Classic Gold line of Kombuchas.
Full of flavor without the hangover, these make a terrific substitute for beer or wine with natural sparkle.
Find it wherever GT's Classic Kombucha (Drizzly) is available.
JuneShine
JuneShine (Drizzly) starts life as a raw honey & green tea Jun which then is introduced to brewers yeast and sugar in order to yield a 6% ABV product.
Based in San Diego, they also have a taproom where one can enjoy a glass of Hard Jun with friends while hanging out in a Southern California themed space.
Kombrewcha
Kombrewcha (Drizzy) has been through a few iterations since it's founding by Barry Nalebuff, formerly of Honest Tea.
It has had a tough time finding its niche in the market and recently reformulated from 3.4% ABV to 4.4% ABV. Perhaps the new ABV and branding will elevate it's profile.
We've not yet had a chance to enjoy this brand yet. Perhaps that's because it can be found primarily in New York and Florida.
An acronym for Kombucha Yeast Lactobacillus Acetobacter, this hard Kombucha offering from Full Sail Brewing in Hood River in Oregon is low sugar thanks to the addition of stevia.
While lactobacillus is not normally present in Kombucha cultures, it does appear here. It is likely an ingredient to mellow the acetic bite naturally present in Kombucha.
At 4.5% ABV and in three flavors, this can work with nearly any low carb, gluten free, sugar free dietary restrictions.
Lambrucha
This refreshing Belgian beer combines a one-year aged lambic with an organic green tea Kombucha. Lambrucha features a sparkly orange-caramel colored liquid and a foamy head with a light lemony scent.
With only a 3.5% alcohol content, the first sip reveals a crisp sour brew that is mildly malty and yeasty with the taste of overripe fruit.  It receives reviews as a great session beer.
Lambrucha (Drizzy)  finishes on a lemony citrus note with just a hint of apples or cucumber that cleanses the palate.
Local Roots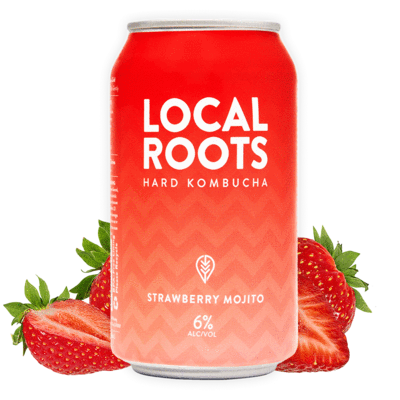 Based in Southern California, Local Roots (Drizzy) brews both hard and "soft" Kombuchas. Their hard line is at 6% ABV and includes fun cocktail based flavors like Strawberry Mojito, Cali Mule and Booch Mosa.
Luna Bay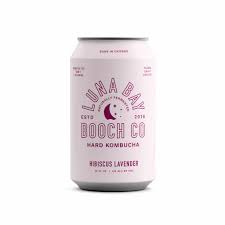 Luna Bay (Drizzy) is a female founded, female run hard Kombucha brand based in Chicago that uses a base ferment of Yerba Mate. They have several flavors with more exotic profiles including Palo Santo Blueberry and Lychee Lime. The alcohol content is 6% ABV.
New Holland Kombucha IPA
Based in Holland, MI, this is a new seasonal offering from New Holland, a craft beer brand that's been around for over 20 years.
They combine the flavors of an IPA (india pale ale) with Kombucha. Then they add a hint of ginger for a refreshing beverage with 5% ABV.
Reviews claim it tastes like a shandy but better!
Unity Vibration – Ginger

and

Raspberry Kombucha Beer
The Kanaan's became one of the first licensed brewers in the nation to introduce a Kombucha-based beer. They offer two main flavors – Ginger (Drizzly) and Raspberry (Drizzly) – with seasonal varieties.
Their Bourbon Peach has won several awards and they continue to develop new flavors and varieties of Kombucha beer. UVLT Kombucha beer is available across the United States.
Each hand-crafted batch of Triple-Goddess beer starts with Unity Vibration's 30-day brewed Kombucha. Next they add organic hops and either raw organic ginger or fresh organic local raspberries.
The beer is aged in open oak barrels and then conditioned in the bottle. Both brews are organic, raw, gluten-free and a hefty 8% alcohol by volume, making it a great beverage to share.
Wild Tonic Hard Jun
The first national brand of Jun, Kombucha's raw honey cousin, now has a hard version. Featuring an ABV of 5.6% and a range of fruity flavors, it's easy to forget that it's alcoholic.
The light honey flavor provides a crisp background for the fruits, herbs and flowers infused into Wild Tonic (Drizzly).

Sierra Nevada Strainge Beast
The mainstream beer industry has taken notice of the explosive popularity of Hard Kombucha! Sierra Nevada's (Drizzly) release of Strainge Beast does not disappoint. Our first question before tasting is if the Kombucha was going to be as irresistible as their label's artwork! Fortunately it does not disappoint. Their craft Hard Kombucha comes in four tantalizing flavors – Blood Orange & Passionfruit; Blueberry, Açai & Sweet Basil; and Ginger, Lemon, & Hibiscus; and Watermelon, Sea Salt, Lime, & Mint. We love how the addition of hops gives it a beer-like vibe.
In a world of many choices, some products don't always continue to make the cut and are retired from the repertoire.
One such beverage was a pioneer in its heyday, Fleur, This hibiscus tea Kombucha beer brewed by Goose Island Brewery in Chicago.
Enjoy a look back at Tom, John and the pink SCOBYs of Fleur!
Note: Fleur has been revived and vintage bottles may still be found at select outlets.
********
A Fond Look Back: Beyond Kombucha's Mava Roka Kombucha Ale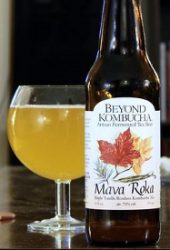 The labeling discrepancy that forced many Kombucha manufacturers to reformulate in 2011 yielded some creative new offerings.
Preferring not to tinker with a carefully perfected Kombucha recipe, Beyond Kombucha became the first above .5% ABV licensed kombucha brewer on the East Coast.
With brewery license in hand, they created the first Kombucha Ale for the commercial market.
Boasting a 6.5% ABV, Mava Roka (Maple Vanilla Rooibos Kombucha Ale) was a sweet-sour brew that started off as a vanilla rooibos tea Kombucha in oak casks. Maple syrup was then added at the second fermentation stage to give the ale a sweet fizziness.
Unfortunately, Beyond closed in 2014.