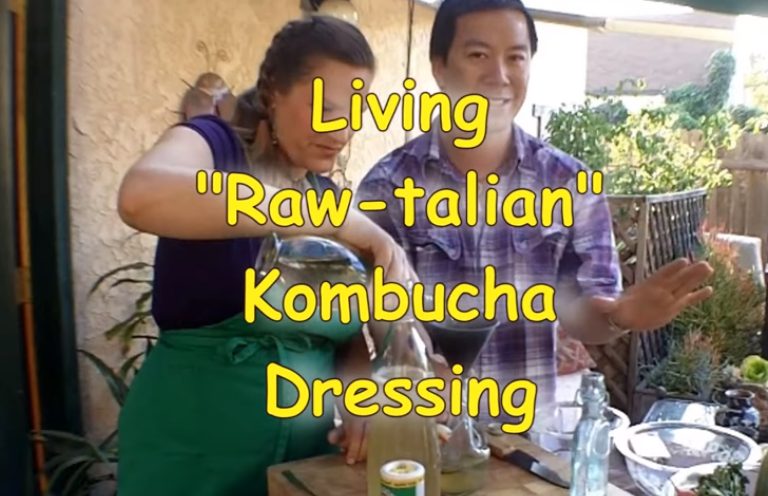 In this video Hannah & Bryan Au, author of Raw in 10 Minutes, are finding creative ways to use Kombucha in food! In this video, they make a raw organic living version of Italian dressing perfect for your raw food diet. Normally you would use olive oil (THRIVE, AMZ), vinegar (THRIVE, AMZ), and your favorite Italian seasonings (THRIVE, AMZ) but today we're going to step it up a few notches and make it raw organic living Italian dressing. We're going to use seaweed and cayenne (THRIVE, AMZ) to provide a unique, delicious salad dressing. It's good for digestion and it's very eco-friendly and organic. And of course, it's made even better with the really tasty kombucha vinegar that you've made! We highly suggest that you check out this video. (Link Here)
The best Kombucha vinegar salad dressing starts with the best kombucha – made by YOU! It's fresh, it's delicious, it's healthy so we're gonna use that as well as organic olive oil, which makes them a perfect addition to your raw food diet. Then we're gonna put it on the salads and give it a taste test! 
Bryan Au is an award-winning Recipe Book writer📚 and his book is now available Worldwide for Downloading. A percent of the proceeds go to Charity! His Eco Chef App for the iPhone and iPad can be found here: (Click The Link Here)
It became #4 Worldwide in 50 Countries. Bryan Au is not only a chef but also involved in Business, Health and WellBeing Industries as well as Acting.