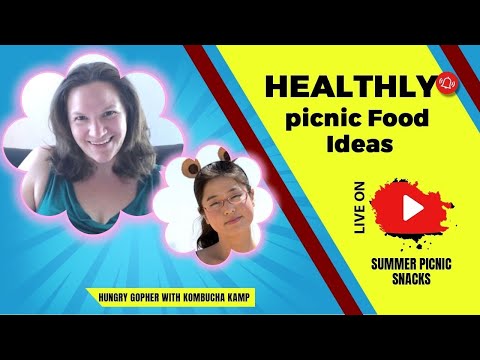 Easy Summer Picnic Food Recipes:
Looking for new ideas for summer  picnic food? Want to add probiotics for a healthy microbiome? Today we learn how to make a simple water kimchi to start adding fermented foods to your diet. We'll also hear about Sun and her mother's healing journeys – when it looked like they were out of options, changing their diet with fermented foods provided a way to lasting health.
Sun Chung established Hungry Gopher, the first and largest YouTube channel that offers bite-sized health information, tested from her own perspective, to help YOU live a healthier life!
If you suffer from chronic skin conditions, weight problems, or other health issues you can't seem to shake off, then join us for this conversation that provides actionable tips to get you moving in the right direction. This information is rooted in the over 3992 hours Sun has spent researching, creating, and testing her Health and Wellness Transformation System.
The Hungry Gopher's mission is to supply you with the inspiration and strategies for creating a healthy lifestyle so you can spend your time, energy, and money doing things you enjoy. (Did you know that medical issues are the No.1 reason most Americans file for bankruptcy?)
Combined with Kombucha Kamp's mission of "changing the world, one gut at a time", we share our knowledge and experience to help others heal themselves. Food is a key component to health. In this episode, we discuss and share a recipe for making kimchi.
Globally, Kimchi is primarily known as a spicy fermented cabbage dish. However, as one of Korean cuisine's most important dishes, kimchi actually refers to over 100 different types of  fermented vegetable combinations. Typically served as a side dish with every meal, kimchi can also be served as a main dish. 
Plus we share more about downloading the Mini BBQ Guide which includes the Hungry Gopher's Cucumber Kimchi recipe.
Kirsten Shockey Of Fermented Vegetables With Her New Book Homemade Vinegar Live With Hannah Crum
5:58 – Where is Kombucha Kamp located & what are our hours
7:40 Hungry Gopher shares what is kimchi
8:51 How is kimchi different from sauerkraut
10:35 Is fish sauce necessary to make kimchi?
13:07 "water" kimchi – 물 김치
15:22 Hungry Gopher's healing journey w fermented foods
8:20 Healthy Microbiome & bacteriosapiens
21:20 kimchi demo starts
3:13 "The most important part of fermentation is salt" – best type of salt to use
24:18 "The golden rule of cooking is…"
25:15 Kimchi recipe recap
27:10 Adding the veggies to the kimchi brine
30:00 Fermentation is forgiving
31:02 Do you need an airlock?
33:32 "The medicine cabinet is in your refrigerator" Hungry Gopher's mother's health story
36:03 Where to find the Hungry Gopher online
#PicnicIdeas #SummerPicnicRecipes #PicnicFoodIdeas #PicnicRecipes