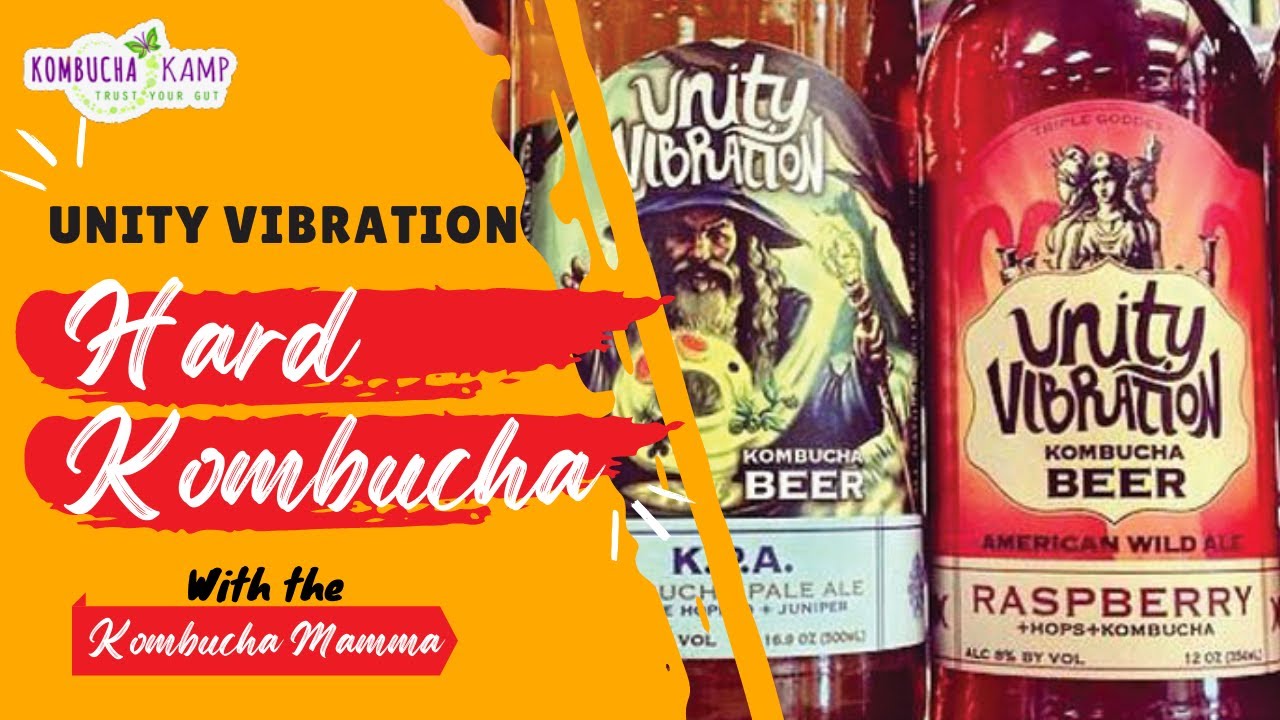 Today Hannah the Kombucha Mamma is tasting Unity Vibration Kombucha Beer – Ginger & Rasberry! Kombucha beer is like a happy marriage for me because I really enjoy beer and I love kombucha. Unity Vibration is a company based out of Ypsilanti Michigan and they were one of the first kombucha companies to make "over 21" Kombucha and now as a happy evolution, they have this kombucha beer. The first one Hannah will try is ginger-hops flavor. This Kombucha beer is eight percent alcohol by volume. It's kind of higher alcohol which pairs nicely with the hops. Hops are a flower that's used in making beer that gives it a characteristic bitter and sweet flavor. so its really interesting to see how that mixes with the kombucha culture. They have two flavors available: ginger and raspberry. They're using all organic fruit, they're aging in oak barrels, open-air unfiltered, unpasteurized – they've got all the good stuff in there. I can't wait to see how it tastes so if you're in the Michigan area definitely check it out. It smells really good too – the ginger is prominent without being overpowering.
Subscribe our YouTube Channel
Unity Vibration Kombucha Beer is not a typical beer flavor, because of the hops I am getting a little bit of that hitting at the back of the throat it's got a little bit of sweetness and the ginger is definitely very pleasant. It's a sweeter kind of ginger rather than a spicier.
The ginger flavor is really good and drinkable – definitely different from any standard kombucha that would make a great addition to any kind of delicious meal.
Unity Vibration Kombucha Beer very different really unique flavor! Let's give the raspberry a try as well. A little less foamy but still giving us some good co2. I really like this, it's got a little bit of that sweetness to it as well as the bitterness from the hops. Then the raspberry kicks in. I'm a big cider fan and this kind of reminds me of that. Or almost like a framboise or lambic which makes sense since it's the style it's modeled after. it's really delicious and I can feel a bit of a beer buzz!
Kombucha Kamp is the #1 Kombucha site in the world! Come by for Free Kombucha Recipes, How To Make Kombucha Videos, and 100% Organic Kombucha Cultures with Free Support. Visit Kombucha Kamp
#kombucha #kombucharecipe #kombuchabenefits #howtomakekombucha #kombucha tea# greenliving #rawfood #hannahcrum #kombuchaKamp