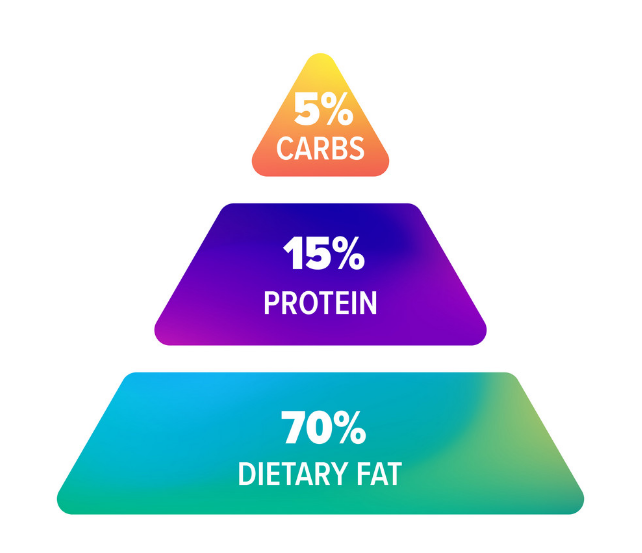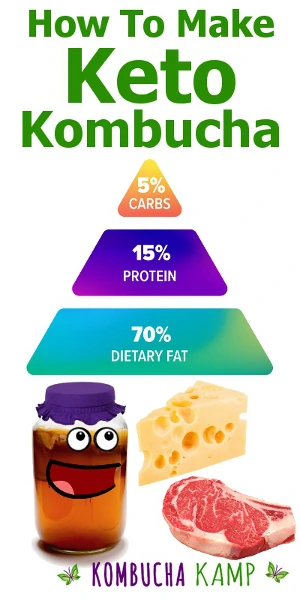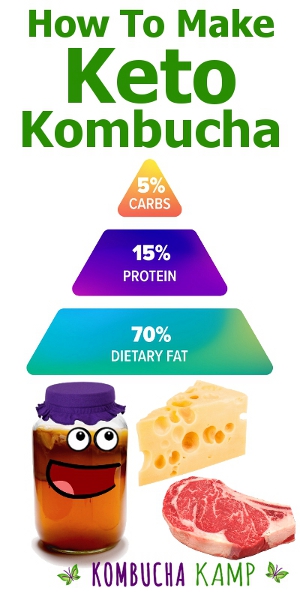 Kombucha is extremely flexible, pairing well with nearly any meal or type of food. That flexibility means it's also a great fit for those choosing a specific diet, either as a permanent lifestyle (paleo, vegan, traditional, etc.) or as a temporary means to lose weight and get healthy. Still, new diets come along all the time, and one of the more popular these days is the Ketogenic, aka "keto." But is Kombucha keto friendly? Will Kombucha knock you out of ketosis?
*NOTE: The below tips are for making Kombucha with less sugar, which can be applied to any diet choice, not just keto, or if for any reason you have sugar sensitivity. 
What is a Ketogenic Diet?
The keto diet prescribes a low carbohydrate, high fat (LCHF) nutrient balance to put the body into "ketosis." In this state, the body uses fat stores as fuel rather than burning sugar (carbohydrates). The specific ratio of low carbs, moderate proteins and high fats triggers ketosis, which can be detected using blood, breath or urine testers that measure ketones. Once in ketosis, as the idea goes, the body's roller coaster of crashes and cravings comes to an end.
Is the Keto Diet Safe?
As with anything relatively new, the keto diet has many advocates and detractors, both with compelling arguments. That said, low carb/high fat diets have been popular before (Atkins), and limiting added sugar intake in general is a good tenet to live by. Especially if those sugars are actually toxic chemicals designed to "taste sweet" as those have a worse impact on the body. Real sugar has a feedback loop to limit overconsumption.
Diet is one of the most confusing issues we face, and modern science is finally coming to the conclusion that there will never be a one size fits all solution (for food or healthcare). So if you believe the keto diet may help you, consult with your healthcare provider first and then trust your gut!
KMAMMA SEZ…Whether it's as simple as a candle or as radical as biodiesel, fat is a wonderful store of energy. Unleashing that power in the service of running the body sounds like a great idea, rather than relying on replenishing sugar levels constantly. But eating fat makes you fat, right? As it turns out, not so much. Instead, eating excess sugar and carbs turns out to be the cause. In fact, many of our most vital nutrients are "fat-soluble" which means they need to be consumed with fat in order for the body to assimilate them. So go ahead and drizzle that salad with oil and add a pat of butter to your veggies; not only does it taste good but it's better for you!
Healthy fats = lard (yes lard!), tallow, olive oil, coconut oil, avocado oil, ghee, fish oil, flaxseed oil, nut oils
AVOID = all seed oils including soybean oil, vegetable oil, canola oil
Is Kombucha Allowed on Keto Diet?
The main question about Kombucha and keto is the sugar content. Kombucha needs fermentable sugar to brew, it cannot be made without sugar of some kind. Also there is some residual sugar in Kombucha, depending on how long it brews, which makes the acids palatable.
Click Here for more about Kombucha & Sugar
As long as the amount of sugar in your Kombucha is not higher than the allowable limits in your diet, it's a great beverage option. There are some keto friendly Kombucha brands that use a variety of techniques for brewing. However recipes are changing all the time, so it's difficult to list them here. The good news is that all commercial Kombucha brands are required to list the sugar content on the bottle. So if you are buying it at the store, check the amounts and limit how much you drink to match your desired goals.
Homebrew Keto Friendly Kombucha Recipe
Making your own keto-friendly Kombucha at home allows you to use a few different techniques, either on their own or in combination, to create your ideal recipe.
Click Here for the Basic Kombucha Recipe Here
1. Brew Longer To Reduce Sugar
For a 1-gallon batch brew in the optimal temperature range (75-85F), most people find the most delicious flavor between 7-14 days. However, the longer we brew, the lower the sugar levels. Brewing for 21-30 days will produce a much lower sugar content, around half of a normal brew.
The issue is then one of taste. Many newbies find they prefer a "younger" Kombucha initially. More seasoned drinkers often gravitate towards "older" booch the longer they home brew. That said, we don't want to reduce the sugar content to zero. The acids would taste terrible and make the beverage impossible to enjoy.
As always, tasting each day is the best way to determine when the brew is right for you.
For the best flavor with maximum acids, switch from batch brewing to Continuous Brew. Click Here to Learn More.
2. Mix With Unsweetened Tea Or Water (Flat Or Sparkling) To Dilute
Another technique which is also great for helping newbies enjoy the booch, is to dilute the Kombucha with water. Not only does it reduce the amount being consumed (ergo fewer carbs), it also shifts the acidity level making it more palatable.
Since most water is filtered, distilled or in some way treated, adding to Kombucha is an excellent way to make it more refreshing and easier for the body to enjoy. Iced tea is also a great mixer as the alkalinity balances the acidity of Kombucha.
3. Flavor With Herbs, Flowers, Stevia, Monk Fruit, Or Other Low And Non-Caloric Sweeteners
Avoid juice, syrups, or other flavorings with sugar. This may seem obvious but use flavors without sugar and your overall sugar levels will be lower. There are so many great flavoring options, and you can use essentially anything that you'd like to try!
4. Use Less Sugar To Start – As Little As ½ Cup (But Be Ready For Less Flavor)
While the standard recipe calls for 1 cup (200g) per gallon (about 4 liters), it is possible to start with less. Cutting that amount to ¾ or even ½ will will lower residual amounts after brewing. On the other side of the coin, it will also deplete the nutrients for the organisms which will impact the flavor making for a weaker brew and SCOBY.
Have you tried Kombucha on keto? Leave a comment below! 🙂
Hi! I'm Hannah Ruhamah, the Kombucha Mamma and this is our small family business. Kombucha Kamp is the #1 Kombucha shop in the world. We're family-owned and operated, with more than 100,000 HAPPY HOMEBREW CLIENTS in 75+ countries since 2004.
We offer Quality Information, Quality Supplies & Quality Support! 
Experience for yourself the Kombucha Kamp difference and you too will be raving about how easy it is to brew Kombucha, Milk Kefir, Water Kefir & Jun safely at home for just pennies a glass.
Always organic ~ Always brewed with LOVE!