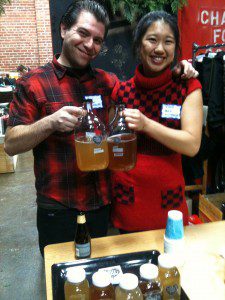 What a blast I've had chatting with House Kombucha (remember them from New Year's ReVolution: Drink Kombucha?) founder Rana Chang and her business partner, Ben Graff.  Based in San Francisco, they embody the values of a new generation of entrepreneurs committed to a triple bottom line of planet, people & profit.  From House's humble beginnings at a struggling underground farmer's market, to spreading across the Bay area,  and soon being delivered straight to your door via their partnership with Green Hearts Family Farm CSA, their story is one of hard work and tenacity.
Using social media and by creating symbiotic relationships with other small businesses, they are steadily expanding their market reach while spreading the message of sustainability.
We had so much fun discussing the origins of House, how Rana and Ben first started working together, their pioneering bottle return program that takes recycling one step better (remember the milkman?) and the supportive community that make up their customers, staff and small business alliances.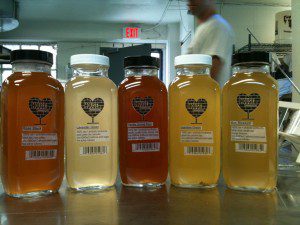 Their commitment to people and the community is not only reflected in their sourcing of locally grown ingredients but also to their Kombucha themed underground Prosper Dinners which take place right in the House Kombucha brewery!  Open House on Thursdays from 4-8 pm is another way they connect with thirsty patrons who take BYO to the next level.   If you are in SF for Earth Day, be sure to look for their booth at the Civic Center.
So click below to listen to this fun podcast with Rana & Ben. A basic log of questions is down below if you want to jump around, but it's only about 20 minutes so I hope you enjoy listening to the whole thing!
Click Play Below to Listen to the Podcast!
Have you enjoyed House Kombucha?
Which other companies are embodying
the ideals of planet, people & profits?

Please share your thoughts below.
0:00 – Origins of House Kombucha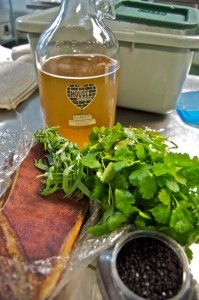 2:56 – How did you two meet?
4:15 – Social media leads to new connections
6:13 – Ben Graff, the Sorcerer's Apprentice
6:53 – House comes out of the closet
8:18 – What health benefits have you noticed from drinking Kombucha?
9:26 – Kombucha bacon!
11:23 – Store front & walk up window – symbiosis in action
13:00 – Smoky the Pear!
17:38 – How is the bottle program working with the stores?
19:45 – Upcoming House events
20:48 – Trust your gut!