Kombucha Kamp discovers
The Kombucha Float!
Hey Everyone!  It's the latest episode of Kombucha Kamp On The Town and I had the chance to meet the lovely ladies of Kind Kreme in Studio City. In this video, Mimi scoops up a fantastic Honey Vanilla Ginger Kombucha Float. Later, Mollie tells me all about her desire to provide the vegan kids out there (young and old!) with delicious, healthful, conscious desserts that will still please the average omnivore that wanders in looking for a traditional sugar rush. (Oh, by the way, she's nailed it.)
Let me say, the Kombucha Float was amazing.  So yummy, I just love the sweet/sour combination and ginger is one of my favorite Kombucha flavors.  If you live in or around Los Angeles, give this place a try soon.  (Psst: I hear more locations are in the works.)  Highly recommended.
Here are some pics.
Check out the video below!
Between you and me, also try the chocolate soft serve.  It tastes better than I remember as a kid, and no clearing my throat afterwards. Really awesome.
Visit them online: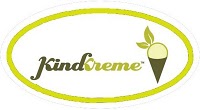 Or you can find them on:

Click the image to watch a
previous episode of KK On The Town
with Rod Rotondi of Leaf Organics