Welcome to Kombucha Kamp –
your home for Kombucha brewing tips, advice, recipes and more!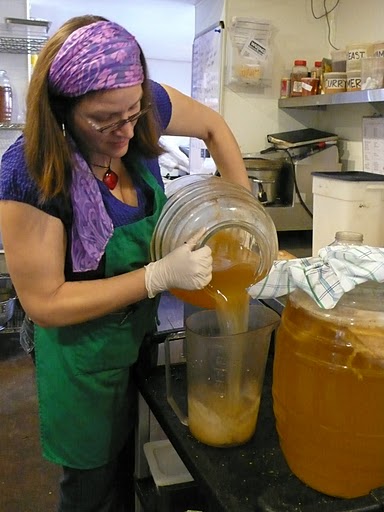 Kombucha Kamp's mission is to "change the world, one gut at a time" by educating and empowering everyone to ferment food and drink safely at home, just as we have throughout human history. Research continues to prove that all living things are truly "Bacteria Powered," and humans need all the good bacteria we can get! I'm Hannah Crum, affectionately dubbed "The Kombucha Mamma," and since 2004 I have been brewing Kombucha and educating others about how easy it is to make this delicious and healthy "longevity elixir." What began as a love of lip-puckering brew, this enjoyable process has evolved into my passion and lifestyle. From homebrew hobbiest, to educator, to Master Brewer, Kombucha Kamp has grown organically as my experience has deepened. At Kombucha Kamp, we are committed to providing the most accurate and up-to-date information to Kombucha lovers and homebrewers at any stage in their experience.
I have taught Kombucha making classes to all size groups, from individuals to workshops of 100+, all over the country for nearly 8 years for over a decade, spreading the message of Kombucha and its bacterial benefits far and wide through a variety of venues including festivals, health conferences, podcasts, interviews, articles and more. Our how-to videos have piled up +100,000's of views and Kombucha Kamp was featured on "What's Brewing?" hosted by Jody Rudman on the Veria Network.
In addition to teaching, I install large-scale Kombucha set-ups and am the Master Brewer for numerous restaurants and shops in the Los Angeles area, as well as consult for many Kombucha brands from those just starting out to established breweries looking to scale up. We also provide wholesale cultures and supplies to the industry. My husband/business partner (Alex) and I write about the Kombucha industry for BevNet.com and Beverage Spectrum Magazine and other publications featuring our work include Elephant Journal and Vital Juice. In 2014, as an extension of their desire to "change the world, one gut at a time" while growing the Kombucha industry, they co-founded Kombucha Brewers International – a non-profit trade association dedicated to promoting and protecting commercial Kombucha around the world.
Alex Kombucha is the brilliant other half of the Kombucha Kamp dynamic duo. With a background in film, television and video production, Alex has always been a storyteller. A love for writing and journalism helped guide him to documentary, where he has produced intimate movies on dynamic, diverse subjects such as Broadway actors, NBA stars and the 2004 presidential election. After years of watching Hannah teach others about Kombucha, his taste buds and belly bugs finally clicked into place and he lost 40lbs in 18 months by changing his diet. Since 2010, he has served as President of Kombucha Kamp, Co-Author of the Kombucha Kamp website and the upcoming "Big Book of Kombucha" (Storey Publishing, Spring 2016), and Co-Founder/Chairman of the Board of Kombucha Brewers International, the non-profit trade association for the bottled beverage industry. All because he started Trusting His Gut!
HOW I DISCOVERED KOMBUCHA – OR HOW IT FOUND ME!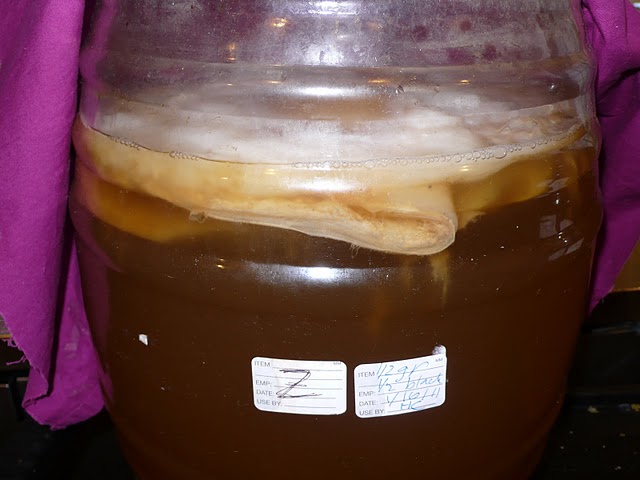 I first discovered Kombucha while visiting a friend from college in San Francisco.  His then girlfriend showed me her mysterious jars and I was instantly intrigued.  Upon returning to Los Angeles, I sought out Kombucha at my local Whole Foods market. There weren't many brands to choose from, so I grabbed a  GT's Synergy Gingerade and gave it a try. The carbonation was super bubbly, the ginger was fresh and delicious, the flavor was both sweet and tart – Wow!  This is delicious! Kombucha instantly resonated with me, but it quickly became an expensive habit – what to do? Ah!  I just need to get some mysterious jars!
I scoured the internet and local library for information and located my first culture. I was happy to brew Kombucha at home and occasionally I would pass along a culture to a friend and teach them how to make it. I have always been a teacher at heart and love communication plus drinking Kombucha was healing me at many levels. The inspiration to create Kombucha Kamp was sparked when I attended an Artists' Way Workshop. Through writing morning pages and going on artist dates, I uncovered a secret desire to teach others about Kombucha, not only in person but all over the world as well. You are now enjoying the fruits of our labor.
Thanks for stopping by to read my lil bio. I've listed some fun facts about me below.
Favorite color – 1 guess – you got it – PURPLE!
Astrological sign – Scorpio
Favorite food – Chicago style deep dish spinach pizza with olives & mushrooms grass fed steak or dad's lasagna
Languages – Spanish, Mandarin Chinese, English (of course!), a smattering of French, Russian, German & Romanian
Hometown – Los Angeles, CA via Skokie, IL & Des Moines, IA
Places traveled – Germany, France, Belgium, England, Holland, Poland, Czech Republic, Austria, Taiwan, Egypt, Jordan, Hungary, China
Press, Podcasts, Interviews, Articles
Written by Kombucha Kamp
THE KOMBUCHA BOOK (Mar 2016, Storey Publishing)
by Hannah Crum & Alex LaGory 
Direct Literary Inquiries to Sally Ekus of the Lisa Ekus Group, LLC
(Please, DO NOT CONTACT about ordering or brewing questions, only literary or appearance inquiries please. For brewing questions, visit our Contact page. Thank you.)
Other Writings
Making Kombucha at Your Brewery – First Key Consulting
How to Heal Leaky Gut: 20 Surefire Tips from Gut Health Experts
Rodale's Organic Life – How to Make Your Own Kombucha

Articles on

BevNet
Greenwala

5 Misunderstandings about Kombucha Mushroom Tea
Media Appearances – VIDEOS!
Radio Shows/Podcasts
"The Big Book of Kombucha" Media Mentions
Interviews/Video Interviews
Healthy, Wealthy & Slim Summit w/Sandy Shofner-McKee – NEW!
Fuel Yourself Fabulous with Sabrina Khan (video)
Gather Green

Google + Hangout  (video)

Synergy Organizing
News Articles that mention Kombucha Kamp
Blogs that mention Kombucha Kamp (partial list)
Food Renegade
Wellness Mama
Nourished Kitchen
Healthy Home Economist
Ecolutionist
Appropriate Omnivore
Lifetime Family Wellness Center
Rebates Zone