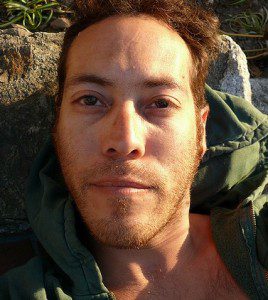 Please welcome Guest Poster and Power Homebrewer McKinley Alvarez from Santa Cruz, CA!
Today's post is all about advanced brewing techniques using fresh fruit.
While I advise brewers never to use fruit during primary fermentation to protect the health of the brew, of course there are many ways to make Kombucha as the SCOBY is an extremely hearty organism.

In that spirit, McKinley shares some ideas of how he makes his flavored Kombucha. Enjoy!
(He also takes awesome photos: check out his Flickr stream.)
*******************************
Thank you Kombucha Mamma for inviting me to share my story of ghetto brewing! This is an honor since I consider you a critical resource to the Kombucha community.
I hope my story will inspire people who may be afraid to try brewing their own Kombucha.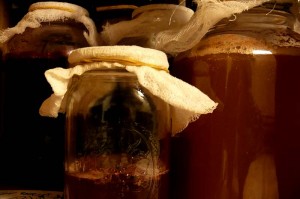 I can't imagine life without Kombucha. When i'm hungry but don't have time to eat, I drink some Kombucha to keep me going for a couple hours.
If I go a day or two without Kombucha, I find myself eating fruit like it's going out of style to replace all the vitamins and nutrients my body is used to getting.
I also think it helps settle my stomach down too, but who knows, I'm not a doctor.
"I can't imagine life without Kombucha."

I remember the first time I heard of Kombucha—it was at the Bikram yoga studio where I practise. Only the teachers were drinking it, or so it seemed. GTs Kombucha is so expensive, at $3.50 – $5 a bottle and, being on budget, I didn't actually get to try it for awhile.
Some people say Kombucha is an acquired taste, but I was hooked after my first bottle of Divine Grape. Oh my God, I had never tasted anything so refreshing. I got so hooked, a hippie friend of mine encouraged me to make my own. "No way can this make mine taste like the expensive GTs brand I've been buying," I thought.
Fast forward a few months and I'm on the unemployment line wondering how I'm going to afford my Kombucha addiction. Remembering that Kombucha is an ancient Chinese tea, I researched how to brew my own on this very website. I decided I wanted to try making Strawberry Serenity or Divine Grape, my two favorite flavors.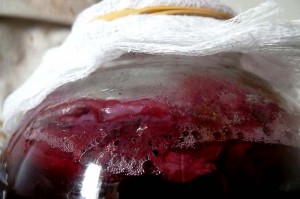 I dove in a got a kombucha culture —it looked weird and slimy. I suddenly found myself immersed in the world of what I call "Ghetto brewing."
"Ghetto brewing" is how I describe brewing on a budget. Maybe you would call it the idiot's guide to brewing.
I have to keep it simple: instead of using loose leaf tea, I use tea bags (organic ones from Trader Joe's or Paul Newman's brand). Instead of fresh fruit, I use frozen fruit. Instead of swingtop bottles, I used my empty Kombucha bottles. Anything to save a penny.
"That's the exciting thing about Kombucha,
there's a lot of room for experimentation."

Something to remember though: Kombucha is only as good as the ingredients.
After repeated horrible batches, I'm convinced the frozen strawberries at Trader Joe's are guaranteed to make the worst Kombucha you would never want to drink.
(Ed note: I find they work fantastic, so readers do try for yourself and see what works for you! 🙂)
Blueberries, on the other hand, are pretty delicious no matter who grows them. Same with blackberries and I'm also pleased to report that I've had great success with frozen mango as well.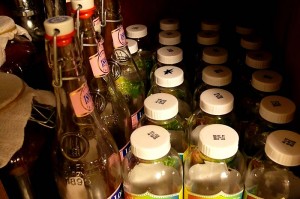 At the yoga studio where I practise, 3 friends have begun to brew their own fruit flavored Kombucha.
While their brewing methods are more traditional than mine, their results are fantastic—apricot/mango, pomegranate. It's been a real treat to enjoy the brews my friends are making and each one is just amazing in its own way.
That's the exciting thing about Kombucha, there is a lot of room for experimentation.
Imagine how they were doing it 3,000 years ago in China? It must have been the same way, a different brew on every block.
*******************************
Interested in making fruit flavored kombucha in the brewing stage?
Try McKinley's recipe, but remember, these are experimental techniques and may not brew a successful batch every time.
ALWAYS use an extra SCOBY from your SCOBY Hotel when trying a new brewing technique.
Add 6 ounces of fruit to 2-6 cups water and bring to a boil in a stainless steel pot.
Remove from heat, add tea bags to pot.
Steep 5-7 minutes, then remove tea bags.
Add about 1/2 cup of sugar and stir to dissolve. (The amount of sugar depends on the sugar levels of your fruit. Experiment for best flavor.)
Add fruit/tea mixture to vessel.
Fill vessel most of the way with purified water, leaving just 1-2 inches from the top for breathing room with purified cold water.
Add SCOBY and starter liquid.
Cover with cloth cover and secure with the rubber band.
Say a prayer, send good vibes, commune with your culture (optional but recommended).
Set in a warm location out of direct sunlight (unless vessel is opaque).
Do not disturb for 5-7 days.
Brewing Cycle may be reduced with this method.
Since the fruit is in direct contact with the fermentation process, it is possible that the flavors may turn sour more quickly.
Monitor the brew closely and taste after only 4-5 days to gauge flavor/progress.
*******************************
Have you tried brewing with fruit?
How about other non-traditional brewing techniques?
Please leave a comment telling us about your adventures! 🙂
*******************************