Tomorrow I have the pleasure of presenting at the Freestone Fermentation Festival. Not only will I have the opportunity to share Kombucha with fermentation fanatics (if you are attending, my presentation will begin at 1:35pm in the Auditorium) but I will also be on the panel of judges for the first ever People's Kombucha Awards, organized by Jennifer Harris and Michael Stusser.
There will be about 8 companies entered in the competition and each will be judged on a variety of factors including aroma, visual beauty and taste. Voting is open to the first 200 participants on a first come, first served basis, so be sure to arrive early, grab your ballot and head over to the tasting tent! You will be delighted by the variety of Kombucha offerings ranging from national brands to local brews.
I am incredibly excited about this! The awards will be presented at 3:30pm by a panel of celebrity judges including:
Sandor Katz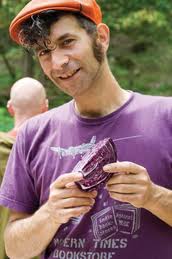 To many a fermentation fetishist, Sandor needs no introduction. He is the author of "Wild Fermenation," chock full of recipes for different types of fermented foods from all over the world. He also wrote "The Revolution Will Not Be Microwaved" which is high on my list of favorite books.
He takes food activism to the next level by not only pointing out the ways in which we've been hoodwinked into thinking processed foods are healthier but also providing many examples of ways in which to reconnect with whole foods and rebel against the "forced trade" system.
Sandor will also be presenting at the Symposium today, sharing his knowledge and philosophy with us all. Awesome!
Michael Pollan
Michael is one of my heroes. His book, "The Omnivore's Dilemma" was a real eye opener for me and sparked my passion for food reform. I believe we are due for a revolution, but I have no taste for blood. I'd rather fight in the food trenches, teaching others how to regain control of their health through whole foods & Kombucha.
Knowledge is power and in "In Defense of Food," Pollan pushes back against the rise of nutritionism and the "lipid hypothesis," (fat causes heart disease – no scientific research has ever proven this to be true, though it has pervaded our culture for nearly 30 years!).
Jenny McGruther
Jenny is the force behind Nourished Kitchen. She is committed to sustainable agriculture and not only runs a farmers market in the heart of ski country in Colorado, but also teaches people how to cook with nutrient dense, whole foods at home.
Her recipes, insights and tips help anyone feel at home in the kitchen again. She will also be presenting at the Freestone Fermentation Symposium today from 2-5pm at Shone Farm.
Christopher Mann
Christopher is the Chairman of the Gourd at Guayaki.  I'm a huge fan of Guayaki Yerba Mate and was introduced to my first gourd by co-founder David Karr. In fact, I only use Guayaki Yerba Mate in my Hannah's Special Tea Blend. It adds an earthy tone and superior health benefits to Kombucha.
One of the things I love most about Guayaki is their commitment to sustainability, fair trade and community through their Market Driven Restoration plan. Plus, I absolutely fell in love with the gourd ceremony. This blog is mate powered.